U.S. Navy Mark II Sextant
by Bendix
WW II    1943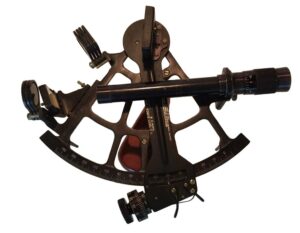 Presented is a WW II Navy Mark II Sextant by the Bendix Aviation Corp, – Elipse-Pioneer Division.  It is in nice condition, the only negative is that one of the shades is cloudy.  It has 3 replacement mirrors although all the original mirrors are clear and in good shape.  The index arm moves freely as does the worm gear on the micrometer drum.  There is an adjustment wrench in the case.  The case is in good original condition with some wood chipped on the left front corner.  It has decorative latches to hold the top closed.  The Serial Number is 19264 dated 1943.  The case measures 11 1/2″ x 11″ x 5 1/2″  and sextant and case weigh 8 lbs.
History of WW II U.S.Navy Sextant Manufacturer
The United States Navy Bureau of Ships was founded in June 1940, tasked, among other things with the …" design, construction, procurement and maintenance …" of naval ships and their equipment. One item of equipment that was needed in large numbers was the nautical sextant. The BuShips Mark II seems to have been founded on a pre-Second World War model, which in turn owed much of its design to Brandis and Sons. The latter traded under various Brandis names from 1871. The Pioneer Instrument Company gained a controlling interest in 1922 and was itself bought out by the Bendix Aviation Corporation in 1928, though sextants continued to be made under the Brandis name until 1932.
| | |
| --- | --- |
| | |
At the onset of the War, contracts were let to at least three manufacturers to produce tens of thousands of sextants in a relatively short time, using modern mass-production methods. The Pioneer Instrument Division of the Bendix Aviation Corporation was probably the design leader, with the David White Instrument Company of Milwaukee and Ajax Engineering of Chicago also producing instruments that showed minor variations on the main design.  (From Bill Morris – The Nautical Sextant)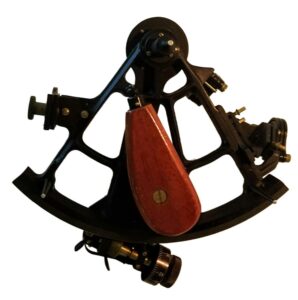 Back View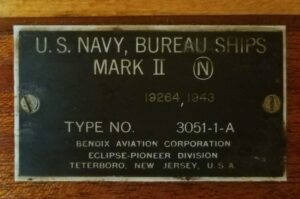 Price $425.00             Shipping: $55.00