BRAND NEW 3 LIGHT, 3 BOLT,
CHINESE DIVE HELMET 

Simply built following the design of a Draeger 3 Bolt diving helmet, it
lacks in the execution, German engineering, and craftsmanship. This helmet will look great on a shelf and does not require
a stand to display. If you plan on diving it, make sure to have it certified by a qualified dive shop.
DIMENSIONS:                 16″H x 15″ W x 16″ D
Weight 37 1/2 pounds
SERIAL NUMBERS:
Bonnet 32        Breast Plate 32
Presented is a brand new three light 3 bolt which is rarely seen in this market. Its low number suggests that very few of these have been
made. It comes from the collection of  a second generation deep water diver who had a collectors' compulsion of gathering
everything he could related to diving. The helmetis new
and has not been dived or tested. The numbers on the bonnet and breast plate match, but we cannot read the maker's
tag or know if it is dated. The construction through out is simple. There is a communication's fitting penetrating
the shell, but no wiring or speaker is fitted. Lots of solder or tinning has been used to water seal the fittings. CONDITION: Light weight construction, but reasonably heavy
as a whole. There are three vents, and three lights. The right side of the breast plate is slightly flattened, but may
have been made that way. It does not affect the functionality of the helmet. The front port rests on a rubber
gasket and the added friction keeps us from opening it. The helmet has a light coating of lacquer over
its surface. and superficial  light discoloration and minor staining underneath.  There is no speaker fitted.
Like
all diving gear, this is being sold for DISPLAY ONLY. It should not be dived without having passed inspection by a certified
dive shop.

      Right and
left sides of brand new Chinese 3 bolt diving helmet over stick on label and maker's tag PROVENANCE:
From the estate of a second generation hard hat diver, and the son of a member of the salvage team of the
17 month project to refloat the French ocean liner Normandie on the Hudson River that completed in 1947. Not only did the
deceased have an incredible hard helmet and diving equipment collection, he also, in his lifetime, managed to assemble an
amazing collection of anything related to diving.
MAKER'S BRIEF HISTORY:We have no information concerning
the maker.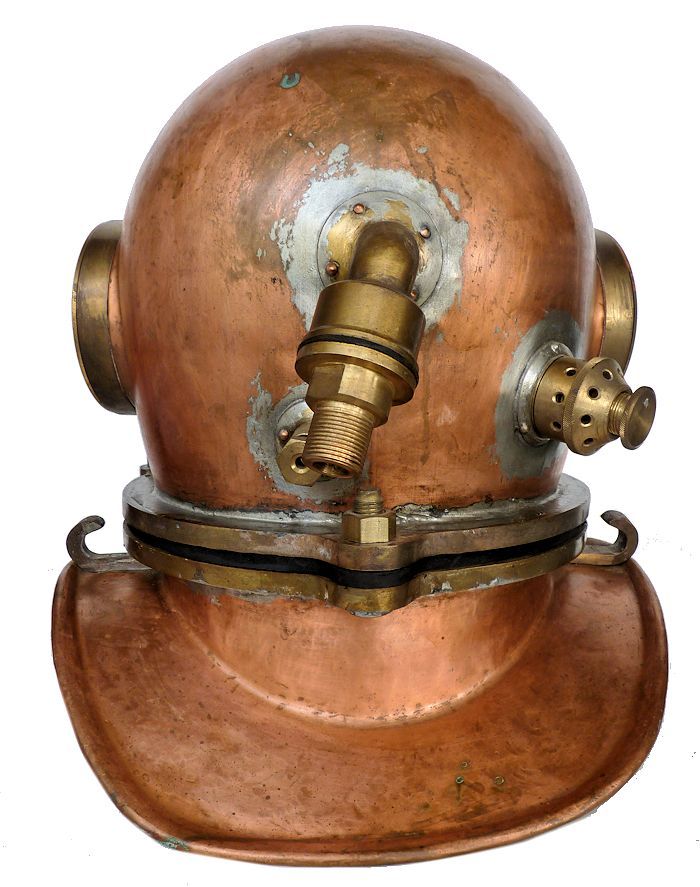 Back of helmet showing the comm fitting under the
air supply check valve. The exhaust valve to the right

right and left sides of Chinese 3 Bolt helmet
Inside of  bonnet showing vents
over picture of the underside of the breast plate