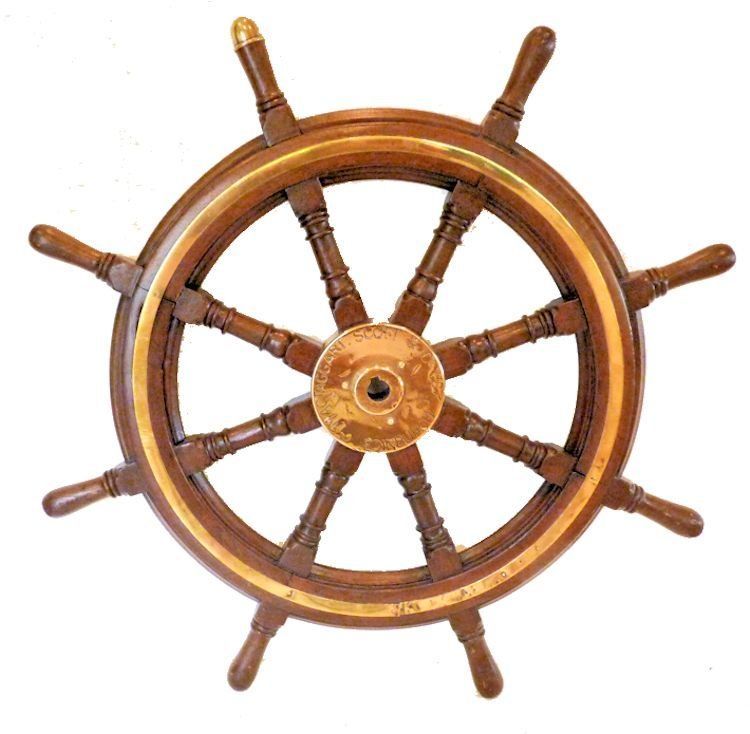 DIMENSIONS: 36″ Dia. by 2 1/2″ deep
WEIGHT 25 pounds
Presented
is an elegant Mahogany ships 8 spoke steering wheel with an inlaid brass ring, front and back, and a massive center brass
hub. The hub has a  1″ center with a key
way for that size shaft.  The enduring maker, Mactaggart Scott Co. Ltd, whose operations date back to 1898, was and continues on as a major defense contractor for
the British and Australian Navy's. They served with distinction in  that capacity during WW I and WW II as well as
during more recent conflicts. The hub has the maker's name and Edinburgh on its face with no other markings so this wheel
was likely made between wars.
With all the decorator styled steering wheels
flooding today's market, it should be refreshing for you to be assured of obtaining an authentic piece of the
highest quality.
PROVENANCE:  

Purchased in the ordinary course of business with no known provenance
              The back of the wheel remains in its unpolished
state.
The King Pin shown below is a unique feature of this maker's steering wheel.  It
is used to show when the rudder is a midships. On less fancy wheels,  there may be a Turks head made of small
stuff added to this spoke. In dark and stormy seas, it is a big aid to the helmsman in knowing the position of
the rudder.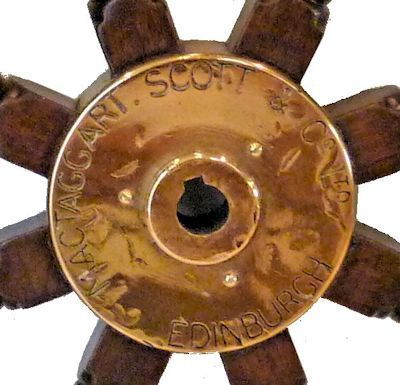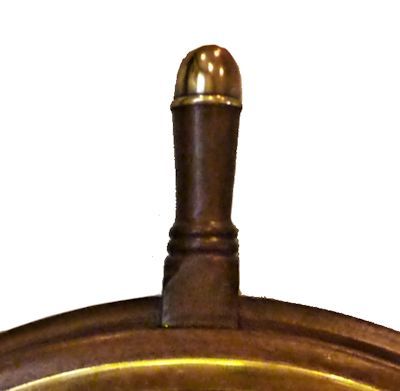 The hub shown alongside the unique brass caped  King Pin.
This is an impressive Royal Navy ship's wheel that
is of the highest grade, and all authentic
 MACTAGGART  SCOTT BRIEF HISTORY: 
MacTaggart Scott & Co Ltd was founded by Hugh MacTaggart
and Robert Grigor Scott in 1898 and contours in business today. World War One saw the company making steering telemotors
and submarine equipment. The Admiralty link lead to the development
of seaplane catapults and arresting gear. During WWII they met the demand for the British Fleet's carrier building
programme. Submarine equipment production included vent valves, bow caps, mast hoisting jiggers and torpedo loading presses.

The end of WWII allowed the company to develop pumps and motors.
The successful development and running of the RHP pump led to today's "stealth" enhancing motors and pumps in
submarines.

During the 50s MacTaggart Scott's hydraulic deck machinery
so impressed the Admiralty that they reversed their preference for traditionally electric systems. The company provided anchor
windlasses, winches and Replenishment At Sea equipment.

The Navy's requirement to handle helicopters and MacTaggart
Scott's reputation with arrester gear led to the production of an practical solution allowing the cross
handling of helicopters.

Nuclear submarines led to design and manufacture of retracting
bow planes, shrouded masts and the launching and recovery of communication equipment and significantly the first US submarine
equipment order in 1983.

The end of the Cold War meant development
of overseas markets as Royal Navy demands changed. The majority of the company's work has been for British Defence and
alongside current commitment to overseas naval solutions the future sees continued success in the global market.

OUR
UNCONDITIONAL 'NO NONSENSE" GUARANTEE: If not completely satisfied with your purchase it may be returned, if without damage, within five days of receipt in its original packaging. Return items
must be insured for their full value. Only a prior email authorization by us for the return is required. Shipping charges
are refundable if due to our error within the continental United States.