BIG EYES 25/40/100 BINOCULARS 5 STARS
CHINESE MILITARY PATTERN – RUSSIAN OPTICS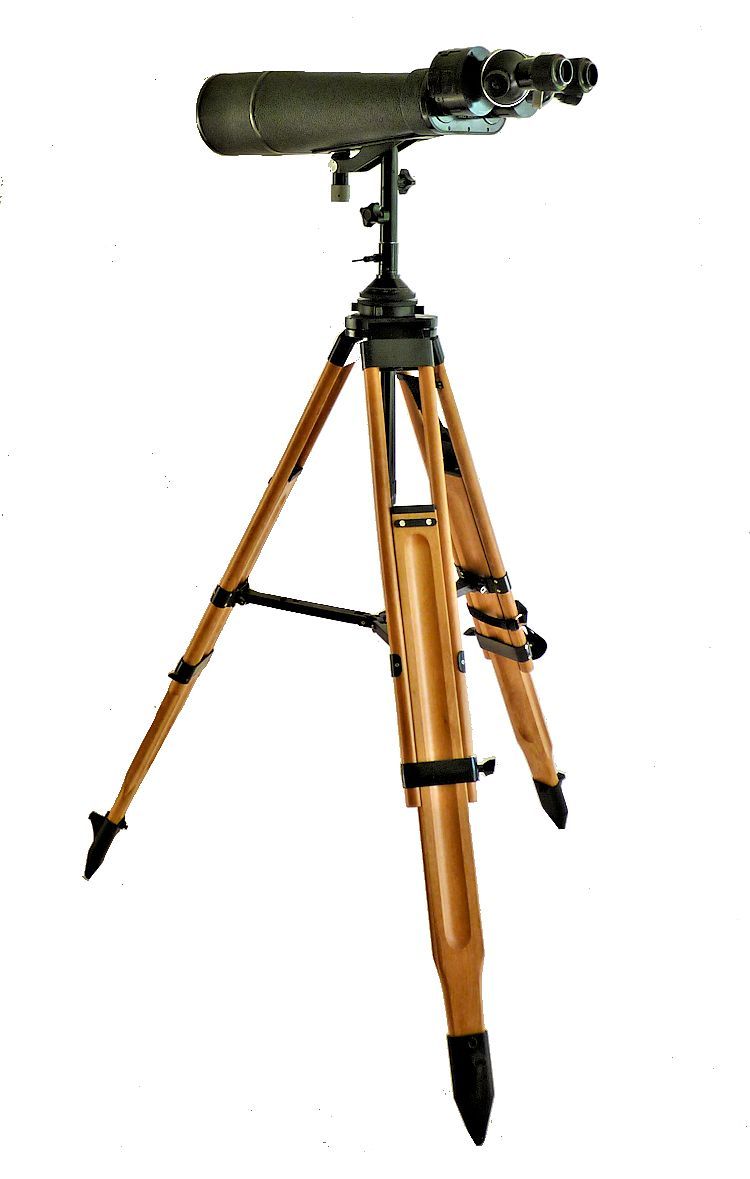 We
use the term Big Eyes as it was applied to the U.S. Navy shipboard high powered, long range, binoculars of World War
II. There is an unrelated company who has adopted          Big Eyes as
their company name.
Presented

 is a wonderful high powered, long range, Big Eyes binocular set
that is in impeccable condition with no visible signs of wear or use. The design is that of the Chinese Military Binoculars,
except we were told that this one has Russian optics. Whether or not that is true, everything works flawlessly in our
simple tests. The images show sharp and bright and there are no visible imperfections in the optical system when looking backwards
through the objective lens, or normally through the ocular lens. The twin turrets have two eye pieces, the smaller one is
40mm, and the larger is 25mm. Because of the high power, the sighted object must be more than 50 yards distant to be brought
into sharp focus.
The binocular's barrel is covered in traditional pebble-grain black, and its
1950's era high quality wood tripod gives it the look of a military antique.  Before the
Chinese entered this arena, binoculars of this design and specifications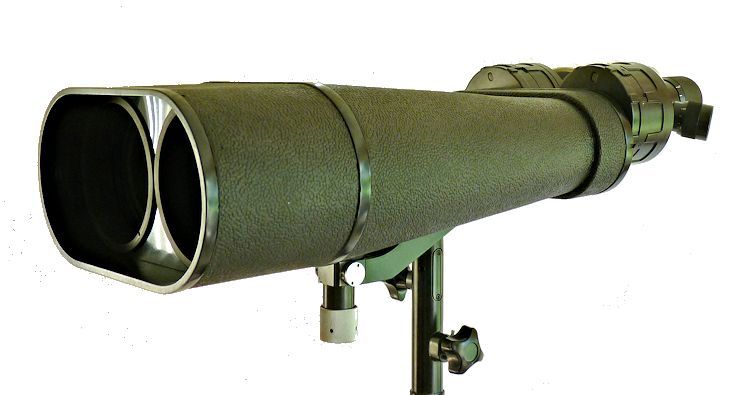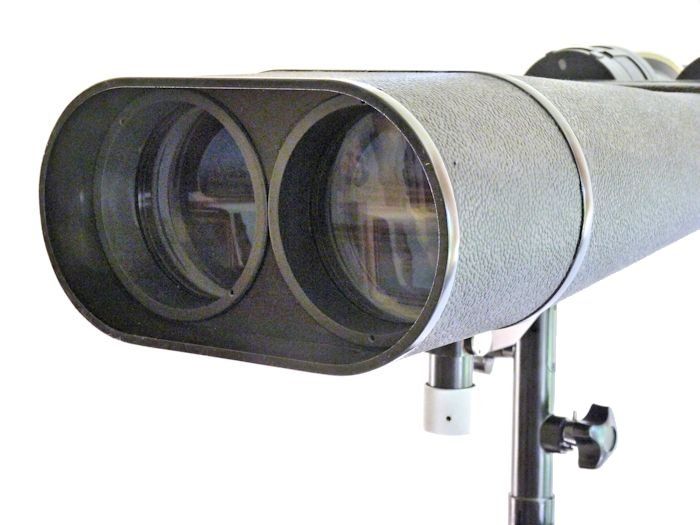 The two rotating ocular turrets allow wide-angle viewing at 25x, and high-power viewing
at 40x.  The apparent field of view, depending on the power selected, ranges from 52° to 62° which is very
wide. It is a Giant having a viewing element over two feet in length and it weighs a hefty 26 1/2 lbs!
For decades, only Carl Zeiss designed binoculars of this type were y available to the East German and Chinese militaries
or in the after-market at much higher prices.  When you see the quality of construction,
and the quality of the optics, you'll understand why, in the past, it could sell for such a high price. Comes complete
with a sturdy wood tripod, metal tabletop tripod, and lightweight nylon form-fitted case. 

This is the ultimate optical
instrument for terrestrial observation. If you've got a home with a view, enjoy it to the utmost with this magnificent
instrument.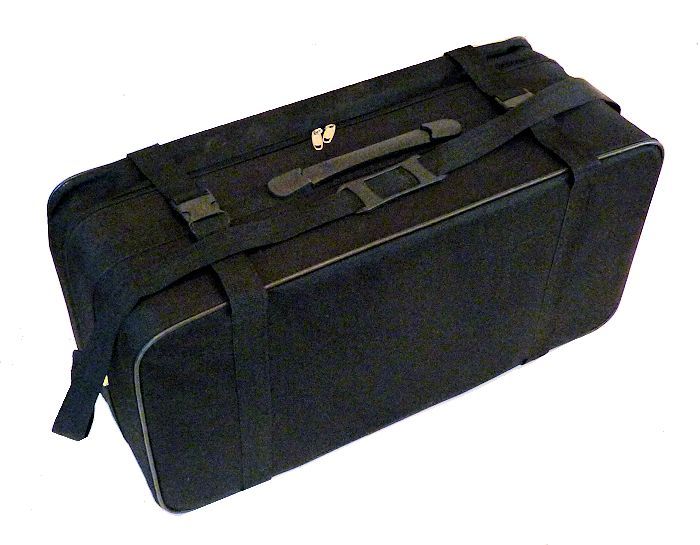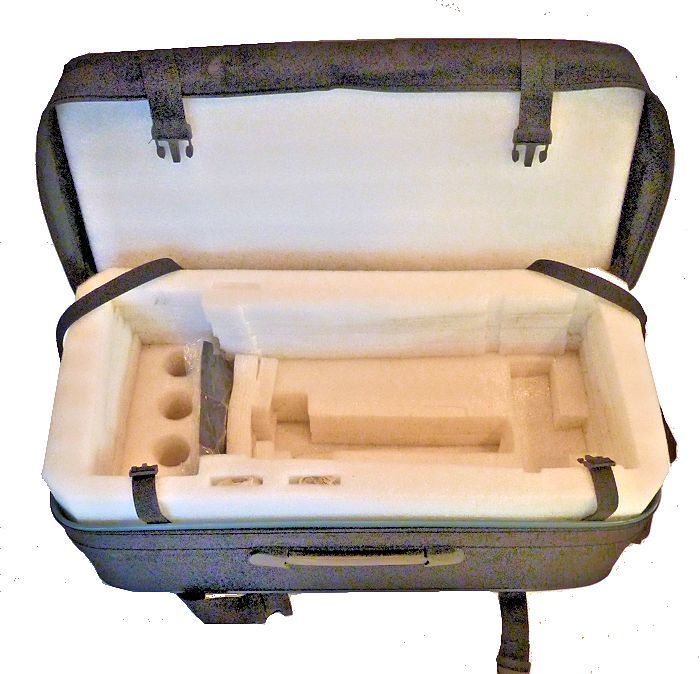 CONDITION:  There is no evidence of
prior use or wear so that it can be considered as almost new
in all respects, except that it has no paperwork or operator's  manual .There are no markings except for its
Serial Number 150XXX, and the power and size of the objective lenses.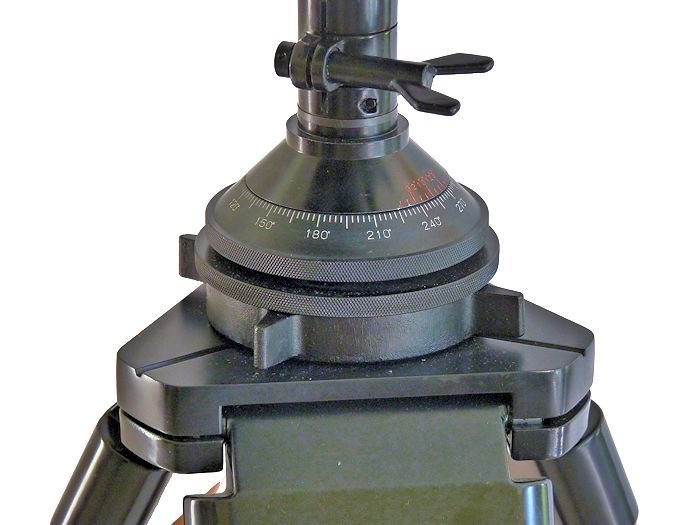 PROVENANCE:   Obtained
at auction in the normal course of business without provenance.
This binocular is in such excellent
condition that it can be considered, "as new". It is suitable for someone wanting a quality Giant size
terrestrial telescope at an affordable price.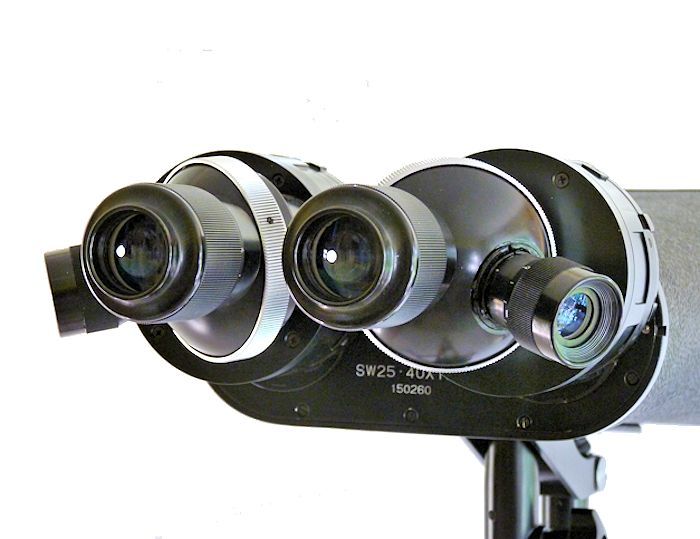 TYPICAL SPECIFICATIONS OF THE CHINESE MILITARY BINOCULAR

Model
25/40 x100 standard
Objective size
100 mm or 4″
Magnification
25x and 40x
Ocular
Straight-through turrets
Focus system
Individual
Prism
Porro / BAK4
Coating
Multi-coated
Focal length
597 mm
Field of view at 1000m
25x- 44 m

40x- 26 m

Angle of View
25x- 2.5º

40x- 1.5º

Exit Pupil distance
25x- 14 mm

40x- 8.2 mm

Exit pupil diameter
25x- 4 mm

40x- 2.5 mm

Inter-pupil distance
58-80 mm
Minimum focus distance
25 m
Packing
Nylon case – 28″ L x 14″ W x 11″ D
Erected weight
26.5 pounds
Tripod net weight
16.5 pounds

Close-up
of the two lens turret shown over the right side view of the Big Eye     


This is a fine example of a previously owned Big Eye long distance telescope in fine
condition. It is being sold at a very low price which cannot be duplicated.
STAR
RATING: This fine Quality instrument rates  FIVE STARS   

INCLUDED ARE:       
1 25/40/100 Twin Turret Chinese Military Style Big Eye Binocular