SAIL
& STEAM YACHT "ALVA"
OIL ON BOARD
Jerome Howes (1955 – )
Oil on Masonite 20th
Century Viewing area 23 1/4″ x 35
1/4″
Framed 30″ x 42″
 Signed LR – Jerome Howes
Presented is a ship portrait in an advanced style from Jerome Howes which shows his development in portraying marine
scenes. Noteworthy, is his treatment of the choppy seas which is extremely realistic in contrast to his more stylistic or
simplistic treatment of the transitional Sail & Steam Yacht ALVA. The Yacht Alva was owned by William
K. Vanderbilt and was the first of his yachts to be named for his wife. She
was designed by St. Clare J. Byrne as a three-masted bark-rigged screw steamer with a steel hull, and  was built by Harlan
& Hollingsworth Company at Wilmington, Delaware, and launched on October 15, 1886. The Alva was
285′ overall. Her draft was 17′ and she had a beam of 32′. Her registered tonnage was 1,151.27
gross and 600.55 net ALVA was noted for being an ocean liner in size and as opulent as a palace, but  she
was hard luck vessel with more than one accident, finally ending in her loss. Her short six year life ended
on July 24, 1892.  After anchoring improperly in Pollock Rip Channel, East of Monomoy Point Lighthouse in foggy
conditions, ALVA was sunk in a collision by the cargo steamer, H.F.
Dimock.  In addition to 52 crew, Mr. Vanderbilt
and five friends were on board at the time. All were saved by the Dimock without loss of life. Later, in
an Admiralty Court, ALVA was found to be at fault.  In any case, during her brief Heyday, she was the Queen
of the New York Yacht Club's Fleet and is a fitting subject for this artist to paint.
He uses his skill as a draftsman to capture the elegance of this magnificent vessel with proper attention to the details of the
known ship. The difference in this painting from other earlier ones that we've sold is the treatment of the ship
seen in the flatness or lack of dimensionality in most of her hull and with only minimal curvature seen in the bellies of
the sails and her bow. This is in sharp contrast to the roughness of the sea,  which is portrayed realisticly.

The ALVA is under full sail except for the foretops'l, and is making steam. Her black hull has gold
scroll work on the trailboards and on the rubbing strake with a black sheer line as was typical for this
period. She is sailing hard on the starboard tack and showing white water fore and aft in rough seas. The owner's
blue house flag flys from the foremast, while the ship's named pennant flys from the main mast, and the American national
ensign is flown from the gaff peak of her mizzen. Three crew foreward, and perhaps two of the owner's party
are shown on deck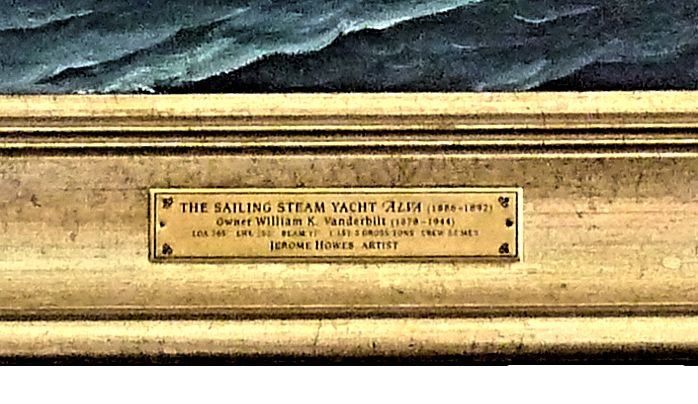 Details of the ALVA on the
name tag shown over the ship's house flag and pennant
The sky has dark clouds overhead which likely
are the prelude to stormy weather. This is a majestic yacht from the Glory Days of American yachting. A heavy custom
wood and bullion gilt frame is included. The condition of the painting is excellent and shows a great deal of detail
and realistic figures of the crew. It was purchased at auction in New England. There is no question that Howes has developed a new and interesting way to present his ships and the
sea.

     Closeup of the Bow and
Stern sections of the ALVA INCLUDED is a copy of the New York Times article of July
25, 1892 covering her entire life, and a copy of of the article that appeared in THE ILLUSTRATED AMERICAN of August 2, 1892 about
the collision pictured below.

  The Illustrated
American article of August 2, 1892 accompanies the painting
A ship portrait in a distinctively American style and appearance
that is worthy of the most discriminating marine art collector.

BIOGRAPHY:Jerome Howes was born May 25, 1955, a thirteenth generation Cape Codder. His
father was a paintings and antiques dealer in Brewster who specialized in marine paintings and artifacts and had an extensive
private collection of 19th century ship portraits, both sail and steam. Howes grew up with a deep appreciation of the American
painting tradition, and especially the marine tradition. Largely self-taught, in 1994 Howes devoted himself to painting and
quickly gained a name and a following on his native Cape Cod, and Nantucket and the Vineyard. Howes currently divides his
time between the rural landscape of Vermont, where he lives with his wife and three daughters, and Cape Cod. We continue
to recommend Jerome Howes as being one of the great marine painters of the 20th Century. Ship portraits were
a favorite subject of master painters of many nationalities and provide a lasting remembrance of a romantic and beautiful
period when sailing ships ruled the oceans. Some of the better known American painters who recorded this period of our history
were James and Thomas Butterworth, Antonio Jacobsen, Fitz Henry Lane, John Stobart, William R. Davis, and William Stubbs
to mention only a few. Recently, Jerome Howes' popularity gives rise to his joining this list of dignitaries.