Presented
is a beautifully proportioned Royal Navy bell which most likely was in service on the bridge or quarter deck of a
smaller ship. It is unnamed and and does not have the Broad Arrow mark. However, the classic Royal Navy crown at its
top shows the remanents of grey paint, and the inside rim of the bell shows the mark of the clapper around its circumfrance.
This is caused by the rolling and pitching of the vessel over time as the clapper strikes all over in a random fashion.
Because of its fine proportions, classic design, and the clear, resonate ring, we are confident this is an authentic Royal
Navy bell.  It comes with a fancy three strand bell rope with two turksheads.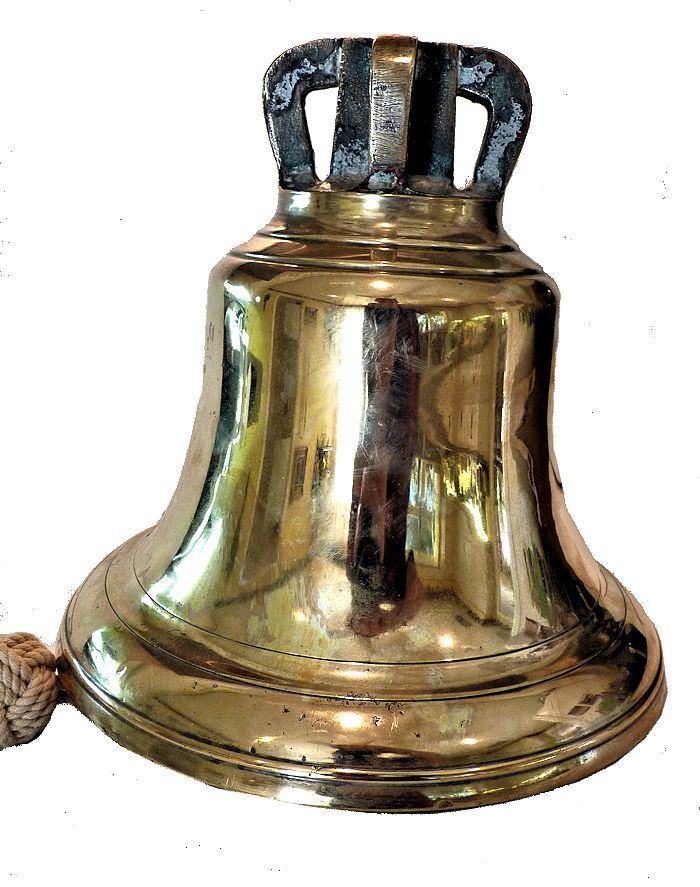 Inside of bell showing random flattening made by the clapper around the circumfrance         
Royal
Navy bells are rarely found in this country, and this is the first one we have had in
about eight years.
PROVENANCE: Purchased in the ordinary course
of business with no known provenance.

                                       Backside
of the bell  showing some very minor pitting

 

 

NAVY BELLS
RING WITH DISTINCTION:There is nothing comparable to the sound of a Navy bell made for the U.S. Navy and the
British Royal Navy. They use a special "bell metal" formula which produces a clear, sharp ring and
sets up a strong reverberation that has a strong resonance. Once a bell like these is heard, it will never be forgotten. Cheap
imitations can never achieve this distinctive ring because "bell metal" is a specially formulated bronze alloy,
unique to the Navy for this highly specialized use.
DIMENSIONS BELL:
Diameter at crown 5″
Diameter at mouth 9 1/4″ Height overall 9 1/4″
Weight: a heavy 13 1/2 pounds for its size
CONDITION: The bell shows a few dings on the outside here and there and a few minor irregular imperfections elsewhere sometime ago it has been newly polished, but not lacquered. The bell rings sharp and clear and resonates making a strong vibration typical of Navy bells.