LIGHTLY USED 3 LIGHT, 12 BOLT, CHINESE/JAPANESE (?) DIVE HELMET

STAND NOT INCLUDED!
DIMENSIONS:                18″H
x 13 1/2″ W x 13 1/2″ D
Weight 40 pounds
SERIAL NUMBERS:
None
Presented is a lightly used three light 12 bolt Chinese dive helmet. The helmet shows some spots of green verdigris which indicates
its exposure to salt water. Most all the fixtures have a heavy coating of solder around them for water proofing.  It
also has the remnants of a cosmoline coating as if it were put in storage. It has not been dived or tested. There are no numbers
on the bonnet or breast plate. The construction throughout is simple. There is a communication fitting going through the shell,
but no wiring or speaker is fitted. CONDITION:
Inside, full vents are fitted. There is no apparent misalignment or damage to the internal interrupted threads
of either the top or botton, but the bonnet does not line up fully on the breast plate so the locking pin does not serve
its purpose. This does
not affect the functionality of the helmet for display. The front port rests on a rubber gasket and the added
friction keeps us from opening it. The helmet has minor scratches, and light discoloration and minor
staining staining.  There is no speaker fitted.
Like all diving gear, this is being sold for DISPLAY ONLY. It should not be divedwithout having passed inspection by a certified dive shop.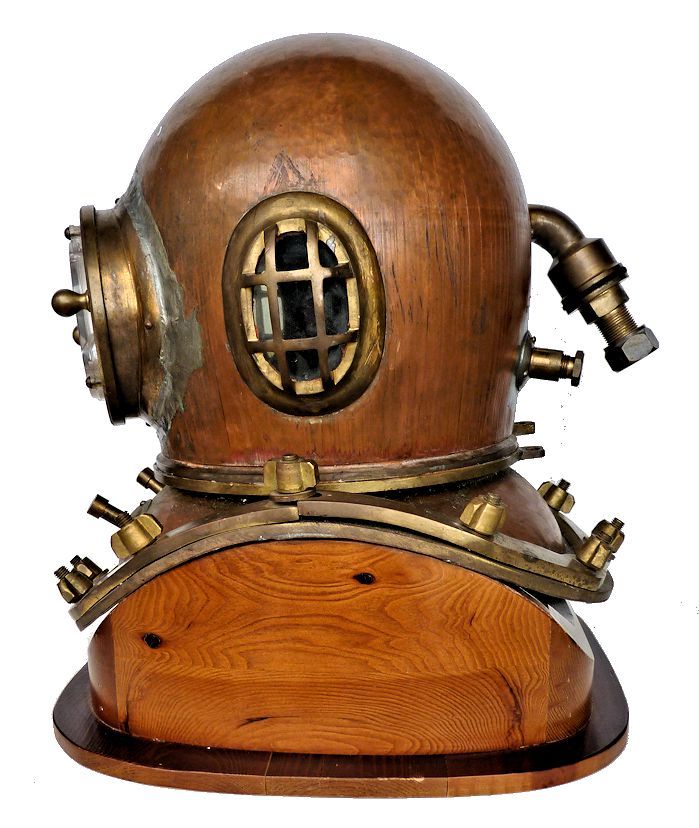 Right
and left sides of near new Chinese 12 bolt diving helmet over breast plate with maker's tag PROVENANCE: From the estate of a second generation hard
hat diver, and the son of a member of the salvage team of the 17 month project to refloat the French ocean liner Normandie
on the Hudson River that completed in 1947. Not only did the deceased have an incredible hard helmet and diving equipment
collection, he also, in his lifetime, managed to assemble an amazing collection of anything related to diving. MAKER'S
BRIEF HISTORY:We have no information concerning
the maker.
Back of helmet showing
the comm fitting next to air supply check valve. The exhaust valve to the right
Three quarter left and right sides of Chinese 12 Bolt
helmet
Inside
of  bonnet showing vents over picture of the underside of the breast plate