Rare MORSE No. 15 Diver's Air Pump
RARE MORSE NO. 15 AIR PUMP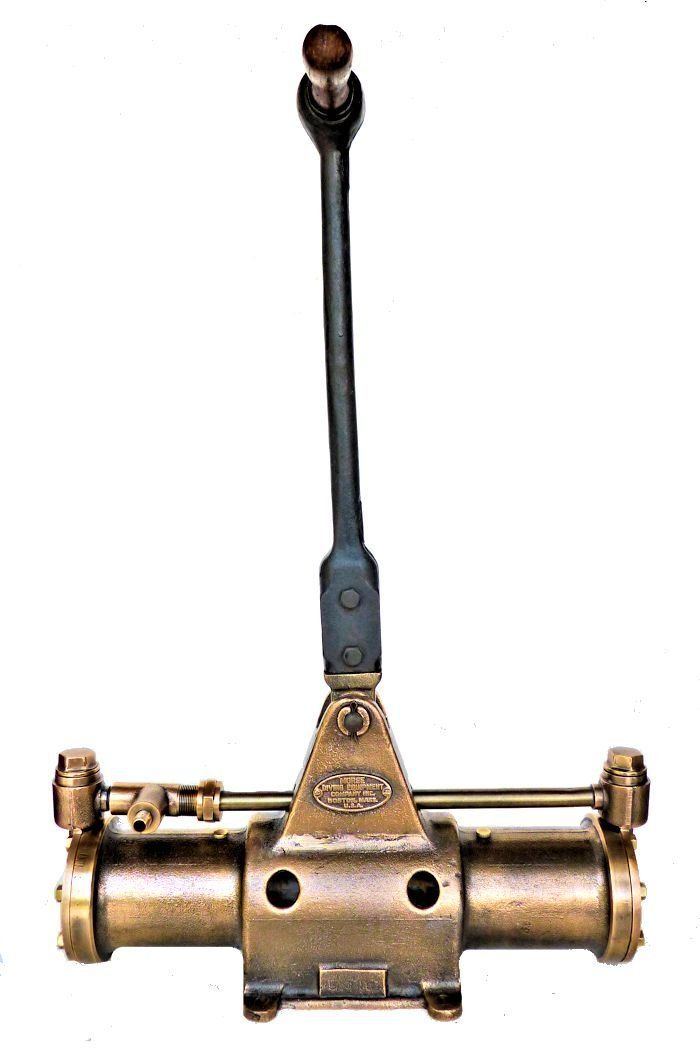 Overall Dimension Pump 29" H x 21" W x 7 1/2"D
of end plates   4
3/4" Dia
Lever 21" L  x 1" D                                                                       Bore
– approx
Estimated Weight 55 lbs
Markings. See below
Presented
is a rare example of a shallow water dive pump made by the Morse Diving Equipment Company, Inc. of Boston, which first
appeared in their catalog of 1957. It is meant to be mounted on a board or affixed to the deck of  a dive vessel.
It was made to be used with their No. 15 Shallow Water Dive
Helmet.The shallow water diving
pump was operated by a single person and was used in up to 50 feet of water or 1.47 atmosphere of pressure.
The cylinders have pistons which have leather washers which provide a flow of air to the diver when the lever is
exercised in each direction. The removable end caps make the servicing and replacement of the leather washers much easier
than with upright pumps. The metal work on this pump has been recently polished and lacquered.  If the
pump is intended for use, it must be inspected,and rebuilt by
a dive shop which will certify it ready for service.The pump
is being sold for display and should be sent to a dive shop for certification.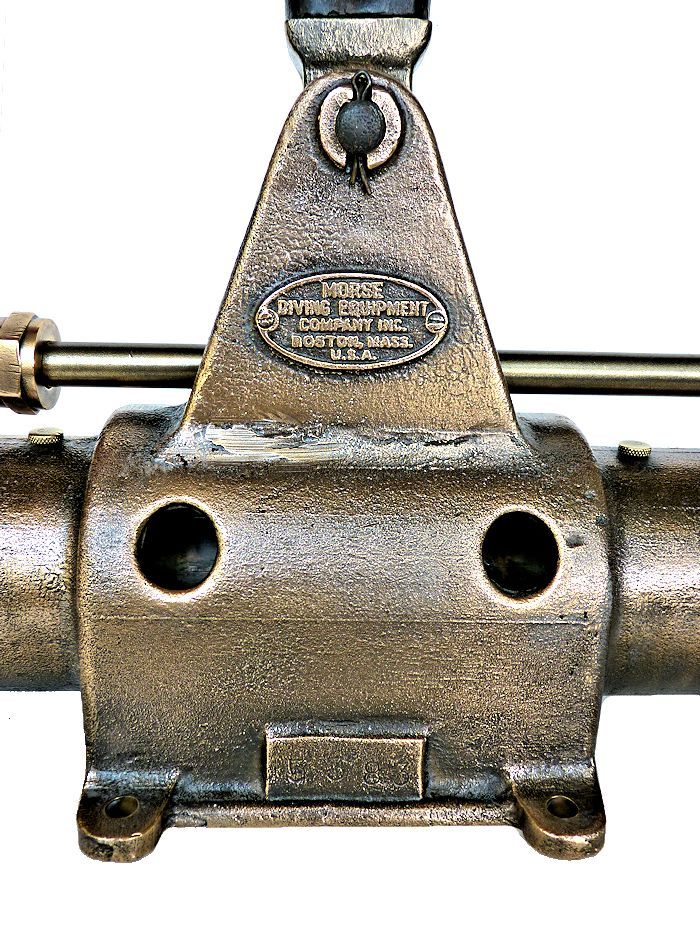 Close-up of the center of the Morse 15 Air Pump CONDITION
and MARKINGS: This pump has not been tested or inspected inside. It's outside appearance shows it to be complete except
for an air pressure gage that is to be located on the output line and a wood base board upon which it is normally mounted.
We have moved the handle back and forth, and the cylinders move properly, but no air pressure comes out of the supply side.
This indicates the leather washers need to be replaced and other parts may need to be rebuilt. The pump is marked on the center
back No. 15, and on the front with the maker's name. The serial number 53XX is stamped on a lower area. The entire exterior
of the pump is made of brass. The metal work on this pump has been recently polished and lacquered.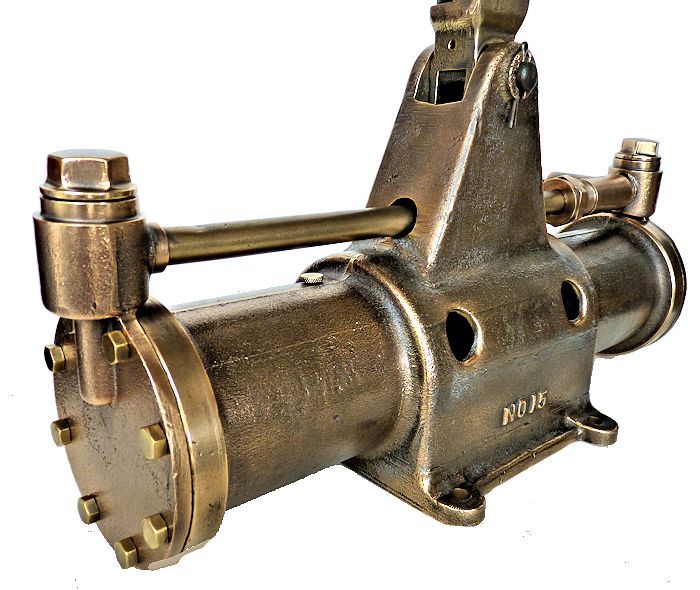 BRIEF HISTORY OF MORSE DIVING: In the arena of deep sea diving, there
are few companies with the longevity and history of Morse Diving. The company was founded in 1837 as a Boston maker of brass
ware, three years before Englishman Augustus Siebe manufactured its first closed air dive helmet. During the Civil War, the
firm commenced building maritime fittings and began experimenting with early underwater hardhat designs from Siebe-Gorman
and other pioneering makers. In 1864, Andrew Morse bought out his partner, introduced his sons into the business, and began
to focus on creating new products for underwater salvage expeditions. In 1904, that firm became A. J. Morse and Sons, Inc.,
under which name it continued until 1940. Then the name Morse was re-incorporated as Morse Diving Equipment Company, Inc.
Finally in 1998, the company changed owners, and became Morse Diving Inc. under the leadership of Ken & Donna Downey.

Side view of Morse 15 air pump PROVENANCE:
From the estate of a hard hat diver who amassed an incredible hard helmet and diving equipment collection.
A great addition to a dive collection or, after a rebuild,
to be put back in service after inspection by a certified dive shop.