SCRATCH
BUILT LAPSTRAKE SAILING DINGHY
Design Dates to Ca 1895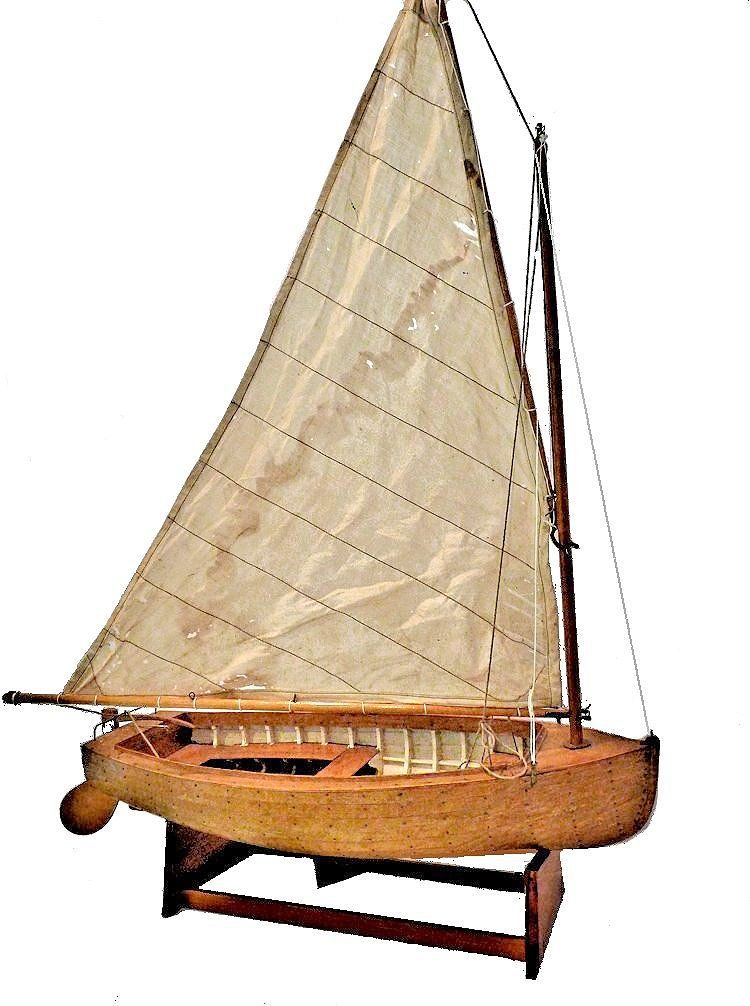 It has a bronze centerboard
and tiller holder which makes this a true antique pond yacht. Displayed on its stand, it becomes a fine
work of maritime Folk Art.
DIMENSIONS:
18″ L x 28 3/4″ H in Stand 7″ Beam    Weight
1 lbs 14 oz

Presented
is a scratch built, hand crafted sailing dinghy with centerboard and outboard rudder using traditional lapstrake plank
on frame construction and made to the highest standards of the model maker's art.  All the woodwork is hand
fitted using the same materials and methods of building a real boat of this type and consists of planks,
frames, stringers,
keelson, centerboard trunk and bronze centerboard, seats and thwarts floor
boards, fore, side and aft decks with coamings, two cleats, traveller,
rudder on pintels and gudgeons, mast, boom, sprit, standing and running rigging, and other details. Displayed on a contemporary
wood stand.  It is similar to a dinghy model we sold last
year, but in much better condition.

In
the United States, the design dates back to the 1870's, and with minor modifications, was popular on both the East
and West coasts.

The
Connecticut River Shad or Drag boat as shown below  was a popular example of this style. The shape of the model's
hull is roughly that of the New York Whitehall design, but with greater depth and carrying capacity. These boats ranged
in size form 15 to 18 feet, and were generally Sprit Sail rigged as is this one. This model has a centerboard that is made
of bronze and the tiller has a spring wire lock indicating it was made to have been sailed as a pond yacht.

From our years of experience, we classify this
as a fine, high quality model, and a handsome work of maritime Folk Art.  It makes an ideal gift for someone
interested in sailing. 

The
transition from work boat to racing dinghy took place in January, 1932, at Manhasset on Long Island Sound,
where a group of nine small boats inaugurated winter racing in what was called in that day, "Frostbiting".
By 1954, Frostbite dinghy sailing had taken hold, and smaller eleven foot versions of the original working boats
were found racing on Long Island Sound in "Frostbite Dinghys". One  other active area was along the
harbors of Chicago's waterfront where competitive sailor's raced in the numerous harbors. It continues
today using one design classes to compete during the winter.

.

              From
Howard L. Chapelle's "American Small Sailing Craft"

 

METHOD OF CONSTRUCTION: The hardware is made from brass with the centerboard being made of
bronze with the leading and trailing edges faired to sharp edges. There is a solid bulkhead forward of the mast which
cannot be seen. The hull is made by nailing a series of planks called "strakes" on steam bent frames or ribs that
are mounted crosswise on the keelson, and nailed to the frames on one inch centers. The interior has white paint which is
in very good condition. The deck, coming, seats and centerboard cap are varnished. The varnish has some minor crackling on
the flat surfaces, but are in remarkably clean condition. The heavy weight centerboard is fitted for stability indicating
this boat was meant to be sailed as a Pond Yacht. The overall model is finely constructed and must have been made by a master
model maker.

 
DIMENSIONS: 
Scale:
1 inch equals 1 foot
Length
on deck  18″               Beam
7″       Height on stand 27 3/4″
Maximum
depth  2 1/4″    
Weight  1 lb 14 oz with stand

 A
fine piece of American nautical Folk Art. It is truly a masterpiece, and makes a beautiful display. 
CONDITION: This is a handmade model, and it's hull, mast, boom
and sprit are in excellent condition considering their age. The sail is another story, with stains, tears and what
may be moth holes. In one section, clear tape is used for strength. It's lashing is a recent replacement as is the running
rigging. The paint and varnish are in good shape and we think the model was likely stored away for safety.
              Foredeck,
thwarts, and floor boards are varnished. Ribs & Hull are painted white
       Large aft cockpit and
thwarts. Note the wire spring to lock the rudder in position for sailing
            Varnished
lapstrake hull with excellent patina of age