Civil War High Quality French Pattern Shako
CIVIL WAR HIGH
QUALITY FRENCH PATTERN SHAKO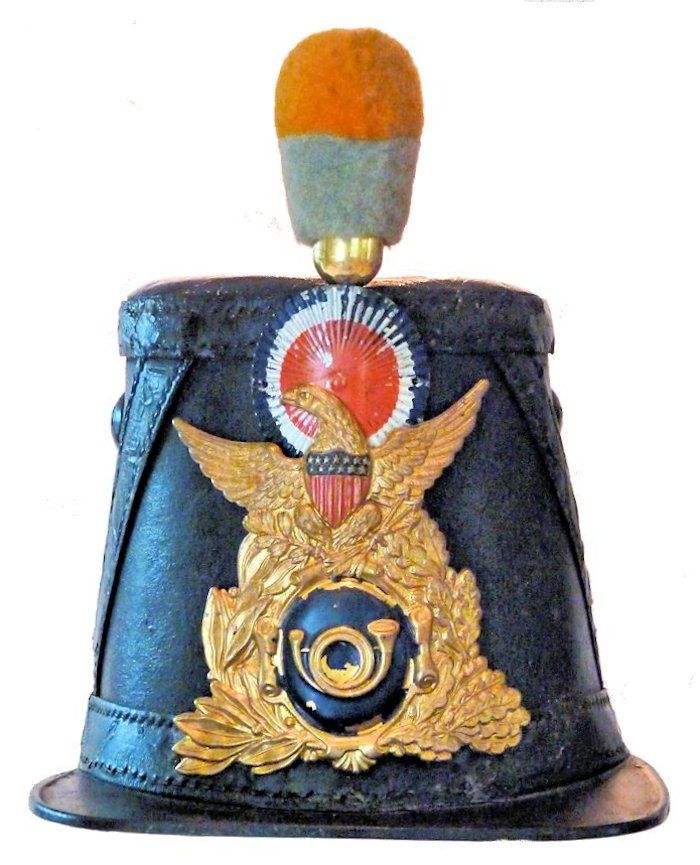 Almost Unblemished Original Condition!
Dimensions
5 ¾" H x 5 ½" W x  9" D. Add 2 ¾" for pompom
Weight 12 ounces
Presented
is a stylish Civil War Union infantryman's shako in outstanding original condition and made to the highest standards
that were used during the early days of the War. Several Pennsylvania infantry units and regiments in New York's Excelsior
Brigade were known to have worn these shakos. What sets this shako apart from others of similar design is its near perfect
condition and very high quality construction and its special features. At the top is a 2 ¾" tall, light blue
and yellow pompom resting over a three dimensional, 2", blue, white and red French style cockade, over which rests a
dramatic 4" x 4 ½", stamped brass, gilded and painted plate on the front featuring a right facing spread
American eagle. The eagle has a shield with 13 stars, and below, an infantry bugle centered on a black background. The pompom
has a light stain, top to bottom, on its left side. The badge has most all its gilding remaining and 95% of its painted finish.
All the exterior leather joints are covered by double stitched leather bands making a rigid structure which has stood the
test of time.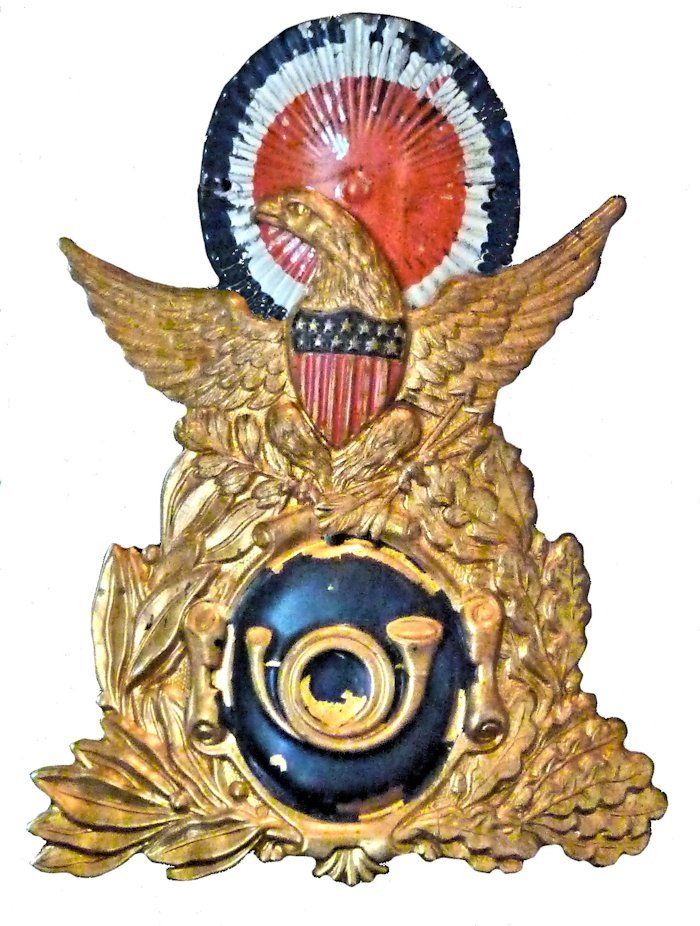 The strong
and unbroken visor's bottom is painted green and has a ¾" E which stands proud. The 2 ¼ high hat
band shows considerable wear and one small hole at the rear. The adjustable chin strap is intact and there is one broken head
strap. The interior construction is cardboard all of which is in excellent condition with tight, unbroken stitching. The
size 3 ½ is stenciled at the rear and 29 + by ink below, the European equivalent. There are no other marks. There are
vent holes on the right and left side near the top.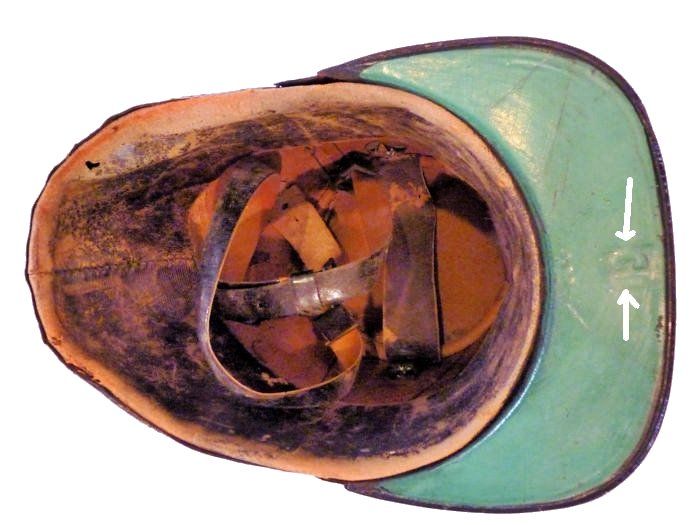 Inside shows considerable
wear and arrows point to "E' on visor This
is a fine, highest quality, original, Civil War 'French pattern' shako as used during the early stages of the
Civil War. It will make an outstanding display or as an excellent addition to any military headgear collection.Provenance:
A deaccession from a large Civil War museum collection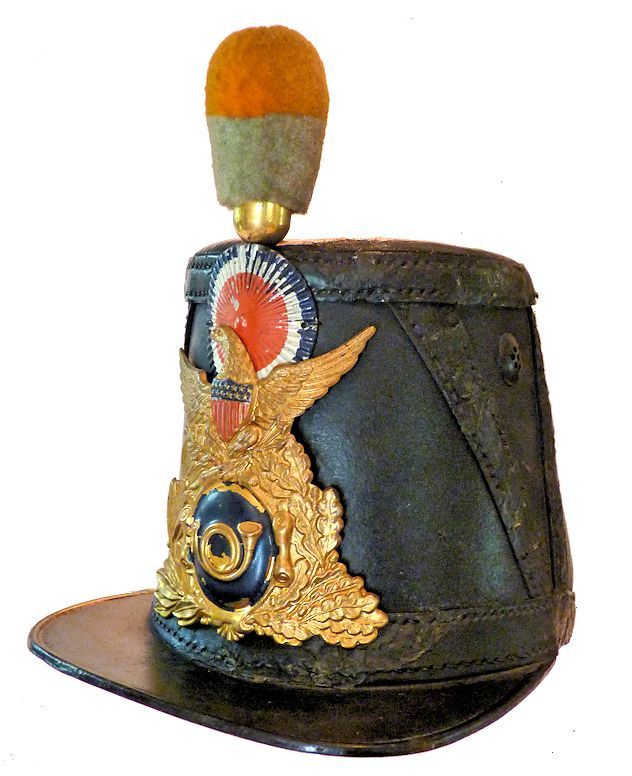 A 3/4 front view of the shako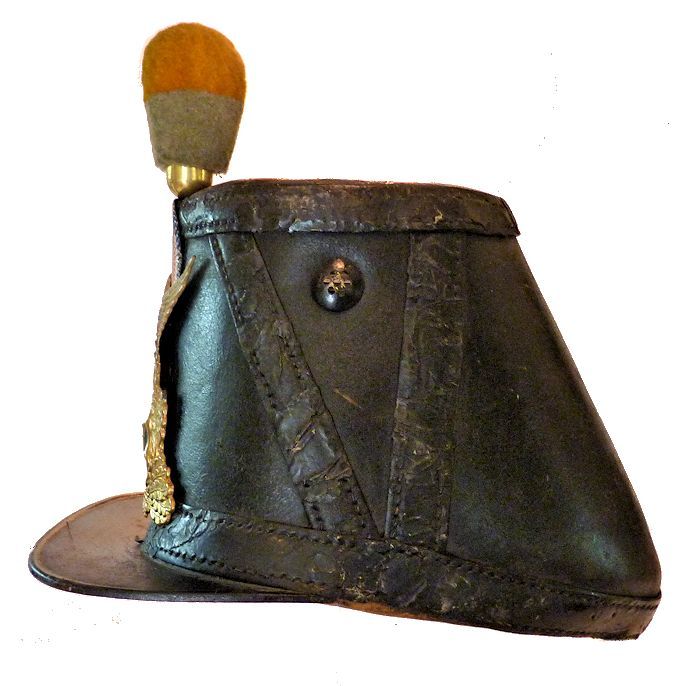 Left side of shako showing construction details CONDITION:
Considering its age and use, this Civil War shako is in overall exceptionally fine condition. The inside shows its age
along the sweat band which shows considerable wear, but the rest of the hat shows only minimal marks of age.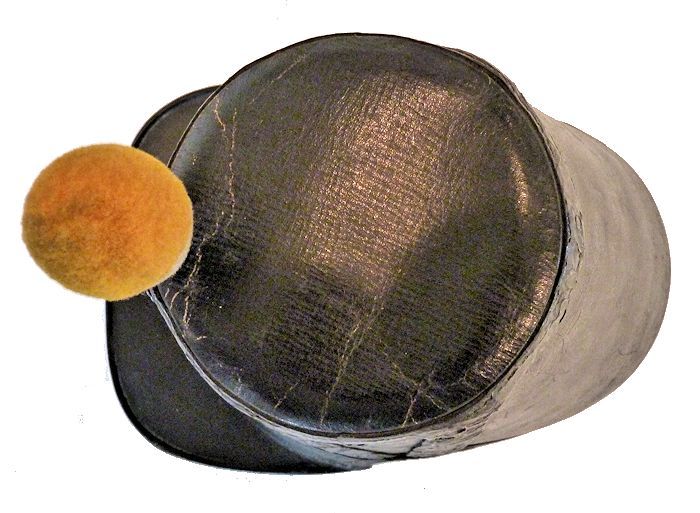 Top view of shako