div align="center">

The Ames M1852, 1st Issue sword is
shown above a Horstmann Ca 1880 Sword with a 3/4 inch wide blade. This shows how the blade size decreased over the
years. 
The Horstmann sword is also available for sale. Go:  https://landandseacollection.com/id1030.html
Presented is
an example of the rarest of the rare, a M1852 sword that was made in 1852 by Ames Manufacturing Co., of Chicopee,
Massachusetts. Without a scabbard, it is 34 3/4 long. This is a "must have" for any serious collection of naval
swords.

The Navy issued its first and only order to Ames Manufacturing for 500 swords in April, 1852. These were delivered
in full by January, 1853. After that, officers were required to buy their own swords, which holds true today
using a slightly modified design that has a 5/8″ blade. In 1852, the secretary of the Navy provided
the following simple regulations. "For all officers – shall be a cut and thrust blade, not less than 26 inches long or
more than 29 inches long; half basket hilt, grip white. Scabbards of black leather, mounting yellow gilt and all as per pattern"
as in the illustration below.

Ames was the only original supplier
of M 1852 swords. They were ordered in small numbers since there were only about 1,230 naval officers in service at that time,
and fewer still until the start of the Civil War. Horstmann & Sons of Philadelphia helped supply swords which
were slightly different than the regulations and had blades and hilts imported from Germany.

MARKINGS: The obverse ricasso
is stamped 1852. The reverse ricasso is stamped with a P with R.B.P.H. under. This is the mark of the Navy inspector, CMDR.
Robert B. Hitchcock. In addition, the obverse blade is engraved with Ames Mfg. Co. Chicopee, Mass. on three lines

                 1852
date on obverse ricasso and Navy inspector's stamp on versa

THE HILT: is 5 1/4 inches long ending in an engraved pommel with an end cap an eagle looking
over its right shoulder surrounded by thirteen stars with the tang protruding though its chest. The number of stars
agrees with the official 1852 design. The grip is wrapped in white fish skin having fifteen turns of double twisted wire.
The half basket guard is per the pattern with forward facing sea serpent quillion flowing into a pierced guard with floral
oak leaves, acorns and USN emblazoned on the obverse. The oak leafs and acorns repeated on the reverse. The lower hand guard
terminates in an ornate sea serpent. It is slotted for a sword knot or portapee which is added when the
sword is worn.

Almost all of the heavy, bright and shiny gold wash remains. The fish skin wrap is in excellent condition and joins together
at the bottom.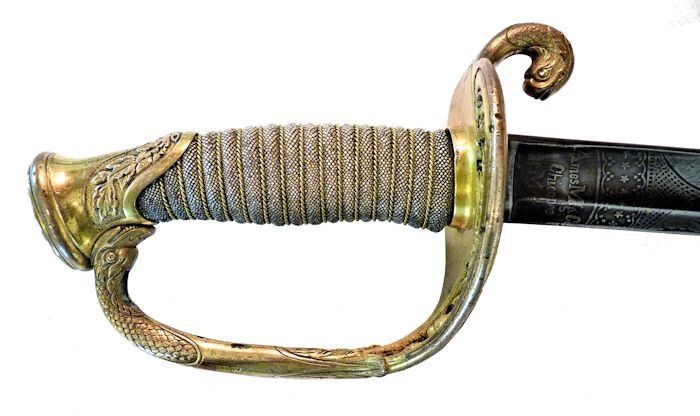 Obverse
and reverse side of Ames M 1852 hilt showing the brilliant gold gilt
THE BLADE is 29 inches long by 1 7/64 inches wide. It is 5/16 inch
thick on the spine. The primary fuller is 11/16 inch wide and runs 20 1/4 inches over which is centered a 1/8 inch
wide fuller that runs 15 1/4 inches. It is tight in the hilt.

It's original polished and frosted design is now covered with an even, smooth, coat of medium grey patina of age
on both sides except near the tip where some brightness exists. It is moderately sharp and has a good number of small
nicks along the cutting edge indicating it may have been used in combat. Considering its age and service, it is in exceptional
condition. There is a black leather washer which appears original.

 M 1852 acid etched design on reverse showing smooth
grey finish

OBVERSE
BLADE DESIGN: On the blade's obverse imprinted on three lines is, Ames Mfg. Co., Chicopee, Mass.
Right above it is a a cross hatched triangle with leaves 2 3/4 inch long. Above that is an anchor with shield on
the shank that is 1 7/8 inch long, then a 1 3/4″ blank oval of thirty stars without name, and
finally six crossed pikes with a pole with an unmarked flag  measuring 4 1/4 inches.





           M
1852 acid etched design on obverse showing smooth grey finish

REVERSE BLADE DESIGN: The ricasso is marked with 

P with R.B.P.H. under. Next is a spread wing eagle perched on
a ships cannonade with sun rays above measuring 3″, and a simple fowled anchor of 2″ with a 1 3/8″ USN
in a ribbon above. The design
ends with a square knot with an acorn at the lower end and then a series of oak leaves with the three strand line passing
through and ending with another acorn at the bitter end measuring 6 1/2″.

| | |
| --- | --- |
| Front and rear view of Ames M 1852 cross guard | |

This is a rare example of a first
issue M1852 Naval officer's sword from the most famous American maker. It is a special find.
Reverse side of Ames M 1852 sword dated 1852
PROVENANCE:
Purchased in the ordinary course of business. Formerly owned by a collector in Tennessee.

THE SCABBARD:
is missing. It would be about 30 inches long by 1 1/2 inches wide at the throat. The sea serpent on the drag should
be mounted with the head on the side away from the rings as per the regulations. On the original M 1852 swords, the serpents
had the design cast only on the obverse with the reverse blank.

 

The difference between
the original Model 1852 sword design shown on the left, and that authorized today, is that in some, today, materials
such as plastic instead of fish and ray skin, and lower quality metalwork are being used. Not so with this Ames M 1852
sword that conforms with the original specifications.  Over the years, the blade width has decreased as follows:

* From
1 1/8 inches to about 1 inch after 1872

* To about
3/4 inch in the later 19th Century,

* To 5/8
inch in today's Navy.

The regulation of
1852 had the eagle on the pommel facing right when viewed from behind. The use of the officer's sword was suspended on
15 October 1942 and was not authorized officially again until 1954. Source Naval Historical and Heritage Command.