LARGE ALL AROUND POLISHED
BRASS
WHITE SHIPS NAVIGATION LIGHT
PETERS & BEY -HAMBURG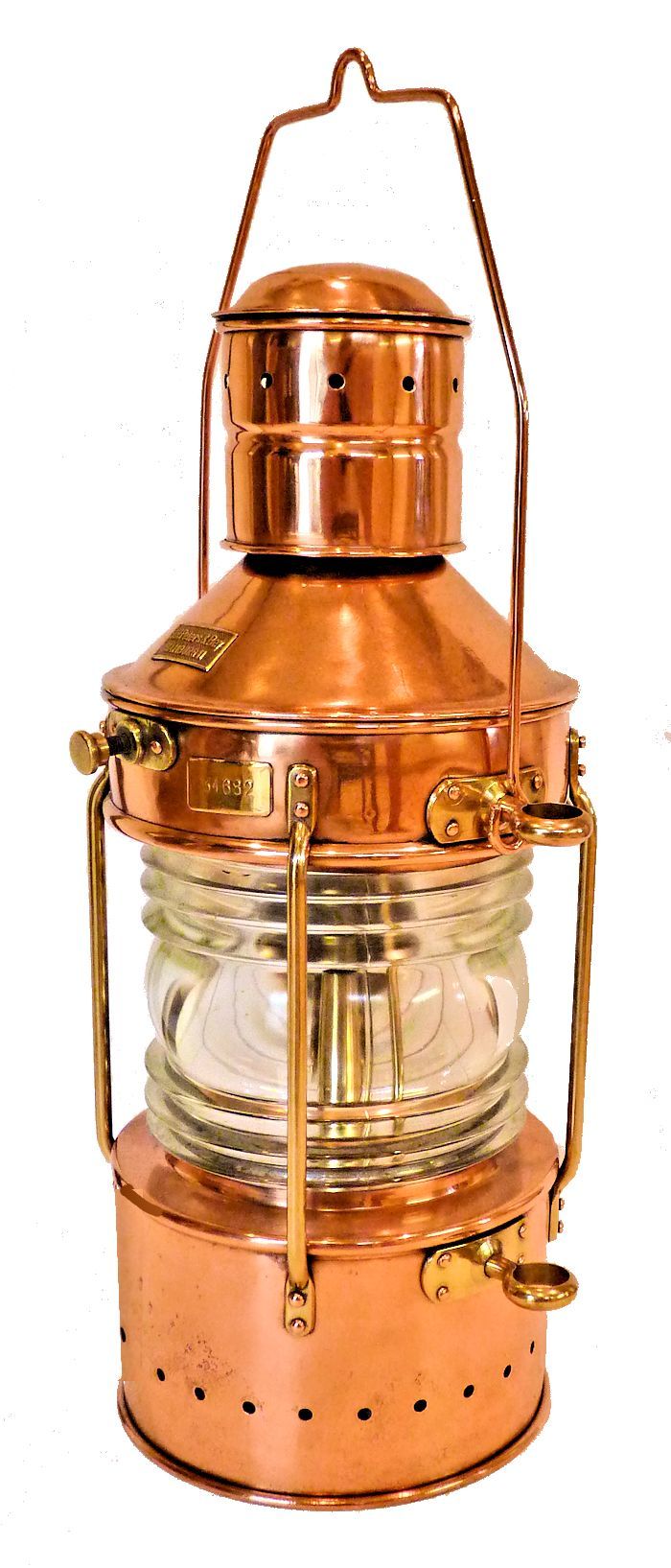 A Real Old Fashioned Navigation Light!
DIMENSIONS:

 

Lamp not counting bail, 20
1/2″  high      Diameter  10".
The upright bail adds 3"                            
LENS: 7″ W x 6″ H              
Weight 14 lbs 
PRESENTED  is
an old style, copper, brass and glass kerosene burning ships' navigation lamp that is almost impossible to find
in this day of plastic lenses and aluminum or plastic housings. And it is in near perfect condition. It was made in brass
and copper in the first quarter of the 20th Century by Peters – Bey of Hamburg, Germany. Navigation lamps of this type
were made in clear, red, blue or green. The color was created by a filter between the Fresnel lens and the light source, a
kerosene burner. An internal hurricane chimney was not necessary.  Note the two rings on each side of the lamp which
acts as guides to raise and lower it for fueling. The fuel canister holds enough to last for about eight days.
This
is a real lamp and not one of the cheap imitations that are now flooding the market.
PROVENANCE:
From the family of a deceased collector of quality marine lamps.
The Maker's tag is on the lid. The sequential serial numbers are on the
housing and the burner

 

The imprint on
the plate on the opening lid of the lamp reads on two lines:

 
J.H.
PETERS & BEY
HAMBURG
 

Beneath that is a plate with the
serial number, 34682. The burner is stamped 34683.
PETERS
– BEY BRIEF HISTORY:  Founded in 1881, Peters + Bey is run successfully by the 4th generation of the founding
families who strive to have satisfied customers. Originally working as ship plumbers in Hamburg Harbor that supplied
ships with tinware and Kombüseninventar, the company today offers a comprehensive portfolio of services to the shipping
industry. In the last quarter if the 20th Century, Peters + Bey began to manufacture navigation lights. Always
a leader in their development, Peters + Bey is the first provider of internationally approved LED navigation lights for commercial
shipping worldwide.
In
addition their range of services include: production with our
own design and tooling for single part and series production. • Trade proficient in consulting and delivery. • Service
in the maintenance of safety-related equipment.
This
is a large size anchor or all around white light in the Old fashioned Turn of 20th Century styling.
The back of the lamp is also in excellent condition
CONDITION: We
have not tested this lamp's reservoir, but otherwise it seems to be in near perfect condition. The Fresnel lens is
perfect. The original kerosene burner reservoir is stamped with the lamp's matching serial number. It has
a wick. There are some slight minor marks of age and use.