French Dive Knife Polished Brass WWII Design
RARE CONTEMPORARY FRENCH
DIVING KNIFE WW II DESIGN!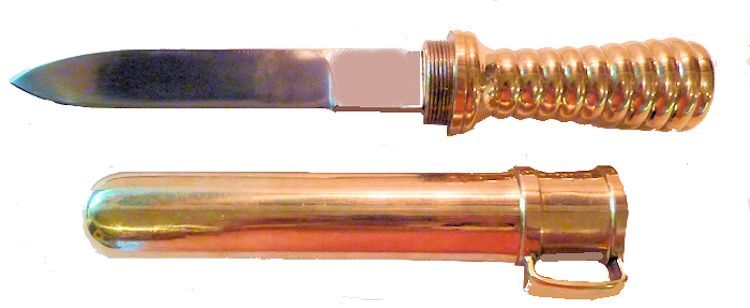 Only the polished knife is For Sale!
POLISHED FRENCH DIVE KNIFE:< Steel & Brass          No Markings Weight 3 lbs 13 oz                                      Made 20th Century Overall Dimension knife 12 1/2" 7" x 1 1/8" x 5/16" >Hilt 4 1/4" x 1 3/8"  x 1 3/8"                           Sheath> 8
3/8" L x 1 1/2" Dia>WW II FRENCH
DIVE KNIFE: Steel & Brass
No Markings<
Weight 2 lbs 8 oz
Made 20th Century Overall Dimension knife 14 1/4"
Blade< 8 1/4" x 1 1/4" x 1/4"
Hilt4 1/2" x 1 1/4"  x 1 1/4"                           Sheath 9
3/4" L x 1 1/2" Dia
Presented is a French WW II style dive knife that looks to be of recent
make and in like new condition. It was purchased from Germany from a dealer. It is not one of the cheap examples that
have been known to break at the hilt due to a short stub tang. This one weighs 3 pounds 13 ounces which is almost 1 1/2 pounds
more than the WW II example to which we are comparing it. The brass and steel have a high polish
and show no imperfections. The blade has a reasonably sharp edge. Like all of the French dive knives we've sold,
it has no markings.  There is a drain hole at the bottom of the scabbard. Shown below the knife is housed in its scabbard.

The main differences in this knife
are:Blade is held on each side by
metal brass clamps in the hilt instead of wood The tang is locked in place at
the end of the pommel by a slotted round nut instead of being peened.
A French customer who is expert in vintage
diving gear tells us "There are several kinds of French knives. They're made in 2 sizes with 3 kinds
of blades (only for Denayrouze type). Cabirol is different."<
Unfortunately, there is little documented
information as to when any of these French knives were made or who made them.



Close-up of reverse
side of blade over hilt. Both sides are the same.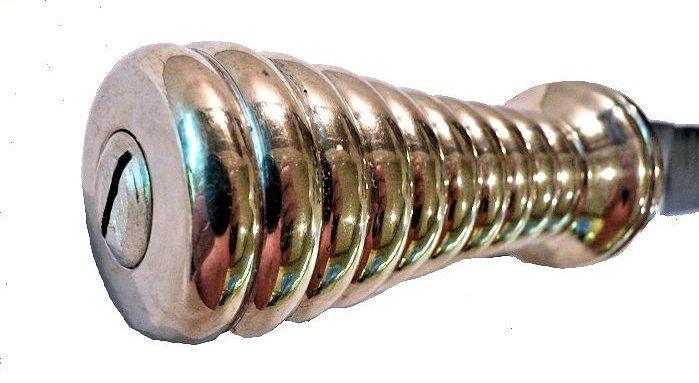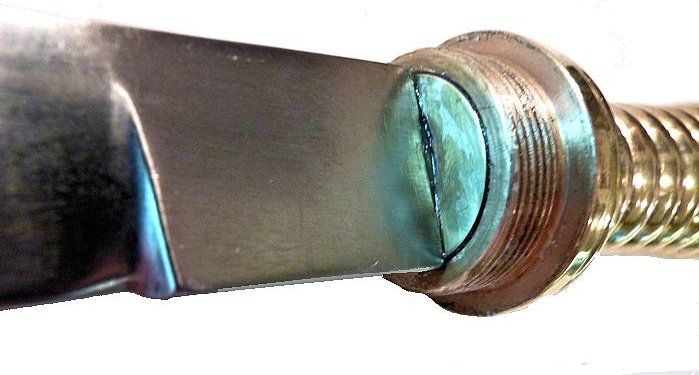 <   Pommel showing slotted tang screw
above metal blade clamps at ricasso.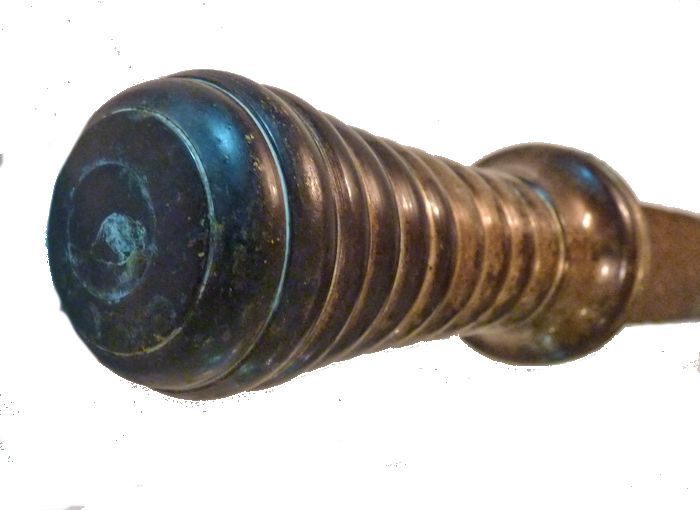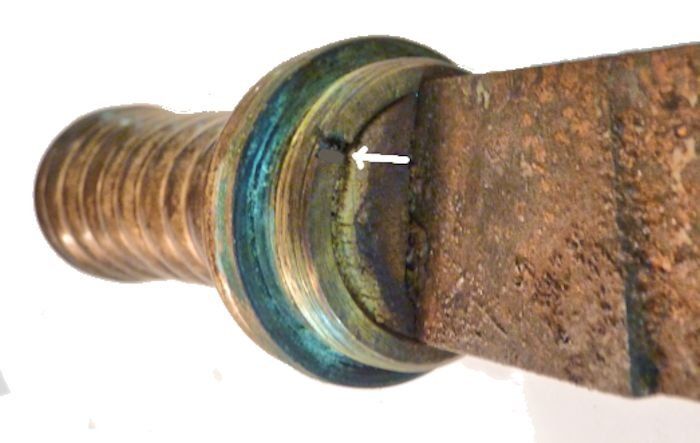 Top, Pommel with peened tang
in center. Below, Wood clamps hold blade