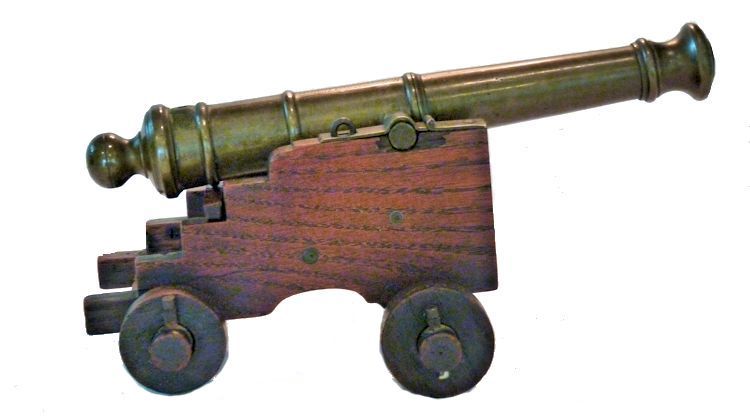 This antique miniature ships
cannon dates from the about 1845.  Made in England, the barrel is engraved in Copper Plate script, "Relic
of Royal George/Sunk 1782 Raised 1840″/ on two lines. 
Presented is a bronze barreled miniature cannon made from the ship's salvage which is mounted on an oak wood
carriage from the same vessel.
The
HMS Royal George, the 7th British warship of this name, was a 100-gun first-rate ship of the line of the Royal Navy,
built at Woolwich Dockyard and launched on 18 February 1756. At the time of launching she was t
he largest warship in the world. The Royal George saw
service
during the Seven Years' War including being Admiral Sir Edward Hawke's flagship at the Battle of Quiberon Bay and
later taking part in the Battle of Cape St Vincent. She sank undergoing routine maintenance work while anchored off Portsmouth
on 29 August 1782
because
her lower gun ports were open allowing water to rush in as the guests moved to one side. There was loss of over 800 lives,
one of the great disasters in British waters.
Attempts
were made to raise the vessel, both for salvage and because it was a major hazard to navigation. Six cannons were recovered
in 1782 by divers. In 1839 and 1840, Major-General Charles Pasley of the Royal Engineers successfully recovered another 12
cannon and other items and raised what remained of the hull. Some of the bronze cannon were melted down to make the base to
the Nelson's Column and other relics were made from the timbers and cannons.  Interestingly, the Royal George was
fitted with all bronze cannons which by this time had been replaced by iron cannons in ships of the Royal Navy.
This example was made from the metal from a cannon recovered from the wreck. Ref. our prior
research and Wikipedia.
This fine old
cannon is being sold for display purposes only. No attempt should be made to fire it!
DIMENSIONS:
Cannon Length overall 8 3/8″
Weight 1 pound  3 oz

Length barrel                7
1/4″                  Bore
3/8″ or 38 Cal
Diameter at last reinforcing band 1″  Diameter at 1st reinforcing band 3/8″
Maximum Width           4 1/4″
Carriage  3 1/4″ H x 4 1/4″ W x 4 3/4″ L x  3″ Diameter
wheels  
CONDITION:  The touch
hole is open to the bore. The original oak wood carriage is in excellent condition.  There are
the expected marks of age consisting of old small dings and a dimple on the top of the bore's rim. The bronze has
a pleasing patina ranging in color from light green to dark green. Some of the wood has darkened. There are no foundry
marks. There is some roughness around the touch hole which may indicate that it has been fired, which we do not recommend. 
 

The
barrel, pictured above, is engraved in Copper Plate script, "Relic of Royal George/Sunk 1782 Raised 1840″/
on two lines. The picture below show the barrel at full elevation.

 

 

 

CARRIAGE:

The picture below shows the bottom of the carriage.

FLAT RATE SHIPPING to 48 contiguous
States $40.00