King George I Miniature Ship's Cannon Relic
KING GEORGE I (1660-1727)
MINIATURE CANNON
BARREL
RELIC ON FIELD CARRIAGE Ca 1694<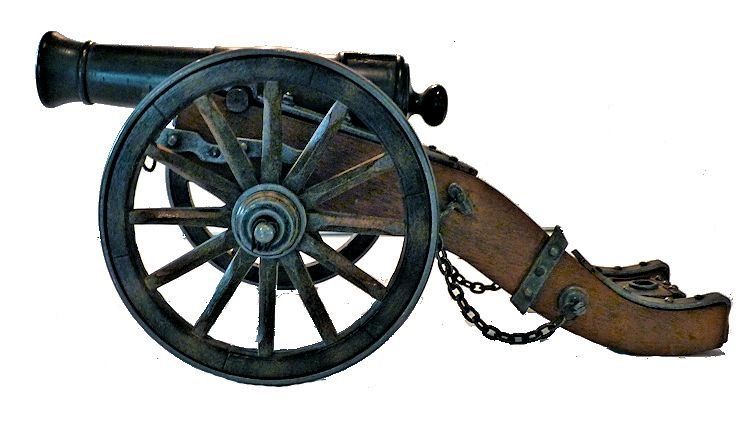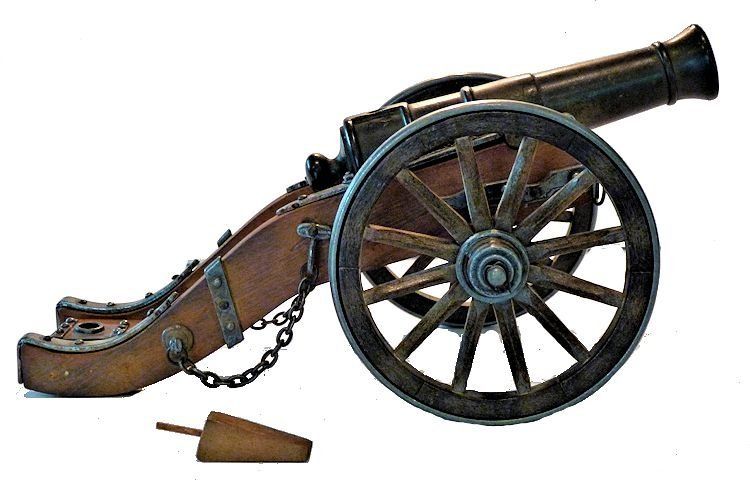 This antique
miniature cannon barrel dates from the about 1690.  Made in England, the bronze barrel is stamped, with
a GR (King George I) royal crown cartouche to the left of the touch hole and a  royal crown Broad
Arrow cartouche to the right.Presented
is a bronze barreled miniature cannon barrel which is mounted on an 17th Century Field carriage that dates
from about 1694. The trunnions are placed below the center line of the barrel which indicates that it was made prior to 1725 per
the System
explained below .  The triangular block in the picture was used for elevating the barrel.
SIGNIFICANCE
OF TRUNNION PLACEMENT: Trunnions are the cylinders projecting from the side of the tube. They
were first introduced in cannons in 1705. Their placement on the barrel helps to date when the cannon was made. Before 1725
they were located low down as in this case. 1725, is when the so-called Cronstedt system was established. After
the Cronstedt system was established, trunnions were placed at the middle of the tube just forward of the center of mass.
Based on the location of the trunnions, it can be concluded that most cannons with this placement were likely cast before
1725. When it comes to the building material of the cannons, the Cronstedt system focused on those made out of iron only.
Since this cannon is of bronze, the dating is not entirely conclusive and we believe it was made late in the seventeenth
century. The picture below shows
the trunion's placement, and also the area where there is no patination

This fine old
cannon is being sold for display purposes only. No attempt should be made to fire it!DIMENSIONS:Cannon
Length overall 8 3/8″
Weight 2
pounds  13 ounces
Length
barrel
6.15″                  Bore
17/32″ or .53 Cal
Diameter at last reinforcing band 1.30″  >Diameter at 1st
reinforcing band .90″
Maximum Width
5 1/2″                  Carriage  4
H x 5 1/2″ W x 12″ L x  4 1/2″ Dia. wheels.
GEORGE
I (George Louis; German: Georg Ludwig; 28 May 1660 – 11 June 1727) was King of Great Britain and Ireland from 1 August
1714 until his death, and ruler of the Duchy and Electorate of Brunswick-Lüneburg (Hanover) in the Holy Roman Empire from
1698.George
was born in Hanover and inherited the titles and lands of the Duchy of Brunswick-Lüneburg from his father and uncles. A succession
of European wars expanded his German domains during his lifetime, and in 1708 he was ratified as prince-elector of Hanover.
At the age of 54, after the death of Queen Anne of Great Britain, George ascended the British throne as the first monarch
of the House of Hanover. Although over fifty Roman Catholics bore closer blood relationships to Anne, the Act of Settlement
1701 prohibited Catholics from inheriting the British throne; George was Anne's closest living Protestant relative. In reaction,
Jacobites attempted to depose George and replace him with Anne's Catholic half-brother, James Francis Edward Stuart, but their
attempts failed.
During
George's reign, the powers of the monarchy diminished and Britain began a transition to the modern system of cabinet government
led by a prime minister. Towards the end of his reign, actual power was held by Sir Robert Walpole, now recognized as Britain's
first de facto prime minister. George died on a trip to his native Hanover, where he was buried.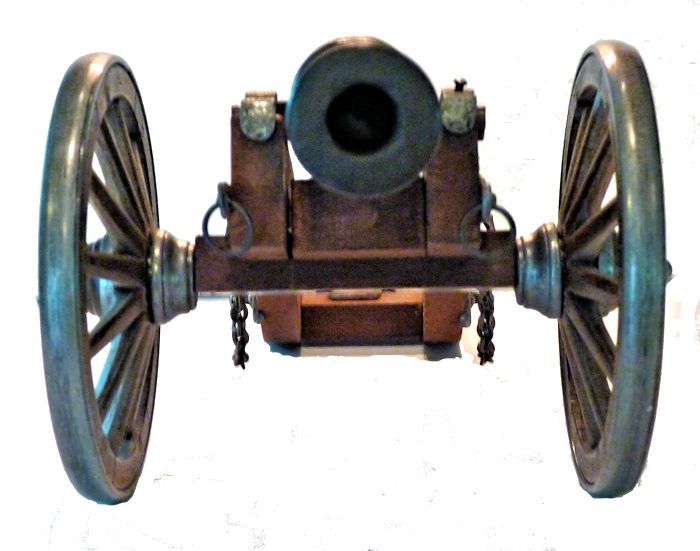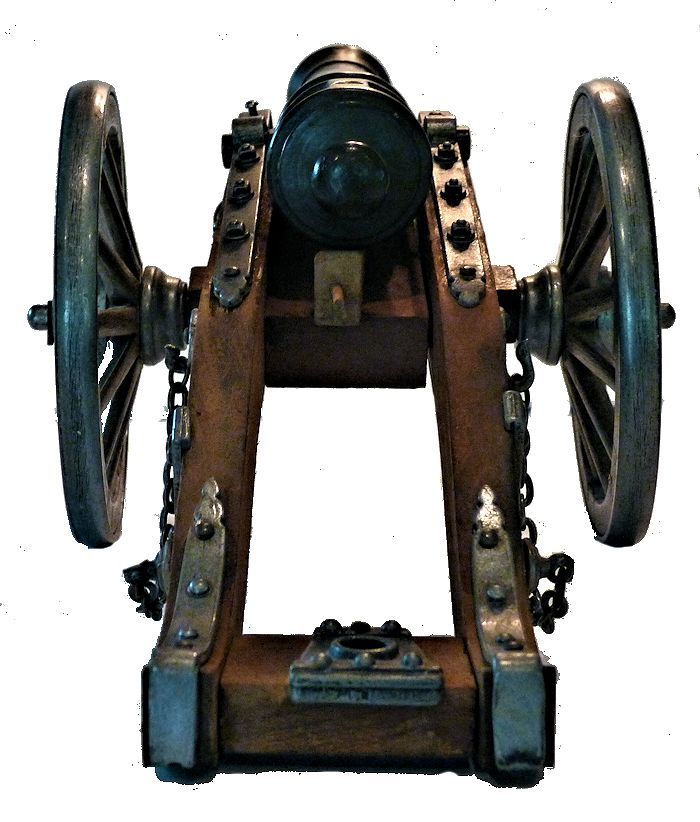 >CONDITION:  The touch
hole is open to the bore. The wood carriage is not original to this barrel, but replicates the same era. It
was purchased years ago in Europe andis
in excellent condition.  The original carriage was sailor made for a ship. There are the expected marks of age consisting
of old small dings on the top and bottom of the barrel. The bronze has a pleasing patina ranging in color from
light to dark black. There is little to no patina on the underside of the barrel which is pictured below the second paragraph. There
is some roughness around the touch hole which may indicate that it has been fired, which we do not recommend. The
barrel, pictured below is stamped with a royal crown  over GR standing for George Rex beneath the touch
hole and shows above
the touch hole a royal crown with a Board Arrow mark beneath a royal crown signifying in the king's service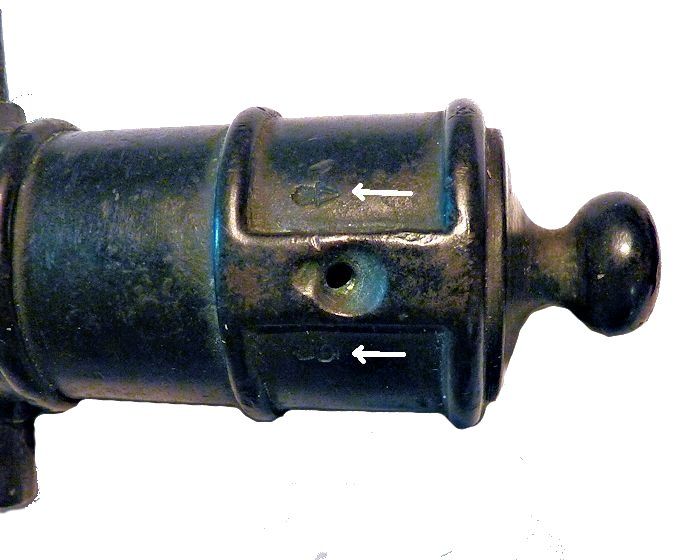 CARRIAGE: The picture below shows a three quarter view of the back of the
George I field carriage which replictates the same era as that of the cannon's barrel. The elevation block is in
place. The block is moved in or out to change the elevation of the cannon