Important Sterling Silver & Ivory English Dirk 1799-1800
IMPORTANT
ENGLISH
STERLING SILVER & IVORY DIRK
Ca 1799 – 1800

Presented> is
an English Stirling Silver mounted ceremonial dirk with an elegant Elephant ivory grip that is 16 3/4″ overall and
a narrow, 5/8″ wide.  The unsharpened double edged blade has a center fuller from the silver oval scabbard
cap ending 3/8″ from the point. The blade was originally niter blue which has now dulled, but the gilt pattern of floral
leaves and vines are clearly visible on both sides.  The design measures 6 3/4″ from the scabbard
cap to its terminus. The sterling 8 sided pommel  has a flat top from which protrudes a silver capstan with the
tang visible at its center. The ferrule is also 8 sided with a spacer between it and the cross guard. Between the ferrule
and the pommel is 3 1/4″ of near perfect ivory with the same 8 sided shape as the ferrule and pommel.HALLMARKS: There are 7
hallmarks total. Two are on the obverse of the pommel and five on the right cross guard arm. The
five on the left cross guard read from left to right are:Lion PassantCity mark = London
Not legible = Birmingham Imprinted on the pommel
there is a Lion Passant under an unintelligible mark.There is no scabbard. The dirk's
size and weight shows that it was intended to be used for ceremonies rather than in combat with a point of
balance one inch forward of the scabbard cap.
CONDITION: The straight double edged
blade has turned dark blue with age and has a gold gilted design of leaves and vines from the silver scabbard
cap to 6 3/4 along the center fuller. There is no pitting or spotting  The ivory grip is in excellent condition with only one small age crack on the
side and a small blemish adjacent. All the furniture is tight The weapon has 7 hallmarks denoting sterling silver as described Ref.
A near twin of this same dirk is found on page 197, EW 108 of "Naval Swords and Dirks" cataloged
by Sim Comfort. 2008. Dirk hallmarked Birmingham, 1799/1800 by Elizabeth Cook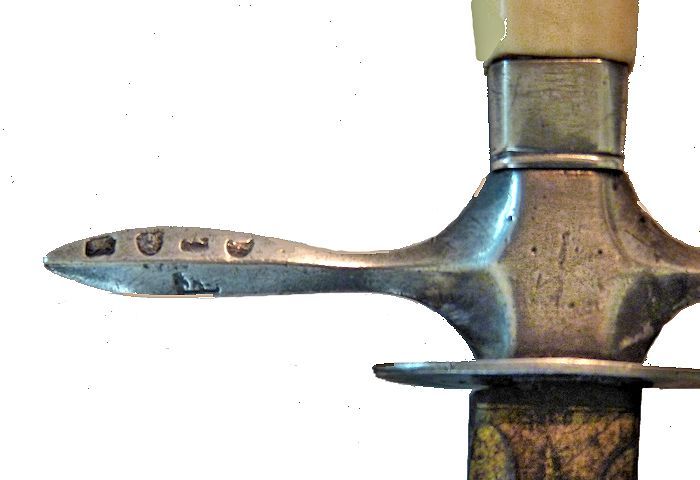 Five
hallmarks stamped on cross guard denote Sterling Silver and London madePROVENANCE:
From a private collection of nautical antiques where it was acquired ten years ago.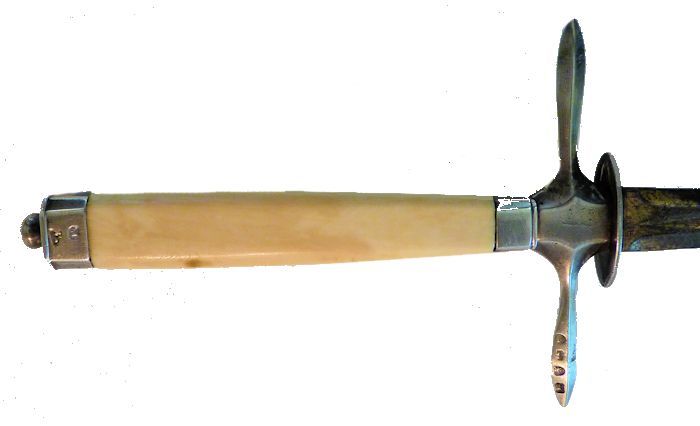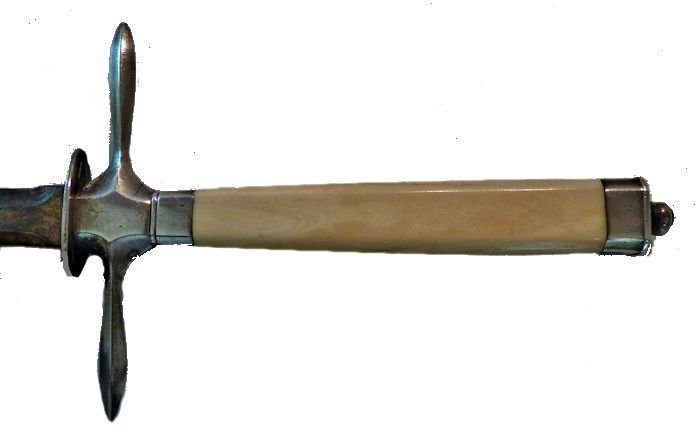 <                          Showing
the hallmarks and both sides of the dirk's Ivory hilt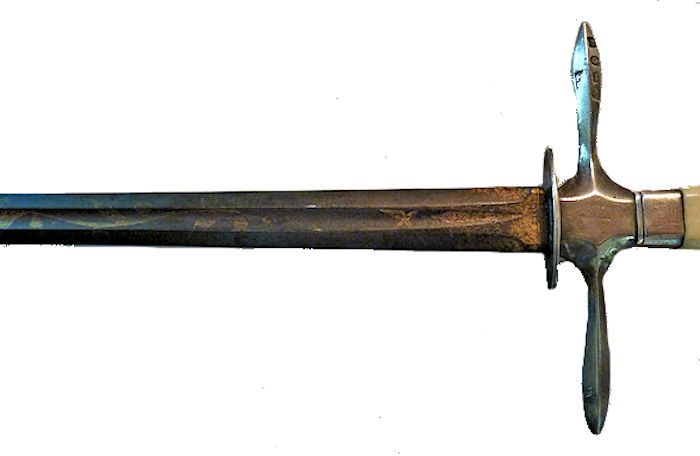 The
condition of the blade is the same on both sides. This is the reverse.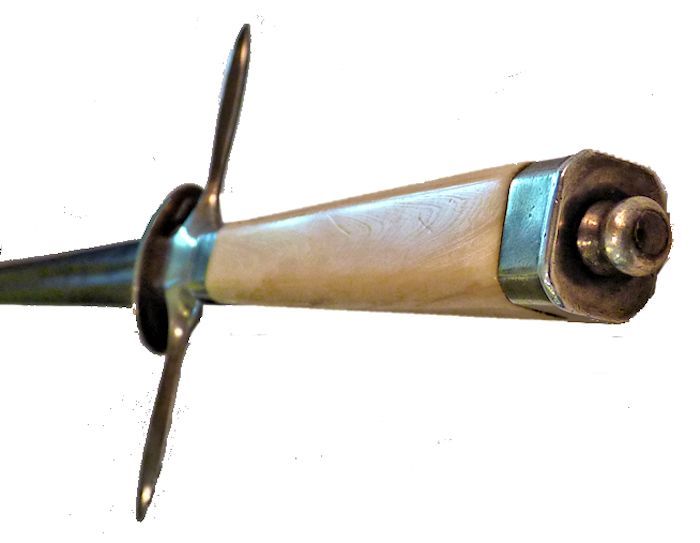 Showing the pommel of the sterling silver dirk and its prominent capstan with tang in
center<
DIMENSIONS: 3/4″ L x  1/2″ W x 3/8″T
Cross guard 3 1/4″ W
Length overall 16 3/4″ Blade  11
7/8″ L x 1/2″ W x 1/4″ T at  weight  4  ounces