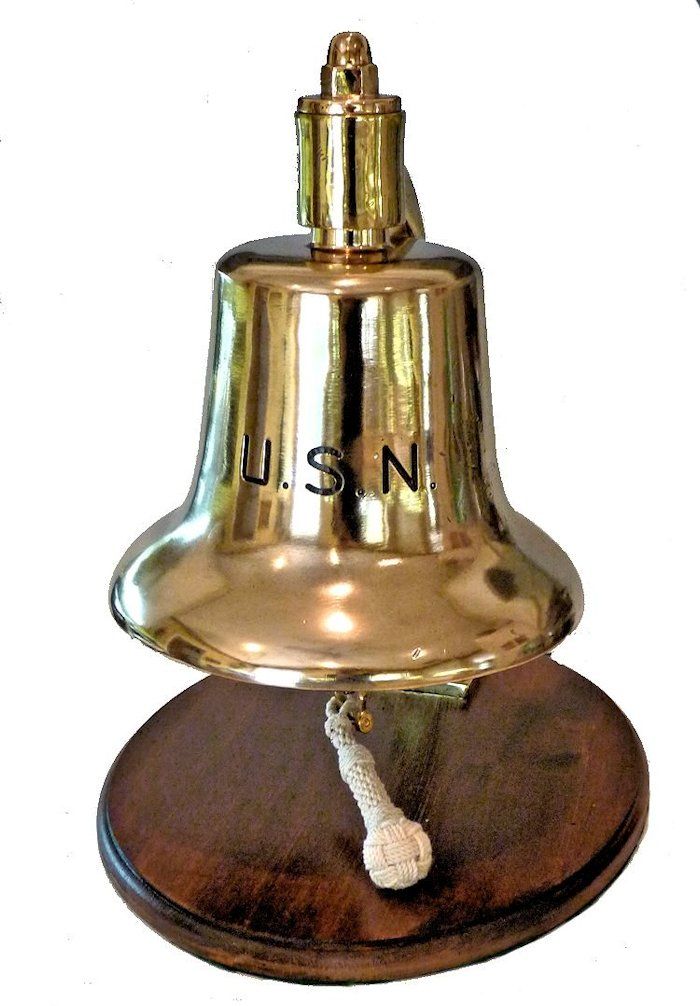 WW II Polished & Lacquered
Bell 
Presented is a Circa
World War Two (WW II) U.S. Navy "Foredeck" bell which comes with a fancy macramé bell rope, and is mounted on an oval
hardwood stand. It has its original clapper and inverted "J" bracket and the special combined one piece nut and washer that
secures the clapper and the bell to its bracket.  All these are features of an authentic U.S. Navy bell. These bells
were polished when in Navy service and that is how we offer them.

NOW HARD TO FIND:
U.S. Navy bells of this unique design are becoming very scarce, and exceedingly difficult to find. The ones
from WW II and earlier, like this one, are scarcer still.

PROVENANCE: Purchased
from a picker in Las Vegas who provided no details.

            Showing both sides of bell. The left side has
some dings and a notch in the bracket

NAVY BELLS
RING WITH DISTINCTION:There is nothing comparable to the sound of a Navy bell. The use of a special "bell metal"
formula produces a clear, sharp ring and sets up a strong reverberation that has a strong resonance that once heard will
never be forgotten. Cheap imitations can never achieve this distinctive ring because "bell metal" is a specially formulated
bronze alloy, unique to the Navy for this highly specialized use.
         Looking at rear of bracket showing
it is nearly perfectly straight
DIMENSIONS – BELL:

Diameter at crown  4 1/2″

Diameter at mouth  9 3/4″
Height to crown 7″
Height overall 15 1/2″

OVAL WOOD STAND: 16″ L x 11
3/4″ D x 3/4″ T  Weight: a heavy 29 1/2 pounds

CONDITION: The bells shows a few
dings on the outside to the left and a few minor irregularities elsewhere. The bell' of="" the="" font="" span="" others.<=""
by="" duplicated="" not="" and="" bells="" navy="" typical="" vibration="" strong="" a="" clear and resonates making=""
sharp="" rings="" bell="" flange.="" brackets="" rear="" in="" cut="" been="" has="" notch="" small="" inch="" one="" about=""
shortened="" neck="" removal.="" on="" bent="" are="" many="" because="" thing="" good="" is="" which="" straight="" perfectly=""
near="" bracket="">


| | |
| --- | --- |
|    Base of bracket showing non-standard notch | |

This outstanding and rare US Navy bell is
a great find for a gift, presentation piece or for a collection that includes only the finest. The stand
makes it ideal for display!

Special  nut with flange as found on only Navy foredeck bells

The neck of this bell was shortened by approximately one inch