Plath Navistar Classic Sextant – Whole Horizon Mirror Mint
1984 PLATH NAVISTAR CLASSIC
4 X 40 SCOPE "TRANSFLEX" WHOLE HORIZON MIRROR – 5 PLUS STARS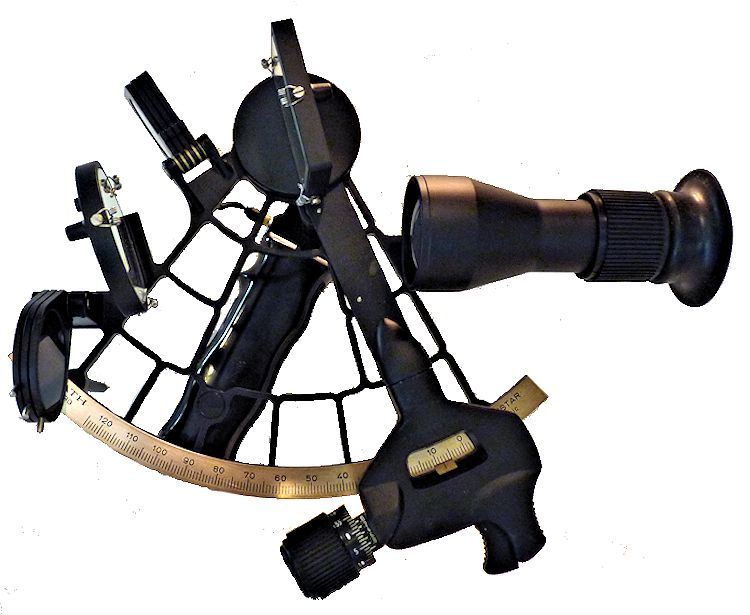 SAILING THE DREAM!We are the premier source for all versions of the Plath Navistar premium sextants
and have specialized in their sale. We have sold more than any other dealer in the world! Twenty Three Sold to date.
The pictures in this presentation are all of the actual instrument. Presented is a C. Plath Navistar
Classic sextant, Serial No.63437, with an undated certificate which was often issued by the company, the Plath original
Instruction Booklet and adjustment tool.  The 4 x 40 scope which is mounted, though considered a "Star" scope,
is the best choice for all around use. And the rare, for that time,  C. >Plath whole horizon mirror called "Transflex" was a $350.00 option in 1984. This style mirror has gained
wide popularity since.
This sextant served on a schooner sailing the North &;
South Pacific for eight years, and then spent the remaining time in dry storage since it was purchased 33 years
ago. Our tests show that it is still in outstanding condition and rates 5 Stars.  The sextant was used
as a back-up to what was then the early days of satellite navigation, the less able predecessor to GPS. SatNav was first introduced
for commercial use in the early 1980's. Back then, there were only six satellites in space
so the fix interval could be quite long, averaging 12-14 hours between them.  Because of this time delay and because
the coverage was intermittent in the North & South Pacific, the former owner used celestial navigation as a
primary and back-up.  However, the condition of this sextant is
so perfect that it belies the fact that it was used at all.SAILING
THE DREAM: The former owner bought it in mid 1984 after he and his wife met and decided they'd sail
the world to form a more perfect union. In 1989, they embarked on a cross Pacific cruise from San Francisco Bay to New Zealand
aboard their 50′ coastal auxiliary stay sail schooner THALES. On the way, the schooner was used as backdrop in
the movie 'And the Sea Will Tell', while they were in Ala Moana Honolulu.  sextant got used on that trip as it was the early days of SatNav, which only worked on and off in the North Pacific and hardly
at all in the South Pacific.  Altogether, they lived
and sailed in THALES for 8 years of magic.
They made it to Fiji before the wife's pregnancy required that they sell THALES to a local
Fijian couple who continue using her for their photo tourism business sailing in the islands.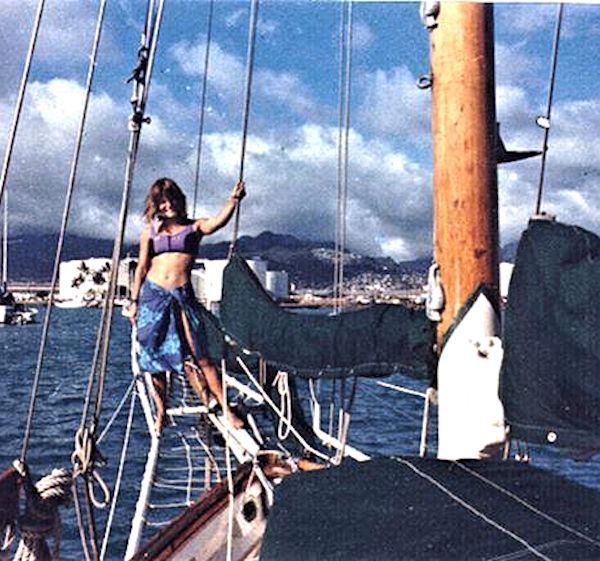 Ca 1989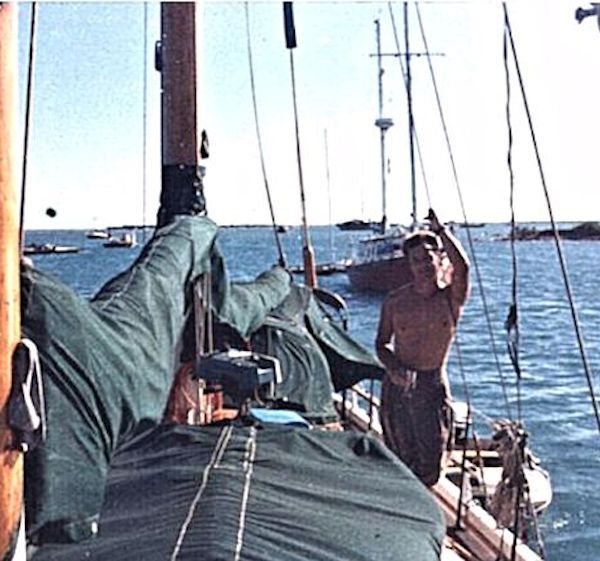 Owner on deck anchored out
in Hawaii Ca 1989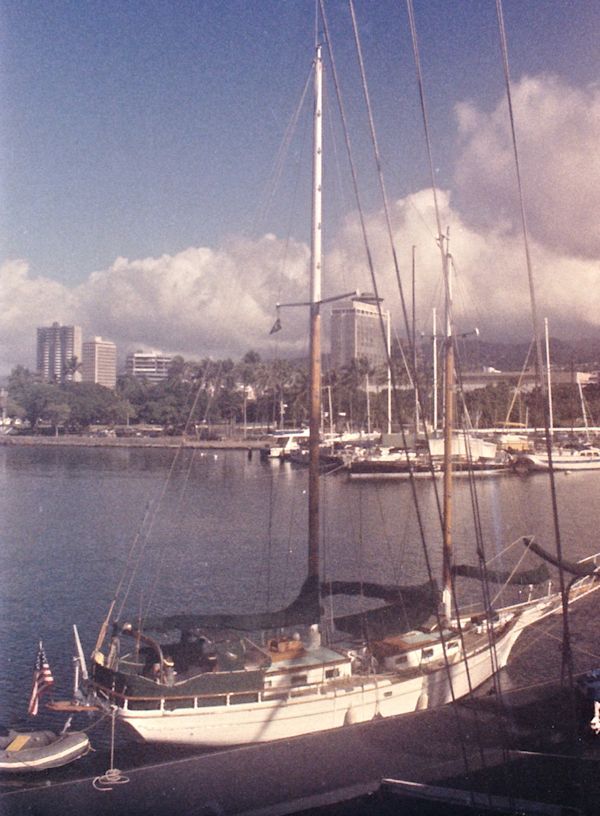 Schooner THALES  moored
along side in Hawaii Ca 1989Since
their family is now grown, and they have bought another yacht ARIANNA, at http://www.SailCyclades.com, in which they intend to continue their adventures. This time
from Greece they'll make their way across the Med up to UK and then up the Irish sea to Scotland and the Outer Hebrides,
then through the Kiel canal and join the ARC Baltic cruise to Tallinn, St Petersburg, Helsinki, Stockholm and back to Denmark.
Then down to the Canaries and across to Florida and Yucatan for the winter of 2015.Since
GPS is so universally effective, he wants the sextant to find a new honored position with someone who will appreciate
and treasure it.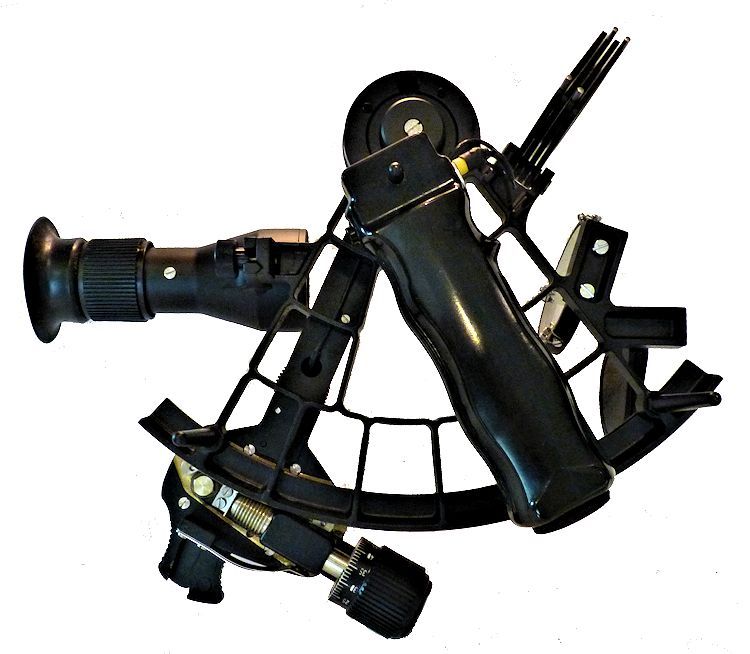 Back of sextant with 4 x 40 scope mounted.The Navistar Classic
was the top of the Plath line and was made in limited quantities, and was manufactured with a guaranteed non-adjustable instrument
error of 10 arc seconds or less. It sold for a premium over all its other sextants. For example, almost 30 years ago, they
sold for over $1000.00, and as recently as 2001, the price had risen to $4000.00.In our opinion, there is no sextant in current production that achieves this level of quality.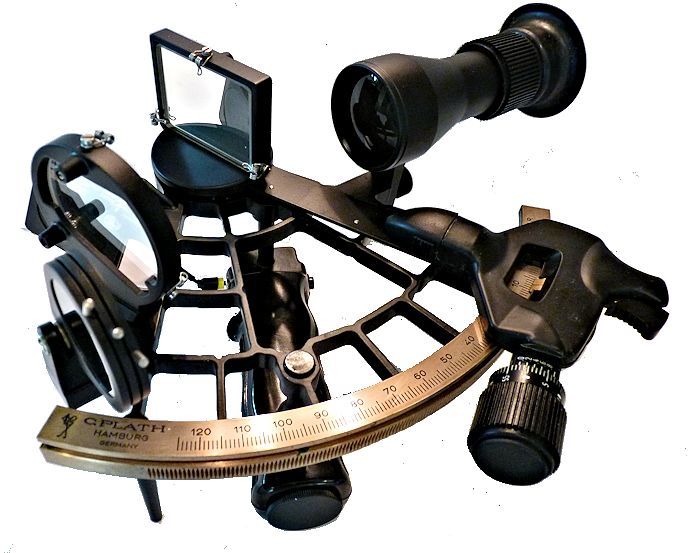 Looking up from the bottom of
the arc image  CONDITION:
Were is little fault to find with the sextant . The case's dark brown exterior shows some loss
of color on the top and some of the usual marks of age and use that you would expect. There is one tiny split in the veneer
in the lower center which should be monitored. The exterior hardware shows some slight discoloration. The index mirror adjustment is
frozen, but there is no need to use it. These things are all minor and only mentioned for the sake of thoroughness. The lighting
works and the index error is 1 minute on the arc with no side error.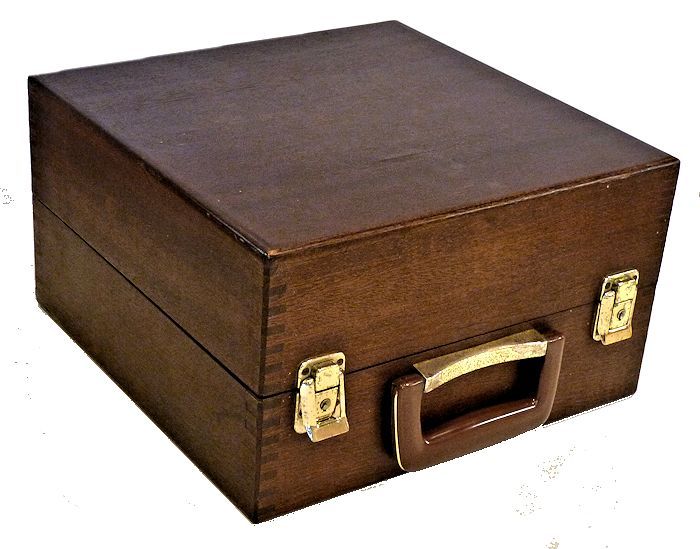 The closed dark brown case showing
the relatively good condition of the hardware CLASSIC: There are some sellers, either through ignorance or on purpose, call some Plath sextants by this name or
claim they were made to the same standards or were the predecessor of this instrument.Don't confuse this model with the similarly
named Navistar Professional which. in our opinion, is the worst sextant made by Plath, or the Navistar
Traditional which was made shortly before sextant production ended. That instrument has an error up to 20 arc seconds.
You can identify the Navistar Classic by these clues:
It has a special micrometer drum
The Navistar brand imprint on the arc. The vernier has six indents and reads to 10 seconds of arc.
Comes with a fine wood case with a green absorbent liner as standard
And originally came with an instruction booklet, and Plath's
certification with matching numbers.
For the seven year period from 1978 through 1985, only 1693 Navistar Classics were made. That is only
211 per year to satisfy worldwide demand.STAR RANKING:
Taking the minor evidence of use into account and its years of service at sea, it easily earns a 5 Plus Stars
ranking.This is the 23nd Navistar
we've offered. In our opinion, they are the finest of the contemporary sextants. They will be equally desirable at sea
or in a collection of only the best, and should only appreciate in value.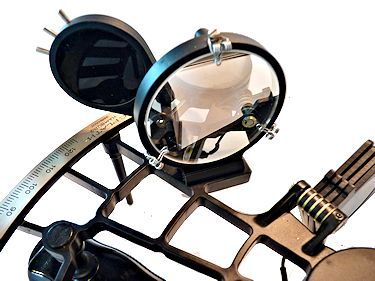 Flawless Whole Horizon mirror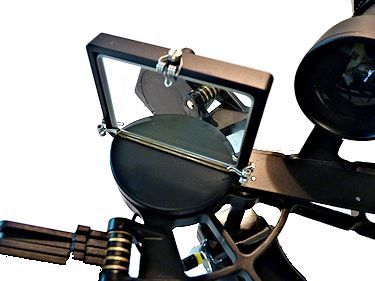 >Equally flawless index mirror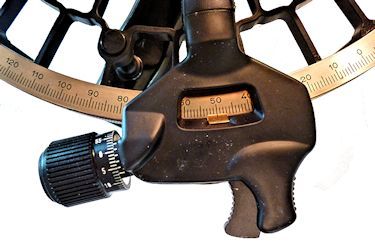 Vernier with working light above
index
Navistar Classic imprint and serial number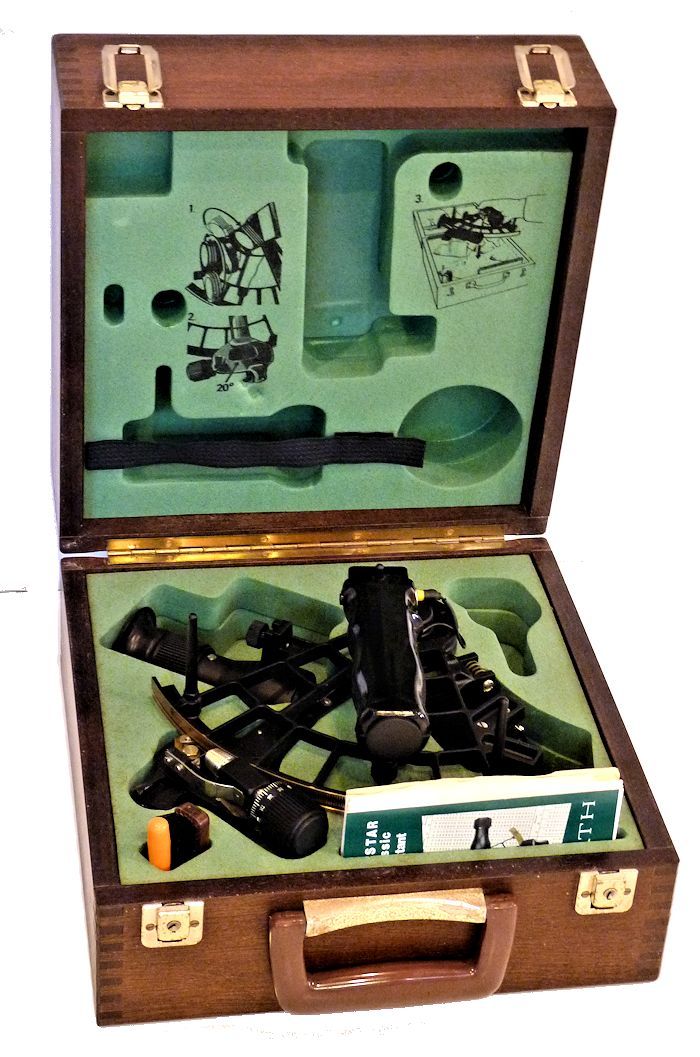 <The
open case showing the Green High Impact liner, instruction booklet and accessories This C. Plath Navistar Classic requires someone who
can appreciate the fine points of a sextant, and is willing to pay an appropriate price for this level of quality and excellence.
It is suitable for a collector or for use at sea.OUR QUALIFICATIONS:
C. PLATH COMPANY HISTORY: In brief, Carl Plath started manufacturing sextants, in addition to other nautical
products, in Hamburg Germany in 1862 though the purchase of the David Filby instrument company though the company's origin
dates back to 1837. As a result WW II, C.Plath was dismantled completely by the occupation forces. Around 1950, various prohibitions
were lifted, and C. Plath was allowed to begin production again of sextants and other nautical instruments. Also in 1949,C.Plath
was offered a gyrocompass patent and in 1951 the first gyrocompass designed to this patent was presented to the public. C.Plath
progressed from the role of instrument maker to that of a modern marine navigation equipment manufacturer. In the following
years the product range was expanded by many more modern designs such as autopilots, speed logs, radio direction finders,
etc.
In 1962 C.Plath was acquired
by Litton Industries, a large American concern.The C.Plath North American Division was set up in 1978 in College Park near
Washington. 1996 saw the introduction of the world's first fiber-optic solid-state gyrocompass by C.Plath. The first ever
gyrocompass with no moving parts. Sperry Marine was formed in 1997 with the combination of C.Plath, Decca Marine and Sperry
Marine with more organizational changes yet to come. After 163 years, C.Plath changes its name to Sperry Marine in May 2000.
In 2001 Sperry Marine becomes part of the Northrop Grumman Corporation. In the 1990's Plath came out with a series of
new sextant designs with overlapping designs and confusing names. They seemed to have lost their way. Shortly thereafter,
C. Plath quit producing sextants. The parent company has completely liquidated everything including machinery, equipment and
spare parts.
C. PLATH NAVISTAR CLASSIC SPECIFICATIONS:

Measuring Range: -5 to 125 degrees
Telescope: 4 x 40 Coated optics
Frame: Bronze with black enamel paint and bronze arc.
Micrometer Drum and Vernier Scale: reads to 10 seconds of arc
Index Mirror: 59 x 44 mm. aluminized on the rear side.
"Transflex" Whole Horizon Mirror: 57mm diameter.
Shades:
4 for index mirror
3 for horizon mirror

Weight sextant: 4.2 lbs with 4 x 40 scope.
Weight case 6 lbs.
INCLUDED ARE:
1 C. Plath Sextant frame<1 4x 40 star scope 1 Mirror adjustment tool 1 Plath Navistar manual1
Certificate of accuracy
1
Soft hair brush1984 PLATH NAVISTAR CLASSIC


We are the premier source for all versions of the Plath Navistar premium sextants
and have specialized in their sale. We have sold more than any other dealer in the world! Twenty Three Sold to date.
The pictures in this presentation are all of the actual instrument.<