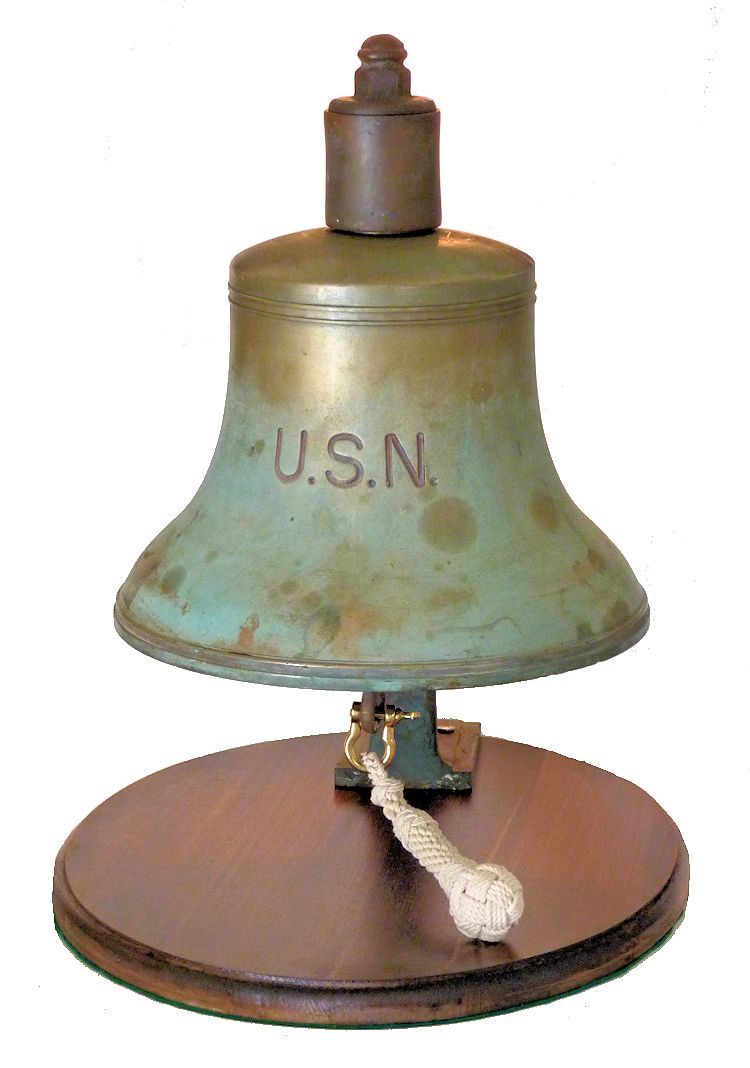 FROM THE COLLECTION OF A RETIRED USMC OFFICER

Presented
is as interesting a Naval bell as you will ever see. Based on its design, we date it to around the time of World
War One (WW I).  There is no record of where it was used, but it was acquired by a retired US Marine Corps officer
who collects militaria. The surface of the bell has acquired a rich patina in varying shades of haze grey and green that
cannot be duplicated. It's surface shows some residue of
machine oil and grease in places that add to its overall appearance. 

The inverted

vertical
"J"  bracket allows them only to be mounted on
a pedestal or deck, hence they are known as anchor or foredeck bells.

Top: Left side of bell     Bottom: Right side of bell
AUTHENTICITY: The
bell has been mounted on
a hard wood base for display and a proper white macramé bell rope of the period has been added. It comes
complete with all its original parts which include the clapper and special one piece combined nut and washer. Many of
the Navy bells that have survived are missing these unique parts. The inside of the bell shows numerous clapper strikes
around its circumference showing it was used at sea.

HARD TO FIND: U.S.
Navy bells of this unique design with USN have become very scarce, and are almost impossible to find now adays because military
bells during the 1950's came to be marked US.

SPECIAL NAVY FORMULA BELL
METAL: The tone of an authentic Navy bell, made using a special "bell metal" formula, is not easily forgotten.
It has a strong resonance and vibration that rings sharp and clear with a distinctive sound. Do not expect cheap imitations
or foreign imports to have this special characteristic ringing because "bell metal" is a specially formulated
bronze alloy, unique to the Navy for their specialized use.

IN ALL OUR YEARS OF SELLING BELLS, THIS IS ONLY THE SECOND WE'VE
SEEN WITH THIS UNUSUAL PATINATION
Special Navy one piece nut & washer shown over the base of the bracket

 

 
 DIMENSIONS:
BELL:

Diameter at crown 5″

Diameter at mouth 9 1/2″ Height to crown 6 1/2″ Height
overall 9″

WOOD STAND: 16″ L x 12″ W x 5/8″
T      Weight: 30 pounds

CONDITION: The inside of the bell
shows flattening where the clapper hit the edge showing this bell has served at sea. There are few if any foundry casting
imperfections on the bell. The bell stands straight. There is a single screw on the flange of the bracket holding
the bell on its base. Outstanding resonate ring and strong vibration.

This
unique and rare US Navy bell will make a wonderful gift, presentation piece or for a collection that includes only the
finest. The stand makes it ideal for display!