L. CASELLA THREE CIRCLE QUINTANT/SEXTANT
Maker to the Admiralty & Ordinance –
London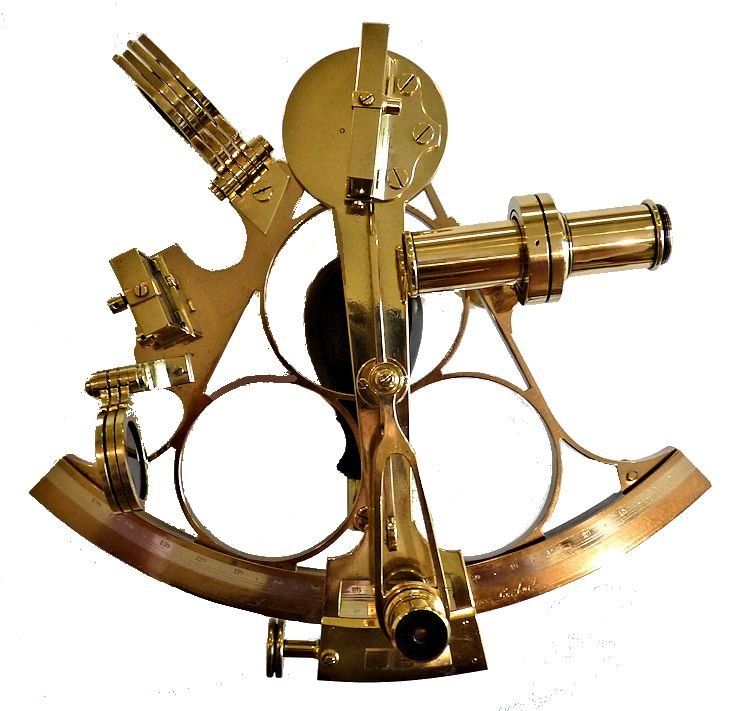 This instrument is in excellent condition and will make an important addition to a collection
or as a special gift!
Presented is a high quality, three circle Quintant (sextant) by Casella.  The maker mostly produced measuring instruments and the few sextants of their's that have survived are those having a ladder style frame. This one comes with a medium
power telescope and a sighting tube.  The machine work on this instrument is highly refined and is superior to later examples of
the three circle design by Heath, Hughes and C. Plath all of whom are noted for this style design. It has been recently
lacquered and polished for display as a remarkable relic of the 1870's. This is the first time
we have had the pleasure of offering for sale an instrument from this maker.

Advanced design features include a larger than normal horizon mirror
and Index mirror both of which gather more light, and hence improve the taking of twilight sights. In addition there
are four Index shaded and three horizon shades.There is a magnifier which swings on a post over the vernier scale which
reads  to ten arc seconds from the right. The frame's design makes a strong
and rigid frame. The handle is turned from Rosewood. The
polished platinum scale is calibrated -5 to +150° with a vernier scale reading from the right from 0 to 10 arc seconds in
2 arc second intervals. The quintant has four partially rounded shades for the index mirror and three round shades for the
horizon mirror. The telescope's distance from the frame may be adjusted by turning a knob at the back of the rising piece. Engraved in Edwardian style
script on the arc is, "L. Casella Maker to the Admiralty & Ordinance London"  in Copper Plate
Script which helps date the instrument. There is no serial number or other identifying marks which must be common
for this maker. THE CASE: The fan shaped Mahogany case shows a single age crack on the left side of the
top plus the normal marks of age on its varnished surface including the expected scratches, and handling marks. Inside
the wood has turned very dark, and though clean, has a grimy appearance. The
two telescopes and a pick for adjusting are stored in a holder on the right. There are the remnants of two
labels on the inside right cover. The larger one is from a London instrument shop, and the small blue one is from a New York
instrument shop. Neither are legible. There are two latches and a lock, but
no key.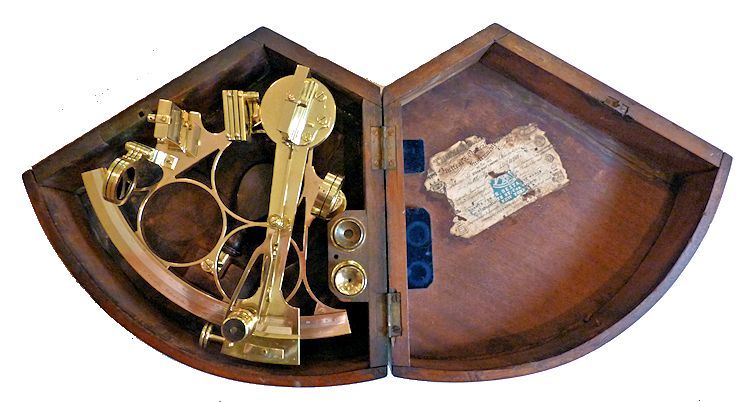 LISTED IN WEBSTER'S
REGISTRY of scientific instrument makers

L. CASELLA THE MAKER:
Cesare Tagliabue first established a company in London
in 1799 to manufacture scientific apparatus during the reign of King George III. Not long after, Louis Pascal Casella joined
him in partnership and the Casella company name was born. In the early years, products designed and built by Casella and exported
worldwide included navigation/exploration and photographic devices, as well as meteorological and medical research instruments.
Some early customers included Charles Darwin and Dr. Stanley Livingstone who relied on their durable and accurate Casella
products to carry them safely as they embarked on discovering remote new regions, cultures and species.They traded at 23 Hatton Garden, London (1865-71), earlier as Casella & Co, sole proprietor Louis
Paschel Casella (1812-1897) Casella (1812-1897), name continued after 1897. L. Casella moved manufacturing from 23 Hatton
Garden to 147 Holborn Bars, London, E. C.


Casella in the 19th Century. During the 19th century Casella continued to grow and innovate, and exhibited instruments including
theodolites and surveying equipment at the first 'Great Exhibition' held at the Crystal Palace in Hyde Park (London) in 1851.
In the latter half of the 1900's, Casella became more involved in the growing field of Industrial Hygiene by inventing
one of the world's first Personal Air Sampling Pumps in 1952 and they continue operations today. Anderson, R.G.W., Burnett, J. & Gee, B., 'Hand list of Scientific Instrument-Makers'
Trade Catalogues 1600-1914′, (National Museums of Scotland, 1990); Trade literature signed 'L. Casella' see publication citation,
L. Casella, 1871, on MimsyXG; Anderson, R.G.W., Burnett, J. & Gee, B., 'Hand list of Scientific Instrument-Makers' Trade Catalogues 1600-1914′, (National
Museums of Scotland, 1990); Trade literature signed 'L. Casella' see publication citation, L. Casella, 1871, on Mimsy
Index mirror shown over Horizon mirror

Period
style Fan shaped box for the sextant/quintant INSTRUMENT CONDITION: It is hard to adequately describe a 150+ year old
antique instrument which has survived in excellent condition . The index and the horizon mirror are in good condition. The index arm clamp, and swing
arm magnifier are complete and in good working order.  The telescope works properly and both sets of shades, i.e., filters
are perfect.

Remnants of two instrument
dealer's labels
CERTIFICATE: There is no certificate which is customary with antique instruments. This is an opportunity to acquire a very rare instrument from a little known, up-scale English instrument maker
DIMENSIONS: Arc -5 to + 150 degrees
Length of index arm 8 1/2″
Radius of index arm 7 1/2″
Width of frame at arc 9″mirror 36 x 45 mm
Index
Horizon
mirror 26 x 28 mm
Instrument weight 2 lbs 11 oz
Case 12″ X 9 1/2″ x 5″        Weight in case 5 lbs 3 oz