American Pilot Boat Half Hull Model 

BACKBOARD
49″ L x 14″ H x 7″ depth
MODEL LOA 43 1.2″ LOD 37″ L X 6″
Weight  14 Lbs.
Presented is a large antique builder's display style half
model which was used to commemorate the launching of this vessel. It may have been given to the owner or it may have
been kept by the builder to be used as a sales aid for follow on vessels. The lines of the model seem to suggest that
of  the New York Pilot Boats, Phantom and Pet. The length of these vessels were 76.4″between perpendiculars,
with a beam of 19″8″ and a draft of 10'8″.


The Phantom
was designed and built by Dennision J. Lawlor and was launched in 1868. Her sister ship, the Pet was built shortly
after-wards. Phantom was a development of a New York pilot boat of the 1850's named after her famous designer, George
Steers of SchoonerAmerica fame. Phantom was a  beautifully modeled two masted schooner, fast, seaworthy
and strong just like this model projects.

Credit
The History of American Sailing Ships, by Howard I. Chappelle, Bonanza Books, New York
It is remarkable how closely this half model's shape resembles that of the Phantom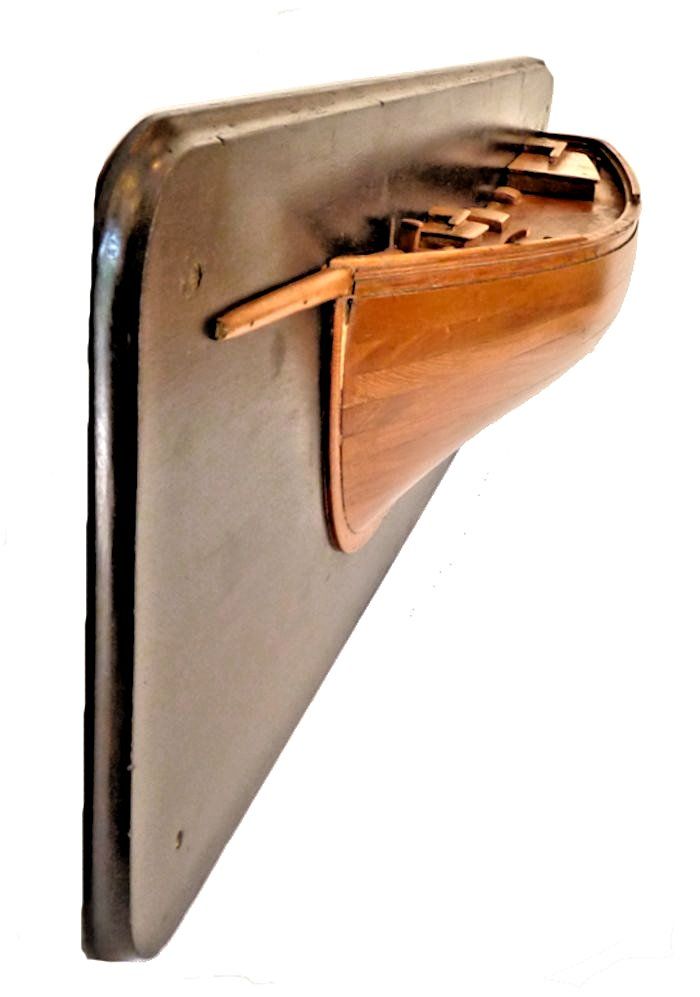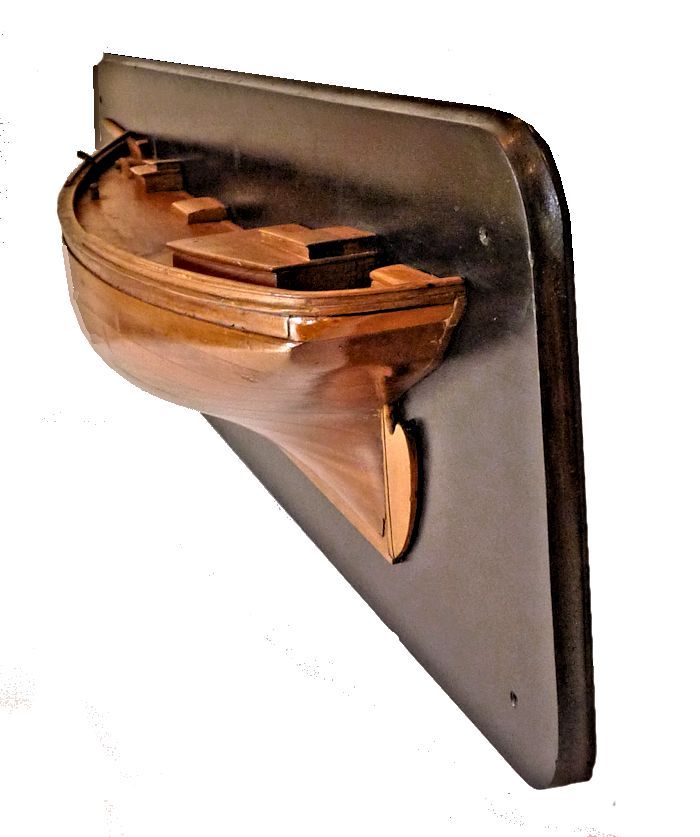 Looking aft and then forward. The lines are fair and beautiful to behold
CONDITION: The half hull is in original condition, with very few imperfections.
There are the normal marks of age which include a few dings and scratches, all very minor and not too noticeable. The
varnish's golden patina gives a look of importance. (See the section on Construction for further details) The
workmanship is of journeyman quality.
PROVENANCE: Bought in New
England at auction. Formerly owned by a collector of marine antiques with a specialty in half hull models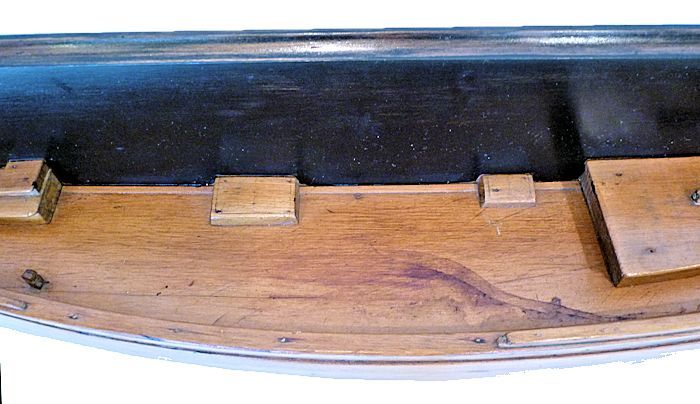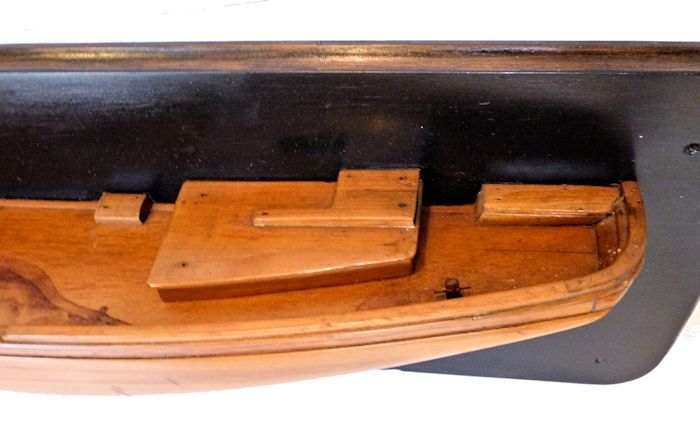 Close-up
views of the foredeck, midships and stern deck.
THE GENESISOF HALF MODELS: Half Hull models were carefully hand carved, and incorporated the latest in the designer's knowledge
of which shape produced the fastest and most seaworthy vessel for the type cargo to be carried. The builder's models were
made to loft the lines of a large size sailing vessel as the first step in the building process. There were other forms of
half models which were used as a presentation piece to the owner, or as a record of the ship builder's
accomplishments. To learn all about half models, you will enjoy our essay discussing their fine points on  this
page.



Rear of back board
A study of the shape of
various half hulls can trace the evolution of sailing craft design as explained in Howard L. Chapelle's "
The History of AMERICAN SAILING SHIPS". This one is typical of a hull design that found favor in Pilot Boat
service for speed and seaworthiness. The evidence of speed is shown by the amount of deadrise aft and the hollow
sections of the keel and bow sections. The half hull looks strong and sturdy as would be the actual ship.Authentic, old, half hulls  are much admired, eagerly sought after, and the real ones in very limited supply.
CONSTRUCTION: This half hull is constructed of nine lifts
of wood plus the bullwark and cap rail. There are no screws showing on deck so they must be hidden. Old brads
are used on the cutwater, the rudder's skeg and bowsprit to secure them in place.