Skip to content
Half Hull Model of Maine Build Schooner Ca 1870

BACKBOARD
41″ L x 8 1/4″ H MODEL LOA 37 1/2″ LOD 37 1/2″ L X 5″ BM x 6″ depth
Weight 13 Lbs.
Presented is a large antique builder's Display Style half
model made from Mahogany and Pine for the backboard. Mahogany was rarely used for this purpose because of its expense. The
result is that over the years, the model has taken on a magnificent patina of age which makes it something uniquely beautiful
to behold.
Display models were used to commemorate the launching of the vessel
and given to the owner, or may have be been used by the builder as a sales tool to show prospective customers.

This half model is clearly a three or four masted Maine built schooner
that was popular in the late 1800's through WW I. They were primarily used to haul coal along the East Coast. They
were able to remain in existence  in spite of the competition from steamers and power boats due to efficient power hoisting
machinery, and many winches and small crews.
A typical Maine built coasting schooner of this type,

Ca 1880 -1900's,

would be 171′
Length on Deck, with a beam of 34′ and a draft of 20′ and displace 748 tons.
Bottom view of Maine built schooner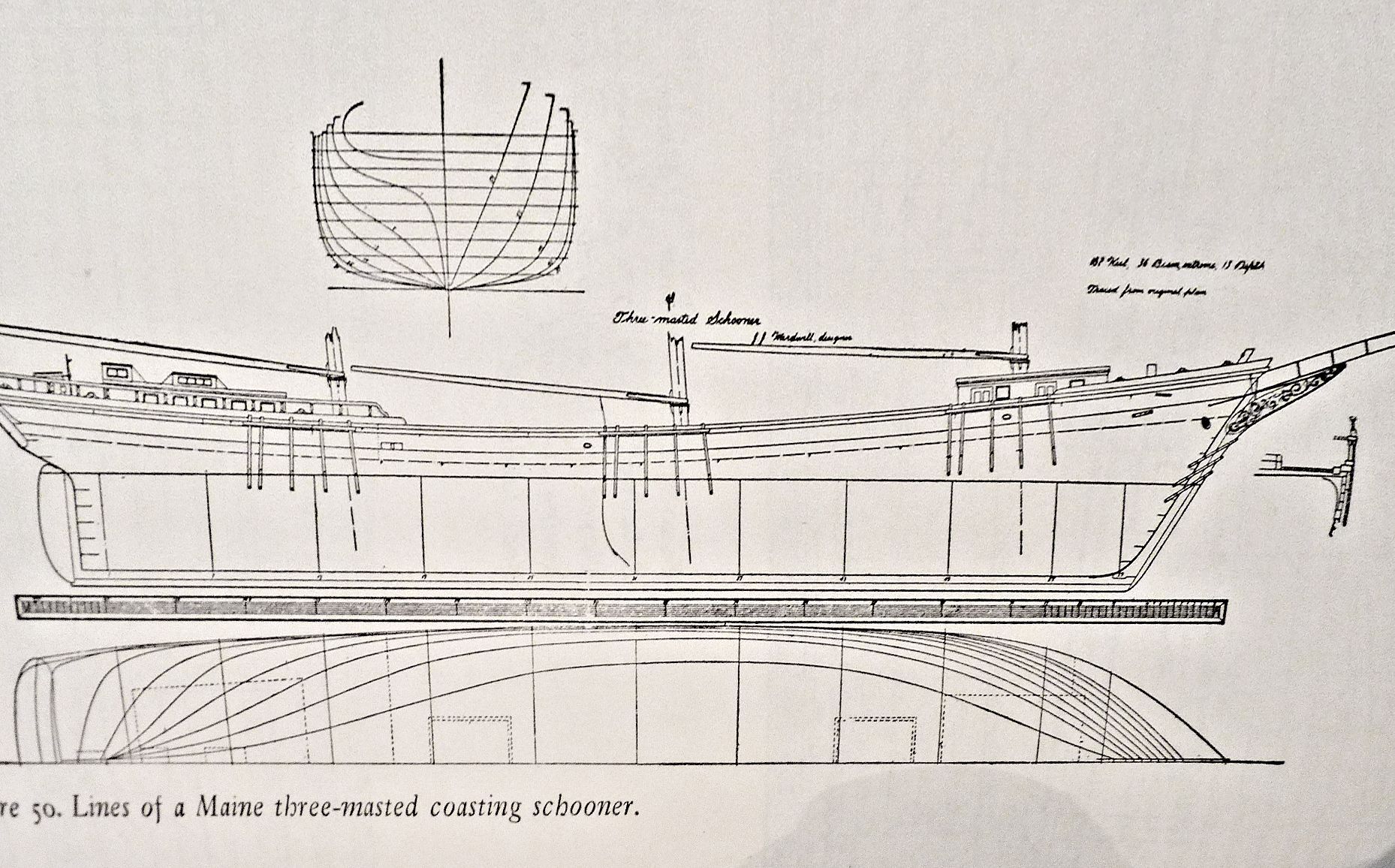 Credit
drawing to The History of American Sailing
Ships, by Howard I. Chappelle, Bonanza Books, New York
It
is remarkable how closely this half model's shape resembles that of this drawing!
Looking aft and then forward. The shallow deadrise increases stowage. 
CONDITION: The half hull is in its original condition, with various
imperfections, the worst of which is the small missing piece at the left corner of the frame.  There are the normal marks
of age which include a few dings and scratches, all very minor and not too noticeable. The use of Mahogany for the ten
lifts has resulted in a magnificent patina of age which is without equal. (See the section on Construction for further details)
The workmanship is of a ship builder quality.
PROVENANCE: Bought in New
England at auction. Formerly owned by a collector of marine antiques with a specialty in half hull models.
Close-up
views of the foredeck, midships and stern deck.
THE GENESIS
OF HALF MODELS: Half Hull models were carefully hand carved, and incorporated the latest in the designer's knowledge
of which shape produced the fastest and most seaworthy vessel for the type cargo to be carried. The builder's models were
made to loft the lines of a large size sailing vessel as the first step in the building process. There were other forms of
half models which were used as a presentation piece to the owner, or as a record of the ship builder's
accomplishments. To learn all about half models, you will enjoy our essay discussing their fine points on  this
page. Go:  

https://landandseacollection.com/id267.html

=left>=left>

Ref.  Howard L. Chapelle's
" The History of AMERICAN SAILING SHIPS". 
Authentic, old, half hulls  are much admired, eagerly sought
after, and the real ones in very limited supply.
CONSTRUCTION: This half hull is constructed of ten lifts
of Mahogany and is mounted on a Pine backboard. There are no screws showing on deck so a thin deck laminate making
a cap rail must be covering them. Old brads are used on the cutwater, the rudder's skeg and bowsprit to
secure them in place.
Example of three mastedMaine built schooner
Credit drawing to The History of American Sailing
Ships, by Howard I. Chappelle, Bonanza Books, New York
This antique builder's half hull model is a great gift or
wonderful addition to your office, den or family room.