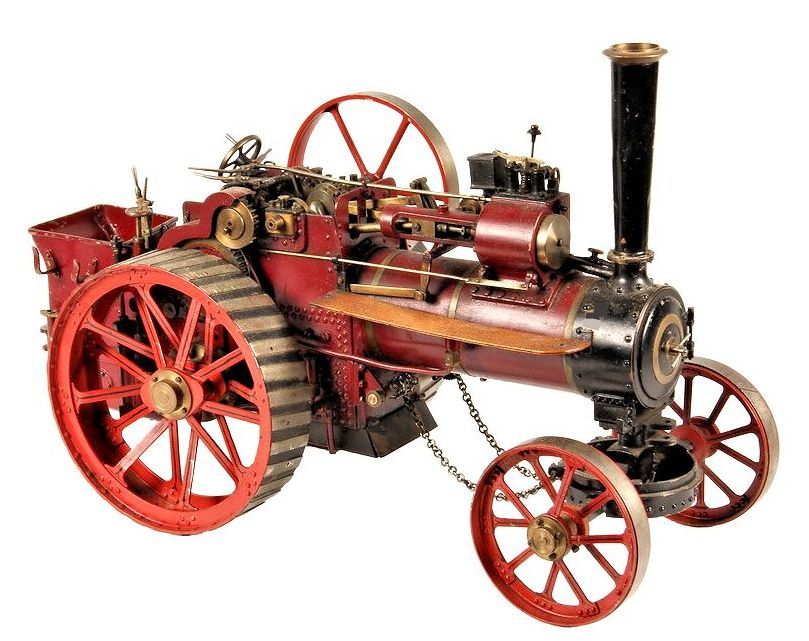 Fully
Functioning Museum QualityWorking Model!
DIMENSIONS: 17″
L x  11 1/2 H x 7 3/4″ H  Weight 20 Lbs.
Presented is a model that has been made to the highest
level of the model maker's art by the factory which manufactured the full size Ransomes tractors. It likely was used
as a sales display in the office of Ransomes which began manufacturing agricultural machinery in 1841. When new, it was intended
to be a working model so that its original finish has a light sheen of steam and oil residue showing it worked.  The
scale is a 1 inch to 1 foot scale model of a Ransomes single cylinder tractor machine. It carries a serial
number on the rear cab, but no other markings. Every movable lever, handle and push rods work. Comes complete with braised copper boiler and fittings including
water and pressure gages, blower, drip valves and safety, engine details.
BEING SOLD AS A STATIC DISPLAY MODEL ONLY
RANSOMES
COMPANY HISTORY: The enterprise was started by Robert Ransomes (1753-1830), a brass and iron-founder in Norwich before moving
to Ipswich in 1789 where he started casting plowshares in a disused malting at St Margaret's Ditches in Ipswich, with
capital of £200 and one employee. As a result of a mishap in his foundry, a broken mold caused molten metal to come
into contact with cold metal, making the metal surface extremely hard – chilled casting – which he advertised
as 'self sharpening' plows, and received patents for his discovery.
Shown
at left is a four horse power steam tractor of 1910.
In
1809 Robert Ransome made his eldest son, James Ransome (1782-1849), his partner and they called themselves Ransome & Son.
In 1826 James's son known as Allen but technically James Allen Ransome (1806-1875) went to live at Yoxford, Suffolk, where
he established a branch of the business. In 1839 Allen Ransome moved from Yoxford to Ipswich and under his direction the firm
of J, R & A Ransome (James, Robert and Allen Ransome) was to assume huge proportions. After about 1841 the manufacture
of plows, and other agricultural machinery was supplemented by production of portable, tractors and other steam engines and
thrashing machines.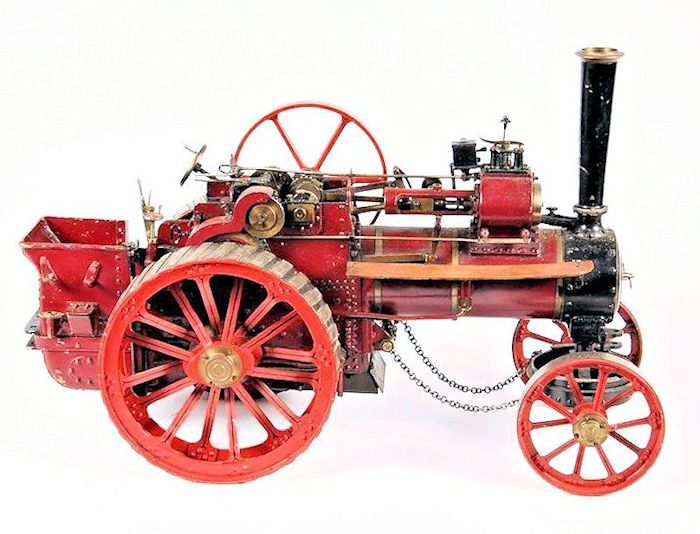 In
1851 export trade was initiated which by the early 20th century was more important than the home market and included distributing
agencies throughout the world with a branch establishment in Odessa.In
1869 four engineers, Allen, who remained the senior partner in the parent firm, his elder son R.J. Ransome, R.C. Rapier and
A.A. Bennett, took the firm's railway department aside from the parent business and established Ransomes & Rapier at
Riverside Works, Ipswich.
An
independent factory was set up for the manufacture of lawn mowers of every class. Ransomes produced the 'Automaton'
hand-powered lawn mower in 1867.  In 1902 Ransomes produced the first commercially available powered lawn mower, driven
by an internal combustion gasoline engine.
In
the First World War, they manufactured airplanes: 350 Royal Aircraft Factory F.E.2 fighters.
In
the 1950's Ransomes started producing forklifts, Class 1 Lift Code 5 (Electric Sit Down Counterbalance). With the start
of production of the A Series, Ransomes forklifts were sold by the Hyster dealership network under Hyster serial number codes
(A21R, A22R, A23R – the R standing for Ransomes Ipswich plant). The codes still show in the Hyster serial number system.
The serial number is at the rear of the cab
Ransomes
also started producing Class 2 Lift Code 3 (Electric Stand On Reach Straddle) machines. Later the company expanded to producing
Class 6 Lift Code 1 (Electric Tow Tractors).
In
the early 1980's Ransomes sold their forklift line to Hawkins Mechanical Handling, which produced machines under the Hamech
Ransomes brand name. Hawkins Mechanical Handling was later purchased by Crown, and the Hamech name retired, until 2004, when
Crown brought it back for use in an Internal Combustion Engined forklift line. In 1989 the whole of the agricultural implement business was sold to Electrolux
and merged with their subsidiary Överum.
 The open hatch reveals the water
tubes in place 
This
left Ransomes solely as a manufacturer of lawn mowers, with the Westwood and Mountfield mower brands. The company accepted
a take-over offer from Textron Inc., USA, and their independent existence ended early in 1998. Credit
Wikipedia
Looking at the power take off head. 
CONDITION: As far as we know, the model is complete in all respects,
but we cannot guarantee that.  The only fault noted is that the weld on the front bracket for the wood work platform
is broken. It has been glued in place and care should be taken when moving it. There are the customary losses of paint, acratches,
etc., and there is a coating of light rust, primarily on the wheels. This can easily be removed. The circular
front hatch to the boiler opens and exposes the water tubes of the boiler. All the handles and levers turn or move and
there is a corresponding movement in the parts they engage. That said, the model has not been tested and there can
be no assurance that is complete and in working condition. It is being sold for display only.  The
workmanship is of the highest quality. (See the section
on Construction for further details)
PROVENANCE: Bought at auction
in the ordinary course of business. 
Close-up of
controls in the tractor's cockpit
Authentic, old, maker's samples of their production ability came to the forefront as part
of the Industrial Revolution, first in England then Europe and the United States (1760-1840). The steam engine as it
is used on this tractor was in service by the beginning of the 19th Century.
CONSTRUCTION: Complete with braised copper boiler and
fittings including water and pressure gages, tubular boiler, levers, turning controls, drip valves and, engine details.