Artistic Carving Co. Portsmouth Style Carved Eagle
CARVED WOOD "PORTSMOUTH" AMERICAN
SPREAD EAGLE
ARTISTIC CARVING CO., BOSTON- Ca1950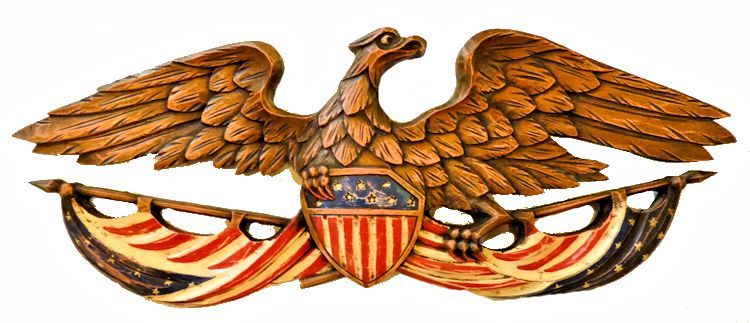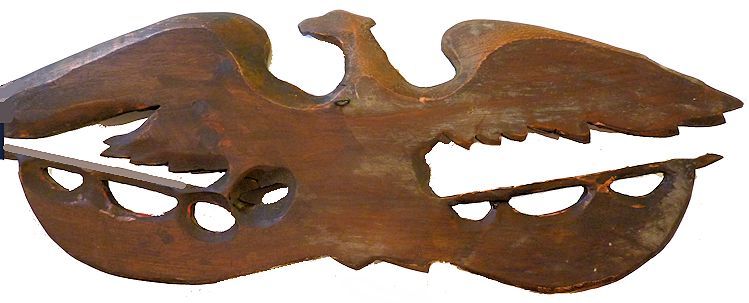 This fine carving of an American Eagle is in the style of Boston's Artistic
Carving Company, Ca 1950 whose work copied that of John Bellamy. Smaller eagles were commonly used as patriotic displays
inside a home or mounted on the exterior. Of course the large ones were on the stern boards of many American sailing ships
in the 19th Century. DIMENSIONS
23″ L x 8 1/4″ H x 1 1/2″ T  >WEIGHT 1 lbs. 3/4 oz.
>Presented is a carved
Pine American eagle with excellent detailing showing a U.S. Shield in the center if the eagle's chest. The bird's
talLon's grip a long pike to each side beneath which is draped two American flags. The carving replicates
the type of work seen in hand carvings of the mid 19th Century as done by sailors and other craftsman. The eagle in this form
was frequently used to grace the sterns of American sailing ships. The most renown carver in his day was John Bellamy whose
many works live on and are highly sought after, but which few people today can afford.  Because of the high Bellamy
prices, collectors have turned to the carvings of the Artistic Carving Company of Boston, MA which operated from the 1850's
to the last quarter of the 1950's. There is a steady demand for their work and the prices though much less than for a
Bellamy, are still considerable. Recreations made by the Artistic
Carving Company of Boston have been selling over the years, and continued to sell in the $2000
to $7000 price range in 2014 according to auction results which
is more affordable than the prices of what a documented John Bellamy eagle will bring.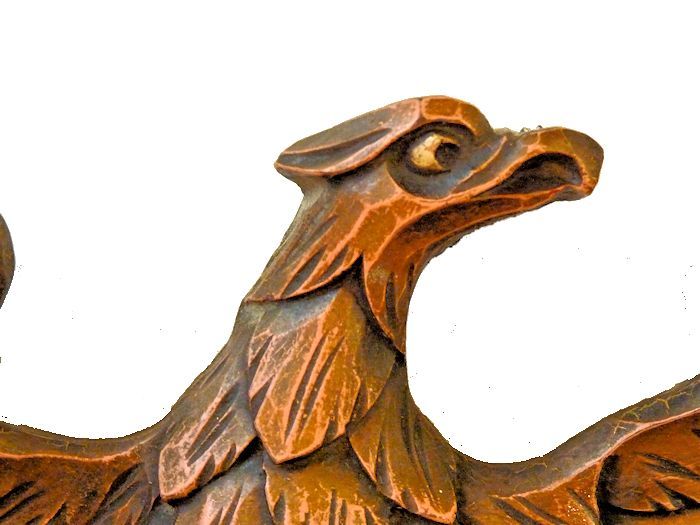 Fierce looking eagle head
The
Portsmouth style eagle being offered is rarely seen and is a great find. It's smaller size makes it ideal for a family
room or den or even over a doorway. 
Close-up of the shield showing the depth of carving and some residual marks of age
CONDITION:
Good. No loss of wood, chips or scrapes. There is some paint loss from age and weathering and there is some dirt
accumulation on the folds of the flags.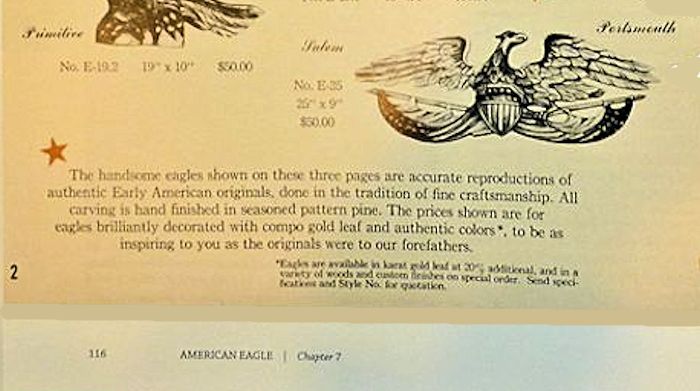 Portion of Artistic Carving Catalog sheet  showing the Portsmouth eagle
The American Eagle, The Bold & Brash Life of John Halley Bellamy"
by James A. Craig. Portsmouth Marine Society. Publication 34, 2014