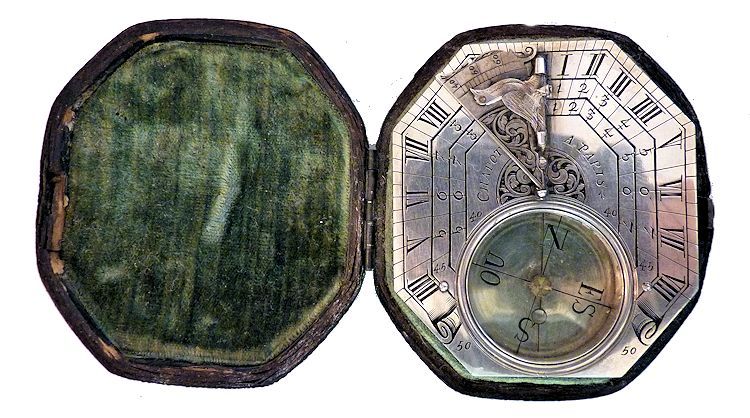 CASE SIZE 2 7/8″
L x 2 5/8″ W x .75″ T                              WEIGHT
in case 2 1/4 ounces
73 cm
L x 65 cm W x 19 cm T

Presented
is a near perfect example of a Butterfield style silver sundial made by the well known firm of Chapotot of Paris,
France. The octagonal plate measures 2 1/2″ L x  2 1/4″ W x .37″ T (64 cm L x 57 cm W x 8.9 cm T). The
compass card is marked with the cardinal points, N, S, ES and OU and measures 1 1/4″ in diameter or 31 cm. It weighs.
The face of the dial is marked with three bands of hour scales for 40, 45 and 50 degrees of latitude.  The outer band
is in Roman numerals, I through XII and the two inner bands are in Arabic numerals 1 through 12. The folding gnomon is in
the form of a hinged butterfly with a scale of 40, 50 and 60 degrees of the sun's altitude on its edge.

Inside the three bands it is signed with the maker's name, 

CHAPOTOT
A PARIS.

On the
reverse are twenty cities, each with their altitude including Paris, Marseille, Amsterdam, Vienne, Rome, Turin, Naples to
name a few. The compass card bowl is held by two silver screws and has a floral rosette design engraved on its base. There
is a leg at the bottom end to balance the dial when laid on a flat surface.

Comes
complete with its leather covered, green velvet lined original case.

PROVENANCE:
Purchased in England by an executive of the Monsanto Chemical Company who was stationed there from 1950 to 1955 and then handed
down in the family since.

Near perfect face of the Chapotot Butterfly sundial Ca 1700

THE MAKER : Louis Chapotot worked at 'Sur Le Quay de l'Horloge, Ile de La Cite, A La Sphere, Paris' and
was active from about 1670-1700. He was appointed Master of the 'Corporation des Fondeurs' and is thought to
have taken his son into partnership who may have subsequently continued the business.  Louis is known to
have been active around 1670 to 1700, and Jean worked from about 1690 to 1721.

This type of portable pocket sundial was devised by Michael Butterfield, an English Instrument maker who settled
in Paris around 1685. By the end of the century Butterfield's workshop was also located on the 'Le Quay de l'Horloge'
hence he would have known Louis Chapotot as a neighbor.

Back of the Chapotot sundial showing the twenty cities
REF.
"SUNDIALS AT GREENWICH" by Hester Hington, Oxford Press, The National Maritime Museum, Butterfield Dials,
pages 91 – 107.
 In all our years of collecting antique instruments,
this is one of the rarest examples of an 18th Century work we've come across. 
| | |
| --- | --- |
| Close-up view of Chapotot Butterfield compass card image | |
| | |
| --- | --- |
| The closed case for the Chapotot Butterfield sundial | |
CONDITION:
The sundial is in near new condition and shows very little wear.  All the engraving is sharp and distinct and t
he numerals on the front have all of their original black
enamel finish. The engraving on the back is also sharp and distinct, but was left unpainted.  Considering its 314
 year age, it is in very good condition.
Two other views of the Chapotot Butterfield sundial