OLD WORLD RIVER HARBOR LAUNCH PRESENTATION HALF MODEL


to the Hon Francis B. Bradley-Birt, Esq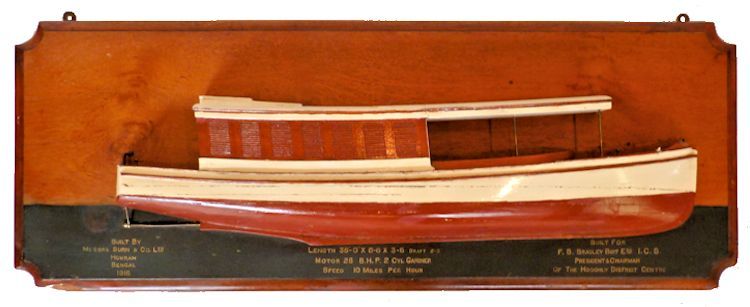 BACKBOARD
45″ L x 17″ H MODEL 34 1.2″ X 5″ beam x 3 1/2″ depth  8 1/4″
Height Weight 24 Lbs.
Presented is a presentation
half model which was designed in the traditional British style of a  harbor and river launch to transport gentlemen
and women of high station.  Almost 100 years old now,  this builder's display style half model was most given
as a gift to the owner, the Most Honorable  Francis Bradley Bradley-Birt, Esq., on the launching of the vessel. Other times, the builder's presentation style half models were used
by the yard as an advertisement and sales tool to promote their capabilities. =left>=left>

THE
BOAT'S OWNER:  Francis Bradley Bradley-Birt, B.A. ICS,
FRGS (1874 – 1963), diplomat and writer, began his career as an English member of the Indian Civil Service. His duty in India
began in 1896, and he started as an assistant magistrate and collector. He was originally assigned to Khulna, Midnapore, Hooghly
and Calcutta. At some point he was re-assigned to the commander-in-chief in India, and later served in the British legation
in Tehran.
Bradley-Birt
wrote both fiction and non-fiction about his travels in India, Persia and the Middle East. In India he was attached to the
Archaeological service, and this formed the basis for some of his non-fiction work. He wrote under his own name and under
the pseudonym "Shelland Bradley."
Bradley-Birt
married Norah Spencer-Churchill, daughter of George Spencer-Churchill, 8th Duke of Marlborough on

1 December 1920

. His wife was, a cousin of Winston Churchill.

credit Wikipedia

CONSTRUCTION: The hull is
constructed of seven lifts of wood and the deck house is built of two blocks with a curved thin panel making
the roof. The hardware is of cast brass which has turned dark with age. It consists of chock, cleats, a rudder post and
shaft and strut. There is no propeller. 
Notations providing the details of the model are painted on the back board
CONDITION: The half hull is in original condition, with age cracks
and some paint loss which adds to its authenticity.  There is a small piece of wood missing at the left hand bottom
corner. There are other normal marks of age which include a few dings and scratches, all very minor and not too noticeable.
The varnish has taken on a golden patina which gives a look of richness. (See the section on Construction for further
details) The workmanship is of dockyard quality.
PROVENANCE: Purchased in
the normal course of business. auction. 
Showing
the three dimensional view from for and aft of the half model
THE GENESIS
OF HALF MODELS: Half Hull models were carefully hand carved, and incorporated the latest in the designer's knowledge
of which shape produced the fastest and most seaworthy vessel for the type cargo to be carried. The builder's models were
made to loft the lines of a large size sailing vessel as the first step in the building process. There were other forms of
half models which were used as a presentation piece to the owner, or as a record of the ship builder's
accomplishments. To learn all about half models, you will enjoy our essay discussing their fine points on  this
page. Go:  

https://landandseacollection.com/id267.html

=left>=left>

This antique builder's half hull model is a great gift or wonderful
addition to your office, den or family room.