ANTIQUE WALTHAM U.S. NAVY WW I BOXED CHRONOMETER
8 Days ~ 15 Jewels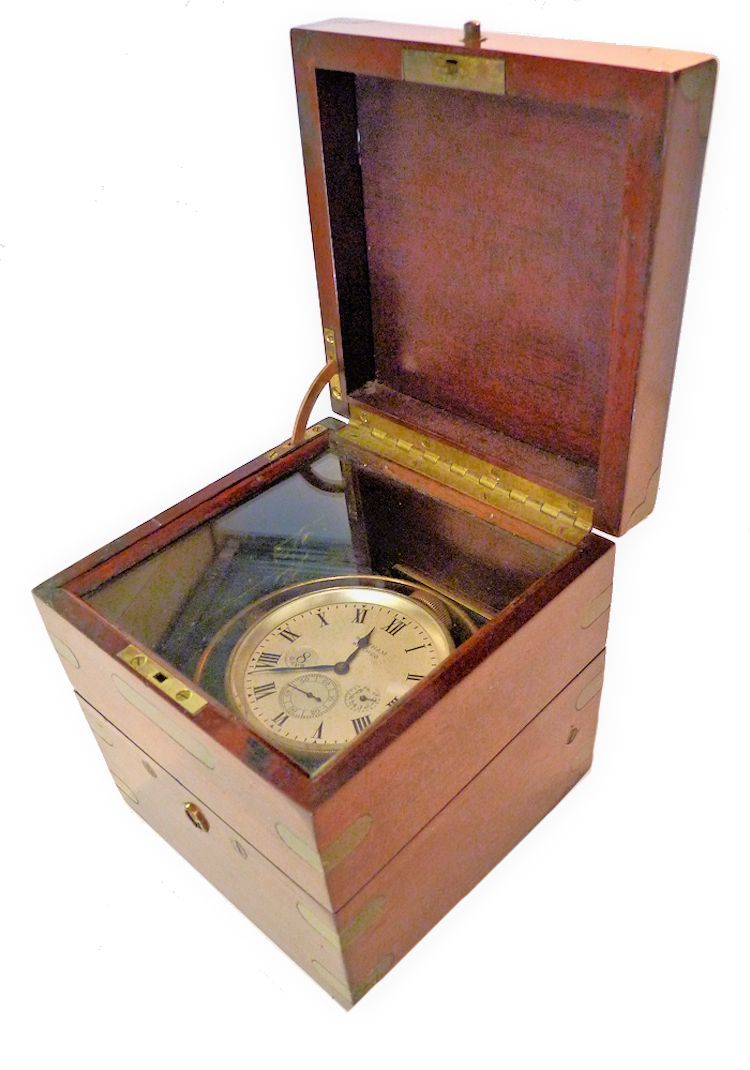 A classic U.S.
Navy WW I & II ships boxed deck chronometer watch which keeps excellent time, and is in collector quality condition!
DIMENSIONS:

Diameter of Dial   2 9/16″                  Depth  2
11/16″
        Diameter of gimbals   4″
Weight 2 lbs 14 oz
Presented is a very rare WW
I U.S. Navy Waltham chronometer watch which served with distinction through the early days of WW II until the Hamilton
M 22 production took its place. It is mounted in a fine furniture quality three tier Mahogany case whose varnish has taken
on a patina that only comes with natural aging. There are other Waltham chronometers of a similar type. but they do not have
the special features of this mil-spec example. For instance, the face has Roman numerals, not Arabic, and a special
8 day count down indicator showing it was made to military specifications. It is losing 15 seconds per day in comparison
with a quartz time standard watch and runs continuously for over nine days.
The first mounted chronometer watch purchased
by the Naval Observatory was made by Waltham in 1907. The first was serial number 16628051 . Over the period
of 29 years, ending in 1936, Waltham made 16,000 of these clocks with the final serial number being 28,924,500. Few of them
have survived and fewer still in this near new condition. This one is serial number 190428xx  which dates the clock
to 1910. Waltham "Military Spec" clocks are prized for their accurate timekeeping and the high quality of their
cases.
                8
Day 15 Jewel movement. The serial number is at the 9 o'clock position
MILITARY SPECIFICATIONS
required an eight day, 15 Jewel movement that was housed in a
three tiered, brass strapped, Mahogany box with gimbals. The silver etched 2 9/16 dial had black Roman numerals.
Navy specifications in addition required that it have an 8 day count down indicator in lieu of a "spot" indicator.
All these are present in this example.
          15 Jewel, 8
Day chronometer movement. keeps perfect time.
The tub is brass with a screw on bezel. It is
wound by a large knurled knob on the top which also sets the time when pulled out. The hands are gun metal blue spade hands.
It is fitted to a top opening, three tier, Mahogany case which measures 4 7/8″ x 4 7/8″ x 4 7/8″ 
Military chronometers of the WW II Era
made by all the approved manufactures were made to the exacting standards of the specifications established
jointly by the military and the U.S. Naval Observatory. Tests showed that there was no significant difference in accuracy
between 15 and 21 jewel clocks.
CONDITION:  This example
is in outstanding original condition with a dial and movement that shows only minor evidence of natural aging.
The brass plate in the front is unmarked. The wood case is also in outstanding condition with only a thin scratch on the left
side. It has a wood bung on the right rear and at the back. There are minor marks of handling as would  be expected
with a timepiece of this age and use at sea.
                Blemish
free face of the Waltham chronometer
 Buy
this fine quality ship's U.S. Navy boxed chronometer now! It is a perfect addition for your
desk, mantle or collection.