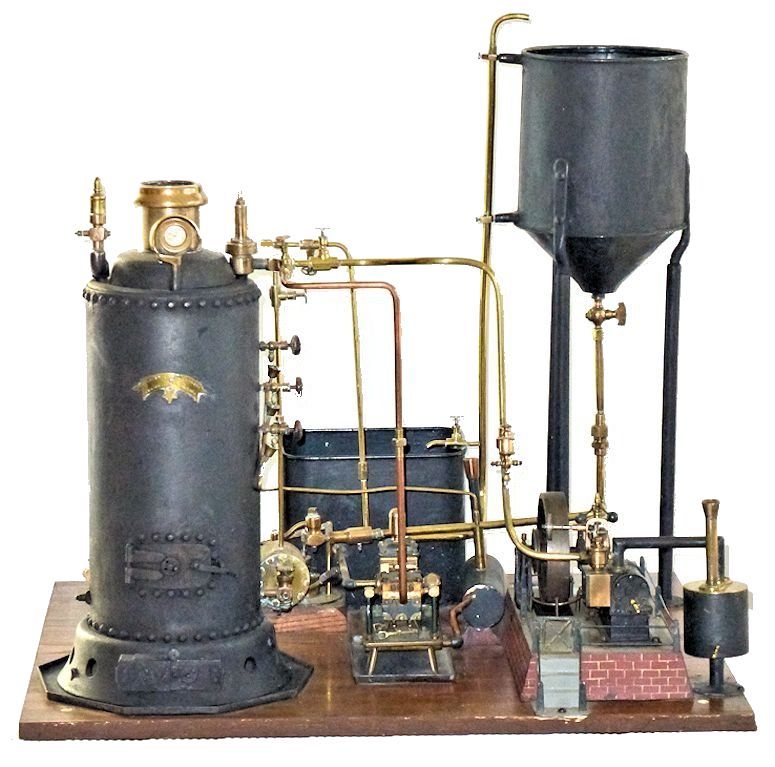 Fully Equipped Steam
Power Plant Model For Display!
DIMENSIONS: 25″
L x  21 D x 22″ H  Weight 30 Lbs.
Presented is a fully equipped antique model that
was made to replicate a steam power plant of the late 19th Century. Based on the the residual sheen of oil coating the machinery
and other elements of the display, it was built to be a working model and was used as such for sometime thereafter.
It may have been designed as a concept model or even as a sample of the ability of the maker to engineer and construct
a real power plant.
The model consists in part of a horizontal single cylinder
steam mill engine on a cast iron base with 3/4″ bore x 1 1/4″ stroke; two cylinder drain cocks; a functional pulley
driven fly ball governor and sliding cross head, large boiler with pressure gage, water tower, holding tanks, condenser, plumbing,
valves, and other parts and machinery. It is set on an oak base. The wood base is 25″ x 21″. The tallest structure
is the water tower which on the base is 22″ high. 
BEING SOLD AS A STATIC DISPLAY MODEL ONLY
Back of steam power plant showing water tower, holding tank and
sub-tank
Close-up of single cylinder power plant engine model
Large coal fired boiler over close-up of pressure gage and brass
maker's plate
 The
brass plate reads, built by C.F. Dauxdater, Lehigton, PA, 10.8.1894
Looking down from above showing the
power plant layout
CONDITION:
Originally made in 1894 as a working steam generated power plant that may have been used as a concept or engineering model.
However, over the 120 years it now has the following faults which can be repaired. The model has not been pressure tested
and there cannot be any assurance that any or all the soldered joints are air tight. Furthermore, there is a primary pipe
located next to the boiler which has a broken joint. There is no provision for using any power takeoff from the main and secondary
pulley wheels. There are two screws missing from the metal stand in the center of the display. A crack in the wood base has
been recently repaired. There may be other patent or latent defects which we have not noted. The model is being sold as an
interesting display with lots of character.
PROVENANCE: Bought at auction in the ordinary course of business. 
Close-up of the main water tower