Antique British Bosun's Pipe
or Call
Mid 19th Century
Copyright 2014 by Land And Sea Collection™.
All Rights Reserved.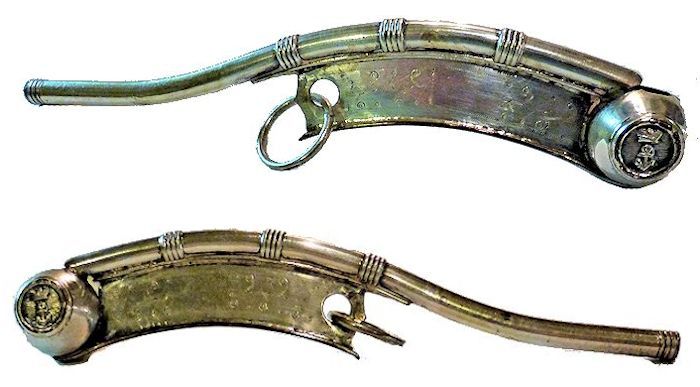 PRICE $475.00 plus
shipping to 48 contiguous States $20.00
Presented is an unmarked, mid
19th Century British Bosun's "Pipe" or "Call" which is frequently referred to as a Boatswain's
whistle by the uninitiated. It is larger than what is found in use today by 1″ in length and 1/8″ in width which
helps identify its age. It has the British Royal
crown over an old fashioned anchor on the cheeks of both sides of the barrel shaped buoy. The gun has three bands of four
strands not counting the three bands at the mouth. Both sides of the keel have a geometric pattern of swirls and curls, but
there is no maker's name or mark. 

SIZE:  Size
5 1/2″ x 3/4″ W at the bowl     Depth at the keel 3/4″    Weight 22 grams 
Picture shows the
bottom and top of this pipe.
BOATSWAIN'S CALL OR PIPE:
From Wikipedia, the free encyclopedia

A boatswain's call is a pipe used on naval ships by a boatswain. It is
also spelled "bosun's call". It is never called a "whistle" except by landlubbers (added).

The pipe consists of a narrow tube (the gun) which
directs air over a metal sphere (the buoy) with a hole in the top. The player opens and closes the hand over the hole
to change the pitch. The rest of the pipe consists of a keel, a flat piece of metal beneath the gun that holds the
call together, and the shackle, a keyring that connects a long silver or brass chain that sits around the collar, when
in ceremonial uniform.

History and usage

Historically the boatswain's call was used to pass
commands to the crew when the voice could not be heard over the sounds of the sea. Because of its high pitch, it could be
heard over the activities of the crew and bad weather. It is now used in traditional bugle calls such as Evening Colors/Sunset,
and in other ceremonies in most modern navies. It is sometimes accompanied by other auditive features such as ruffles and
flourishes, voice commands and announcements, or even a gun salute.

PROVENANCE: it is from the estate of an executive of Monsanto Chemical Co. who lived in England for 5 years,
in the 1960's. He and his wife collected some very interesting things such as a 3 inch Dr. Halley Globe and a very old
silver equinoctial. 

COMPARISON; THIS ANTIQUE TO A PIPE STILL BEING USED IN ENGLAND:
The length of this relic, which likely dates back to the 1840's, is 5 1/2″ compared to 4 1/2″ for British
one. Its width at the widest point at the buoy is 3/4″ compared to 5/8″. These are major differences in size.