VERY
RARE BELFRY FROM THE NAVAL VETERAN'S ASSOC OF THE 1st USS KEARSARGE DATED 1888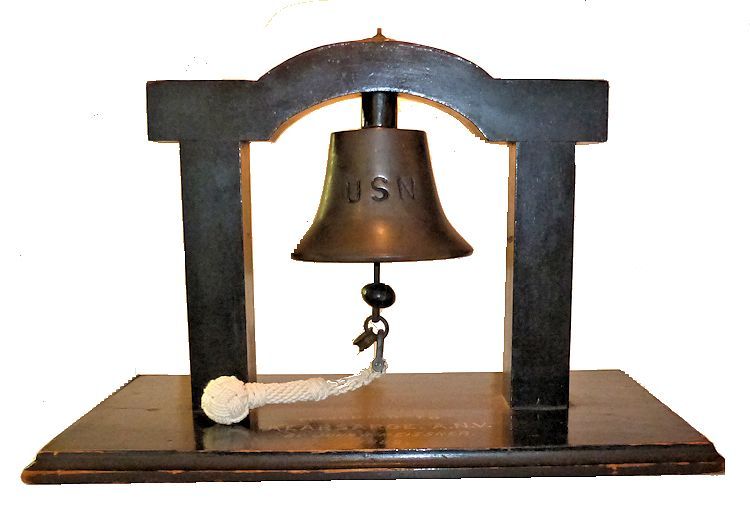 FROM A COLLECTION OF RELICS FROM THE FIRST USS KEARSARGE'S
VETERANS ASSOCIATION

Presented
is a great old Navy relic that is from an archive of interesting items that originally belonged to the KEARSARGE
ASSOCIATION OF NAVAL VETERANS (A.N.V.). This one consists of a small belfry holding a 5 inch by 4 inch bell with fancy macramé
bell rope marked USN. It is mounted on the original dark wood base that is 18 1/2″ W x 9 1/2″ D x 1″T. On the
front of the base hand painted in gold on four lines is, Presented to/

KEARSARGE, A.N.V./

BY
JOHN G. MEISSNER/ 1888.

Showing the dedication
on the base of the belfry
KEARSARGE HISTORY: USS KEARSARGE,
a 1550-ton Mohican class steam sloop of war, was built at the Portsmouth Navy Yard, Kittery, Maine, under the 1861
Civil War emergency shipbuilding program. She was commissioned in January 1862 and almost immediately deployed to European
waters, where she spent nearly three years searching for Confederate raiders. In June 1864, while under the command of Captain John
Winslow, Kearsarge found CSS Alabama at Cherbourg, France, where she had gone for repairs after a devastating
cruise at the expense of the United States' merchant marine. On 19 June, the two ships, nearly equals in size and power,
fought a battle off Cherbourg that became one of the Civil War's most memorable naval actions. In about an hour, Kearsarge's
superior gunnery completely defeated her opponent, which soon sank.
After searching off Europe for the Confederate
cruiser Florida, Kearsarge went to the Caribbean, then to Boston, where she received repairs before returning to Europe
in April 1865 to try to intercept the ironclad CSS Stonewall. With the end of the Civil War, she remained in the area
until mid-1866, when she was placed out of commission.
Looking from the left
side of the belfry
The Kearsarge returned to active service
in January 1868 and was sent to the the Pacific coast of South America. During 1869, she cruised across the ocean as far as
Australia, then returned to Peru. The next year, Kearsarge sailed north to Hawaii, then moved on to Mare Island, California,
where she decommissioned in October 1870. In 1873-78, she was back in commission, cruising in Asiatic waters until September
1877, then transiting the Suez Canal to return to the U.S. East coast, where she decommissioned in early 1878.
Two more tours of duty awaited Kearsarge
during the next decade and a half. She operated in the North Atlantic and Caribbean areas in 1879-83, then went back to Europe
and Africa until late 1886. From 1888 on-wards, she was stationed in the West Indies and Central American areas. While en
route from Haiti to Nicaragua on 2 February, she was wrecked on Roncador Reef. An effort to salvage her proved fruitless,
and USS Kearsarge was stricken from the Navy List later in the year. Credit
US Navy History
The hand engraved USN
letters are irregular
CONDITION: The wood belfry shows its age and there are some
areas where the finish is worn off. There are some of the other expected marks of age and handling.  The bell is in good
condition. The letters USN are on a  slight slant from left to right and are slightly irregular in size. There is an
old gromet on the bell's clapper shank. For its small size the bell has a good ring and resonates with a strong vibration.
 DIMENSIONS:
BELL:


Diameter at crown 3″

Diameter at mouth 5″ Height to
crown 4″  Height overall 9″

WOOD BELFRY 18 1/2″ W x 9 1/2″ D x 1″T      Weight: 7
pounds  5 ounces

 

This unique and rare US Navy relic will
make a wonderful conversation piece or it can be used as a dinner bell. =left>