SETH THOMAS WW II SHIP'S BELL INGALLS SHIPBUILDING CORPORATION
FORGED BRASS BULKHEAD CLOCK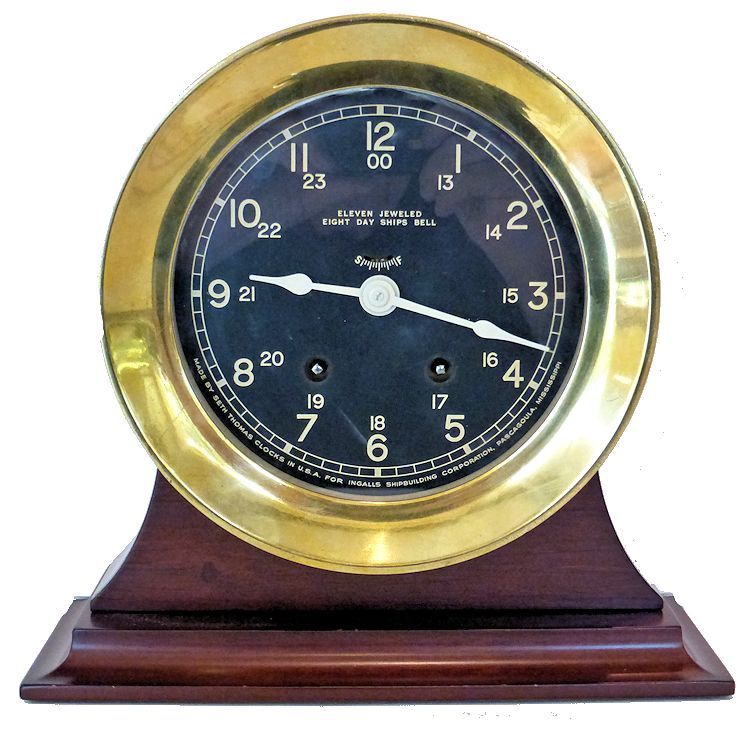 UPSCALE ELEVEN JEWELS EIGHT DAY MOVEMENT
The stand, a $75.00 value, is included!
Presented
is an extremely rare, almost one-of-a-kind, eleven jewels, eight day, striking bell clock with a 6″ black face having
12/24 military time. It clearly dates from the WW II Era. It was made by Seth Thomas for the Ingalls Shipbuilding
Corporation of Pascagoula, Mississippi for installation on one of the ships they were building for the War. It has a very
rare, precision, eleven jewel movement that exceeds mil-specs and anything that  Chelsea's offered before,
during and after the War. The mechanism is housed in a very heavy, forged bronze deep case with screw on bezel which
has a maximum diameter of 7 3/4″ at the rear, and is almost 4″ deep. It is keeping excellent time compared to a
the National Bureau of Standards time and the bells' ring in the correct sequence. The stand is  included at no additional
charge.
  Near flawless face over a view
with the bezel in place

THE MOVEMENT'S design dates back to 1921. It is a very rare eight day, 11
Jewel movement with striking bells. It is the first we've had with WW II markings and only the second
we've had in this larger size. It is very rare and suitable for presentation as an important gift. The No. 115 movement
closely resembles and betters Chelsea's similar Ship's Bell design because it has the added special
feature of the Seth Thomas patented self-correcting rack and snail ship's bell striking design. It is housed in a
very heavy, forged bronze case with screw on bezel. It should never be mistaken for clocks of lesser quality such
as the more ubiquitous Merrimack, Mayflower, Helmsman or Corsair models, or those with a German movement.

CONDITION: This fine clock is in remarkable condition and shows only the normal patina
of age. The case shows some minor marks of handling. The clock has been recently serviced by a master clock smith, and
the movement is keeping very good time and rings the ships' bells in the correct sequence, with a strong resonance and
distinctive tone. Since it is almost 70 rears old, we recommend it be wound about every four days for best timekeeping. 

SPECIFICATIONS:
Forged bronze case with screw on bezel. The six inch face has a 5 1/2 inch viewable area. The black dial is acid
etched and filled in white with Arial numerals and lettering. The ultra precision  8 day, eleven
jewels movement, and a compensated balance wheel and Breguet hairspring and spade style hands show as near new.

DIMENSIONS:

Case max diameter 7 3/4"
Front Bezel  7 14"
Dial 6″ visible area 5 1/2"                       Depth  3
7/8"
Weight    8 lbs. 

 6
3/8 oz.

PROVENANCE: From a former submariner's private
clock collection. It was sold to help finance his daughters college education.

Partial Side and Back view of this amazing clock

 Side view showing the deep depth of forged brass case