WW II DESIGN!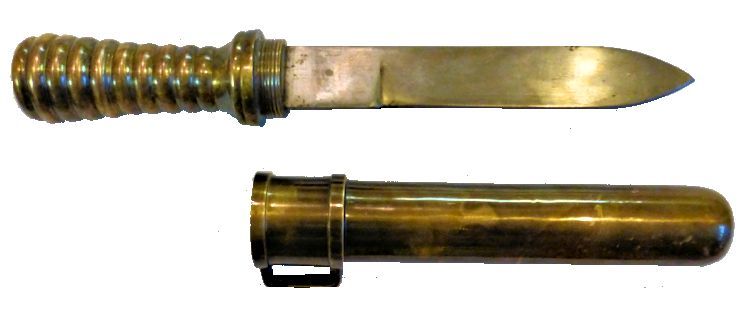 POLISHED FRENCH DIVE KNIFE:
Steel & Brass
No Markings
Weight 3 lbs 11 1/2 oz                                 Made 20th
Century
Overall Dimension knife 12 1/2"
Blade 7 1/4" x 1 3/16" x 5/16"
Hilt 4 1/4" x 1 3/8"  x 1 3/8"                           Sheath 8
3/8" L x 1 45/64" Dia
WW II FRENCH
DIVE KNIFE:
Steel & Brass
No Markings
Weight 2 lbs 8 oz
Made 20th Century
Overall Dimension knife 14 1/4"
Blade 8 1/4" x 1 1/4" x 1/4"
Hilt 4 1/2" x 1 1/4"  x 1 1/4"                           Sheath 9
3/4" L x 1 1/2" Dia
Presented is a French WW II style dive knife that dates after WW II and
may come from the Vietnam Era or later.  It is of very high quality and was purchased from Germany from a dealer. It
is not one of the cheap examples that have been known to break at the hilt due to a short stub tang. This one weighs 3 pounds
11 1/2 ounces which is almost 1 1/4 pounds more than the WW II example to which we are comparing
it. The brass has been polished to a high luster and show no imperfections. The blade has not been sharpened.
Like all of the French dive knives we've sold, it has no markings.  There is an indent, but no drain hole at
the bottom of the scabbard. Shown below the knife is housed in its scabbard.

The teeth
on the inside of the scabbard are machined into its walls and are not part of an added insert. This indicates that the
knife was made by a factory with advanced capabilities and not some small shop. It also is a mark of high quality.

The main
differences in this knife and the WW II knife are:

Blade
is held on each side by metal brass clamps in the hilt instead of wood
The tang
is locked in place at the end of the pommel by a slotted round nut instead of being peened.

NOTE:
A French customer who is expert in vintage diving gear tells us "There are several kinds of French knives. They're made in 2 sizes with
3 kinds of blades (only for Denayrouze type). Cabirol is different."

Unfortunately,
there is little documented information as to when any of these French knives were made or who made
them.

      Close-up
of both sides of knife are without fault.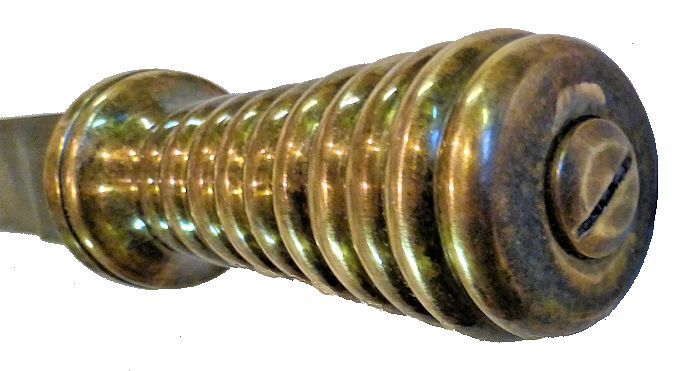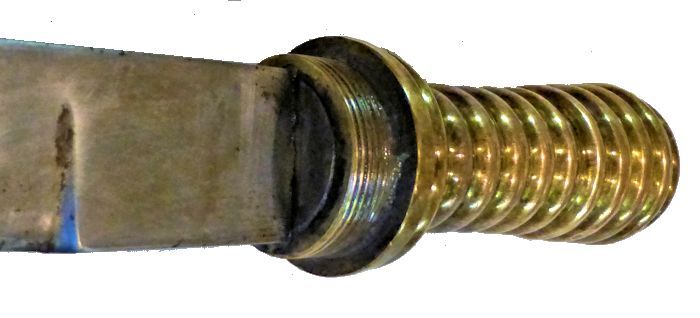 Pommel showing slotted
tang screw above brass blade clamps inside threads
    Inside of scabbard
showing teeth cut into wall
Older version of French Dive Knife
Top, Pommel with peened tang in center. Below, Wood clamps hold blade