A Perfect WW II Vince Dive Knife
ABSOLUTELY PERFECT
VINCE MK V DIVING KNIFE
WW II ORIGIN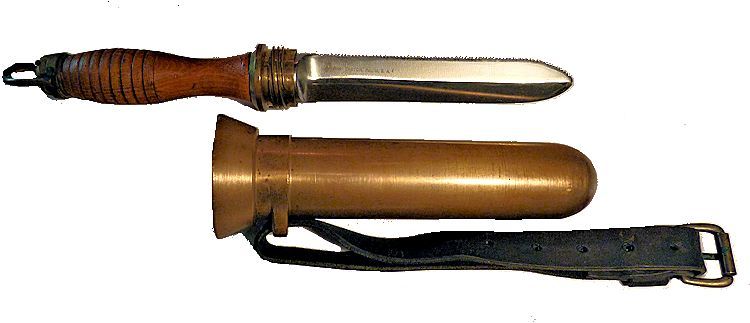 Steel, brass
& wood
Made 20th CenturyOverall Dimension knife 14 1/4  in sheath
                     Blade 6
3/4 x 1 x 1/8       Hilt  4 3/8 x 1 1/4  x
Markings Ferule1″
  Sheath
8 5/8 L x 1 7/8 Dia
Weight  3 lbs. 2 5/8 oz.
Knife LOA  14 1/8″
Presented
is the finest example of a Vince dive knife that we have ever seen. It was brought home at the end of a sailor's service
during the Korean War as a memento, and has been in the same family since the 1950's or almost sixty five years. Everything
is in perfect condition including
the acid etched engraving on the blade, which is clear and sharp, reading, "Vince,
Easton, PA., U.S.A. as shown in the picture below.  Furthermore, the brass sheath, original leather belt and swivel loop
extension on the pommel called a "bail" are all present and in like new condition, having only light handling
marks and a patina showing age. Unfortunately, there is no documented information as to when Vince made these knives,
but most knife experts believe them to be first introduced in 1935 and made until after WW II.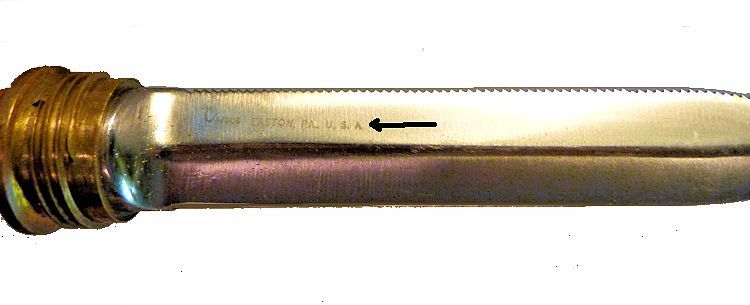 Two features made
the Vince knife distinctive. The first is a brass loop that is fitted to the pommel on a swivel that rotates around
its circumference. It is called a bail. This was the only MK V style knife made with this feature. The second is
the tiny teeth that are along the top serrated edge that number 13 to the inch. Since Vince was one of the low volume producers of MK V diving knives during WW II, their knives are very scarce
on the market, and most are in poor condition with the bail broken off and the blades in rough shape.  Even in this condition,
they are prized by collectors because of their scarcity and command a premium price.


The
knife screws into the top 1″ of a cast brass sheath using Acme threads which holds it securely, and allows
it to be easily and quickly removed. The upper edge of the knife blade has saw teeth while the lower edge has a very
sharp knife edge. This style knife without the loop is still in production today by Morse and DESCO. This is
a once-in-a-lifetime opportunity to get the finest Vince dive knife in circulation. If you are a serious knife collector,
don't miss out on this one.


Obverse side of grip, pommel and blade


Reverse side of grip, pommel and blade


      Both sides of complete knifeCONDITION:<  This
knife and its sheath and belt are in near new condition and have been in the same family for the las sixty five years. The
blade is tight in the ferule and the wood handle has all its bright varnish. The brass brail swivel bail
is attached.  The sheath has a drain hole.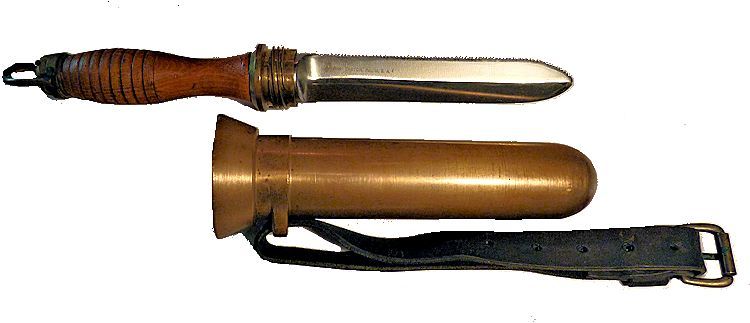 with belt and knife with name showing on blade