FAMOUS HAMILTON MODEL
22 SHIP'S GIMBALED DECK CLOCK – CHRONOMETER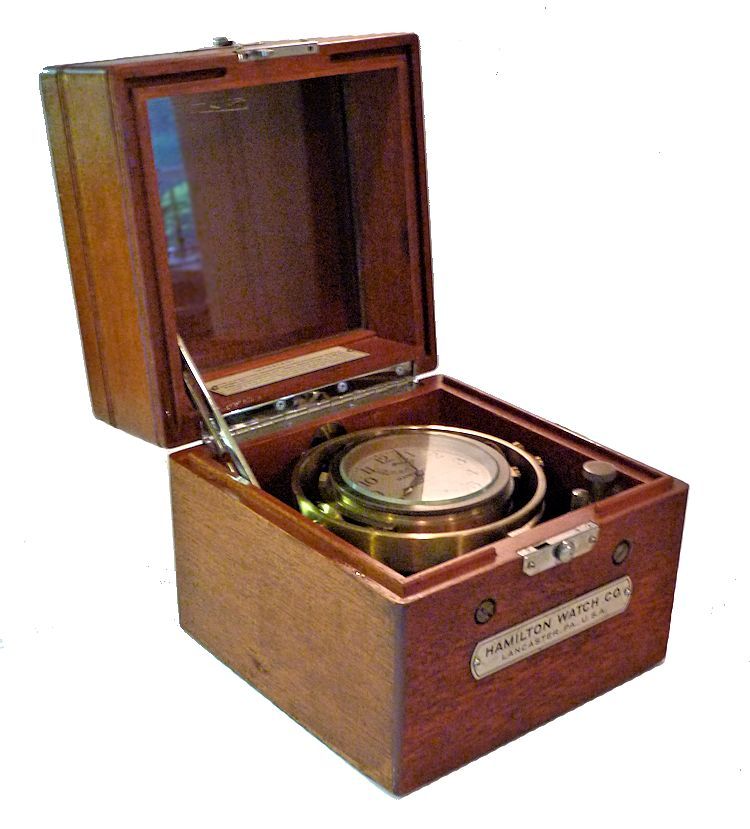 CASE
DIMENSIONS: 6″ square
WEIGHT: 4 lbs 11 oz
Presented is a post WW II HAMILTON Model 22 Deck Chronometer
Watch that was sold after the end of World War II. Numerous
clocks were declared surplus at the end of the War and sold at government sales to collectors and jewelry stores
which were eager to purchase these elegant and high quality time pieces. Recognizing a continuing demand, Hamilton
reissued this model clock without the military stamping on the bottom of the case, but used movements that they had left over
from the War. In the days before quartz movements, jewelry stores had these clocks on display in their windows so passers by could check the time. This is one of these versions, but it is
still  prized as a memento of the War and for the amazing accuracy of its mechanical movement.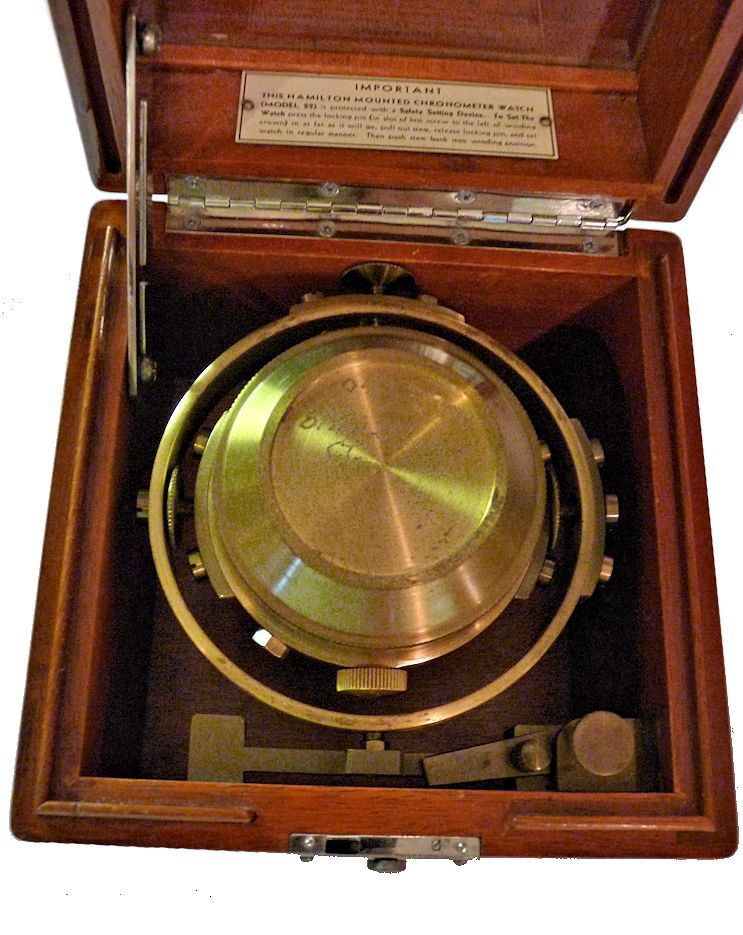 This Hamilton Model 22 was first sold after WW II
CONDITION: The 12 hour dial is in fine condition and looks as new.  It then reads HAMILTON
LANCASTER, PA., U.S.A. 48 hour Up/Down Indicator at top, Seconds Bit Under.  Inside, the movement is engraved with the
Model 22 specifications and U.S. Navy Bureau of Ships 1942. To the right of the balance wheel is 2 f 223XX, which is the movements
serial number. The clock is keeping perfect time when compared to a quartz wrist watch set to Atomic time.
The clock is housed in its
traditional Navy three section varnished wood case with full gimbal mounts. Except for two thin lines of white
paint on the inside top cover, and one small imperfection in the wood on the right side at the bottom, the case and lighter
wood at its right lower corner, it is in excellent condition with only superficial marks of handling. Most of the original
lacquer remains with small areas of the brass showing through and those having a nice patina of age.
On the tub's bottom
is engraved 043-12×29; 1966299 CT-; CT on three lines.
These numbers do not correspond to any of Hamilton's markings on the clock.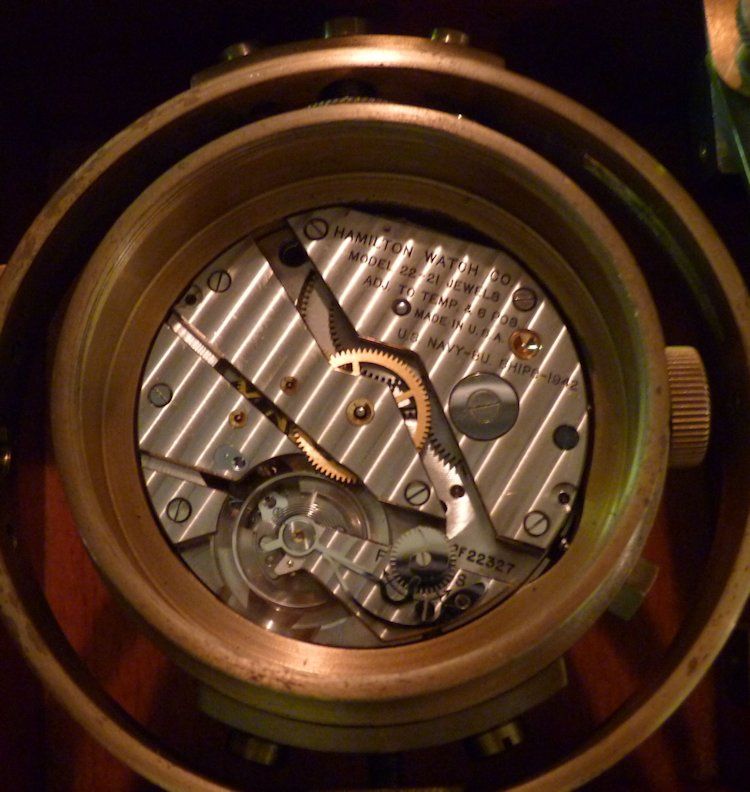 The
movement is marked U.S. Navy Bureau of Ships 1942
This Model 22 is a fine running clock which should appeal to those seeking a historic
chronometer of the WW II and Vietnam Era
SPECIFICATIONS: The Hamilton
Model 22 is a legendary watch, hurriedly designed when the USA was entering WWII, along with the far more complicated Model
21 marine chronometer; both are considered among the finest of their type. The 22 was even produced in the boxed-and-gimbaled
format, as it was proven to be reliable enough to serve as a ship's primary timekeeper! The case is 70mm
across, of plated and matted brass, and features a wonderful guarded crown and button to prevent inadvertent setting. Although
the mainspring's power reserve is some 60 hours, and the dial indicates up to 48, it was intended that the watch would
be wound each day at the same time for nearly perfect isochronisms. The enormous movement is fully adjusted and immaculately
finished and striped. The elegant regulator uses a spring-loaded finger which traces the perimeter of a snail-cam.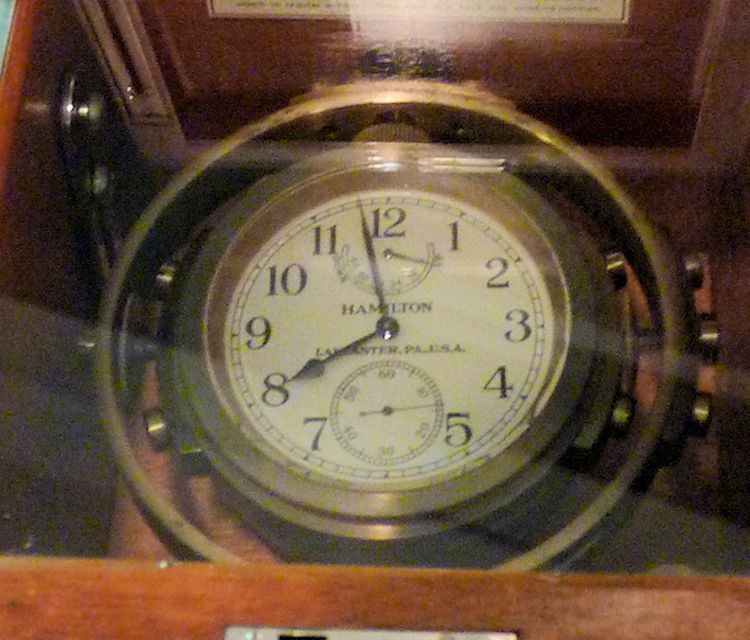 Fine looking dial with Overhaul Due Date & count down indicator. Photographed
through glass
HAMILTON CHRONOMETER HISTORY:
Hamilton Model 21 Marine Chronometers and Model 22 Deck Watches.   At the outbreak of W.W. II, the United
States Navy required a vast quantity high quality chronometers. At that time, the Navy had been using Ulysses Nardin
timepieces as standard equipment with few if any being available in this country.  A request for bids was made by the
War Office, and the Hamilton Watch Company was the only firm able to meet the requirements by designing and producing
an innovative marine chronometer in  a period of about 18 months.  Hamilton was able to produce the unit in sufficient
numbers to meet U.S. wartime demand, and made 11,239 of these chronometers during the War.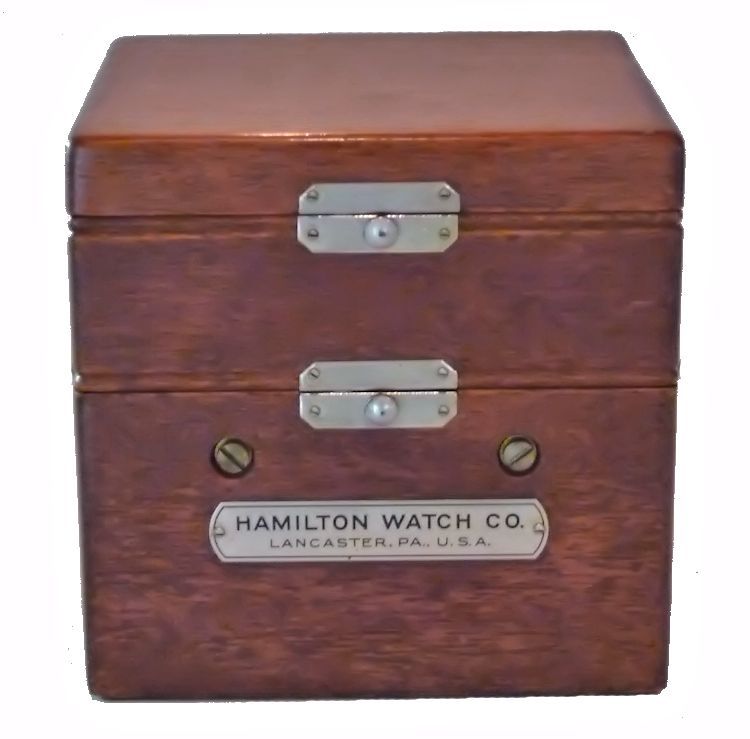 Housed in a perfect Mahogany three tier chronometer case The model 21 and 22 are technically one of the great
achievements in horology. The balance and hairspring assembly were a radical departure from traditional chronometer
design and resulted in superior time keeping rates.  In addition, Hamilton also produced a 21 jewel lever escapement
chronometer deck watch. A more detailed description of both the model 21 and 22 timepieces can be found in Marvin E. Whitney's
book: "Military Timepieces" which is recommended reading for serious collectors.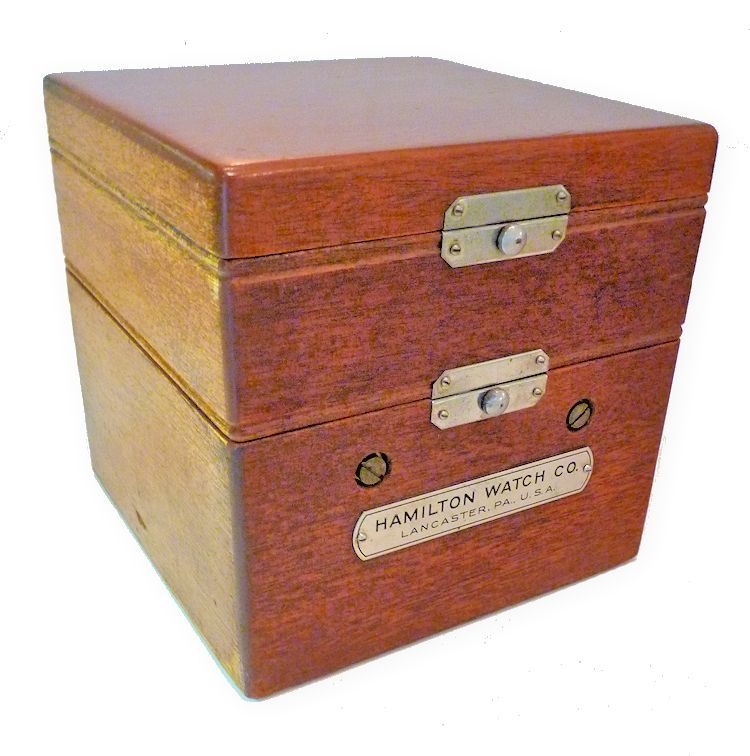 Partial side view of Model 22 three tier case showing its fine condition except for small
imperfection lower left This fine example is
a worthy addition to any timepiece collection.