IMPORTANT NAMED LARGE 10 INCH ANTIQUE CHELSEA BATTLESHIP CLOCK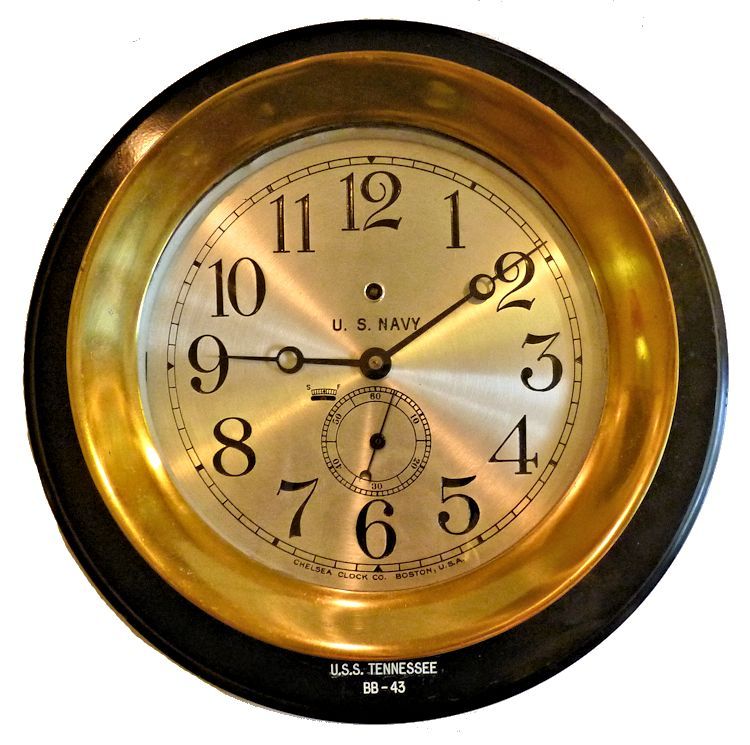 EXTREMELY RARE CHELSEA PILOT HOUSE MODEL
Presented
is a very rare and important, antique, eight day clock with an 8 inch face, that was made for the USS Tennessee
(BB-43) by Chelsea, and shipped to the Navy Supply Depot on January 31, 1918 per the maker's records. The Chelsea
Pilot House movement is marked with serial number 115275  and very few were made for the Navy. The clock's forged
brass case is mounted on a custom heavy black Bakelite backing plate. Bakelite was commonly used for clock cases during WW
II to cut down on the use of brass, a material in short supply. The backing plate is engraved on the front bottom in Navy
style ettering with U.S.S. Tennessee, BB-43 on two lines. On the reverse bottom of the backing plate near the bottom in larger
size type on one line is the engraving, BRIDGE-NAVG. CONT. The abbreviations may signify, Bridge-Navigation and Command &
Control.
  Engraving on back of mounting plate
reads BRIDGE – NAVG. CONT.
DESCRIPTION: The USS Tennessee's clock is housed in a heavy forged brass case with desireable side opening
bezel and measures 10 inches in diameter. It has a large 8 inch brass 12 hour dial which was recently
re silvered after being serviced by a master clock smith. The Arabic numerals and inscriptions are acid
etched in black. Below the 12 O'clock position is the winding arbor and below that is etched U.S. NAVY. Next
comes the hands arbor that features a Full Moon minute and Full Moon hour hand. The large seconds hand has it's own dial
and the hand has a Half Moon tail.  A Fast/Slow Lever regulator is directly to the top left of the enlarged seconds
dial. The precision, 8 Day 11 jewel Model E Pilot House movement, and lever escapement with large
seconds dial and serial number date this clock's manufacture to 1917. It weighs a heavy seventeen and one half pounds.
It is keeping excellent time when rated against a quartz comparison watch. A Chelsea key is included.  
DIMENSIONS CLOCK:
8″  Diameter of Dial     3″ Deep 10″ Full Diameter
Weight  17 lbs 8 oz
MOUNTING
PLATE: 14″ diameter  7/8″ Thick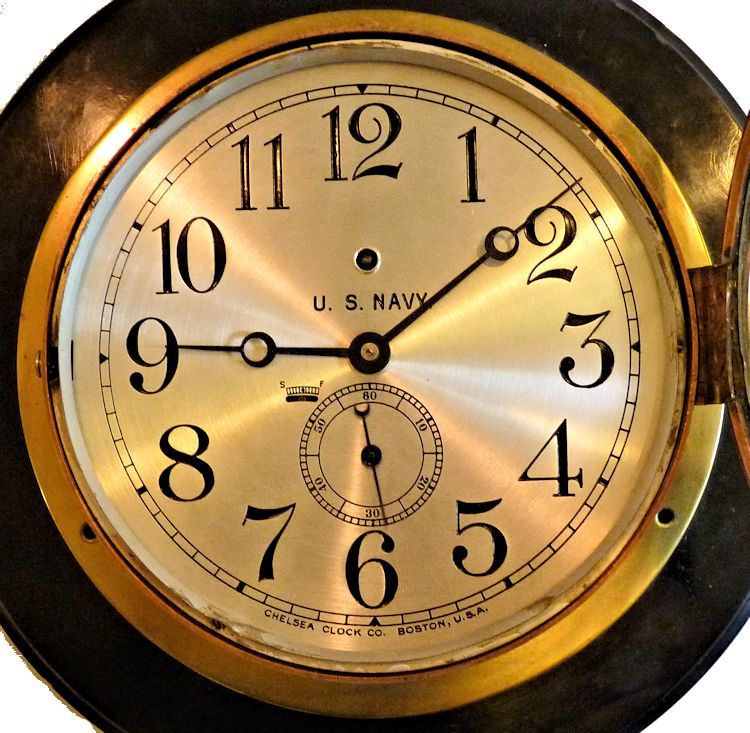 Side opening bezel showing details of
refinished face.
SHIP'S
HISTORY: The Tennessee had a long active and interesting career. She was launched in 1920, twenty one years prior
to WW II and served in the Pacific Fleet during the pre-War years. On December 7th, 1941 she was moored against
the quay in Battle Ship row with the West Virginia along her outboard. She survived the attach with only minor damage because
the West Virgina which was sunk protected her from torpedo attacks.
  The USS Tennessee BB-43 after modifications
and upgrading, May 1943
After
she was freed from the wreckage, she returned to the States arriving at the Puget Sound Navy Yard on December 29th where
quick repairs were made, and then it was decided to extend the shipyard work to include major modernization and upgrading,
including redesign of her superstructure and the adding of torpedo blisters to her sides plus adding heavier observation aircraft
and more advanced communications and weapons. This refit lasted until May 1943 when she returned to the Pacific and
joined Task Force 16 in the North Pacific. She then was involved in all the major campaigns in the Theater leading up to the
invasion of the Philippines and thereafter. To read about her exciting history and actions in detail see  http://www.historyofwar.org/articles/weapons_USS_Tennessee_BB_43.html 
Clock's rectangular Pilot House lever action movement
showing serial number 115275

CONDITION:
This fine clock is in remarkable condition and the case shows only the normal patina of age. It was polished some time
ago and has an old lacquer protective coating which is still in good condition with a nice patina of age. The Pilot House
Model E movement is bright and clean and the newly refinished dial is near blemish free. Note there is a 1 1/2 inch hairline
scratch between 10 and 11 O'clock which was done at the refinisher's shop. Since it is approximately 98 years
old, we recommend it be wound about every four days for best timekeeping.

                             Comparative
difference in size between a 6 inch and 8 inch clock