2.5 Gauge Vintage Live Steam Locomotive Engine
Nautical Antiques & Marine Art at Land and Sea Collection™ Dive Helmets, Ship Models, Sextants2.5 Gauge Vintage Live Steam Locomotive Engine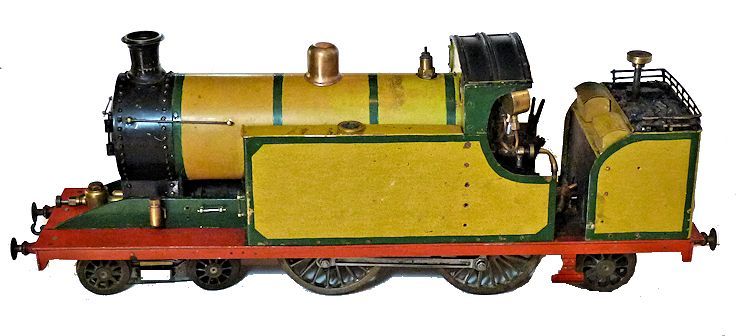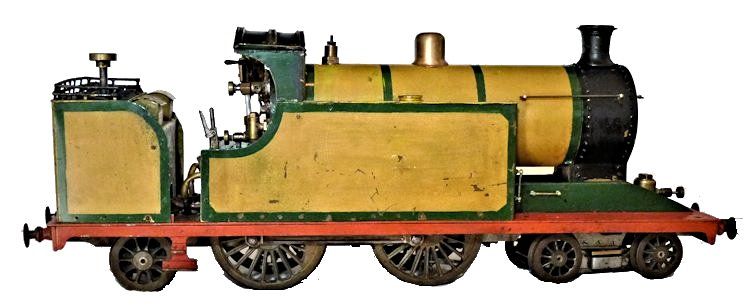 This vintage live steam locomotive model in 2.5 gauge is
patterned after the LSWR 415 class. Its  steam saddle tanks, one on each side, 4-4-2 wheel arrangement and long
radial boiler formed the basis of it being referred to as a "Radial Tanker" Designed by William Adams, and introduced
in 1882 for service on the London and South Western Railway (LSWR), the design endured with distinction through the end of
WW I and beyond until all were scrapped by 1962.  See drawing below.
SPECIFICATONS: Length Overall 22 1/2″   Height 8 1/2″  Maximum Width 4
3/4″    Weight 22 Lbs.  Diameter of bogie wheels 2 3/4″ Drive wheels 4 3/4″  Rear
bogie wheels 3 1/4″ Length of engine 17 1/2″  Inside Distance between wheels 59 mm or 2.32 inches
– i.e. Gauge.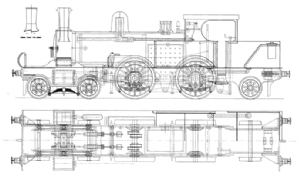 Presented is an almost two foot long vintage 2. 5 gauge railroad enthusiast's live steam engine locomotive which shows years of active use. At one time this rig ran
on its coal fired boiler, but in the intervening years steam maintenance was not performed and the necessary certifications lapsed
and have since been lost. Hence, there is no documented boiler history nor has the engine been tested. Since then
it has been appreciated as a table top display. COLORS: The steam locomotive was hand painted
by brush in an  English yellow with a dark green accent color acting as trim. The same green is used for the boiler's
bed. The roof of the cab is black as is the reinforced front of the boiler. The forward opening is also black even though
it shows as blue in the photograph. Most of the brass has darkened with a patina of age, but some continues to be bright such
as the large valve up forward. The engine's platform is a rustic red.CONTROLS: The controls in the
engine's cab appear to include everything necessary to operate the boiler and drive the engine using steam, but no
guarantee is made that it will run properly or at all in its current condition. From our limited knowledge, what appears.
in first following photograph below  is a steam pressure gauge, a water level sighting tube,
a rotary handle, a knob and below it another knob on the end of a tube. To the far right, is a ratchet brake. Access to the
fire box is through a sliding panel that does not seem to open far enough to load fuel. The lower picture shows the controls
from the side. The knobs in the cab turn, as does the knob at the front of the boiler,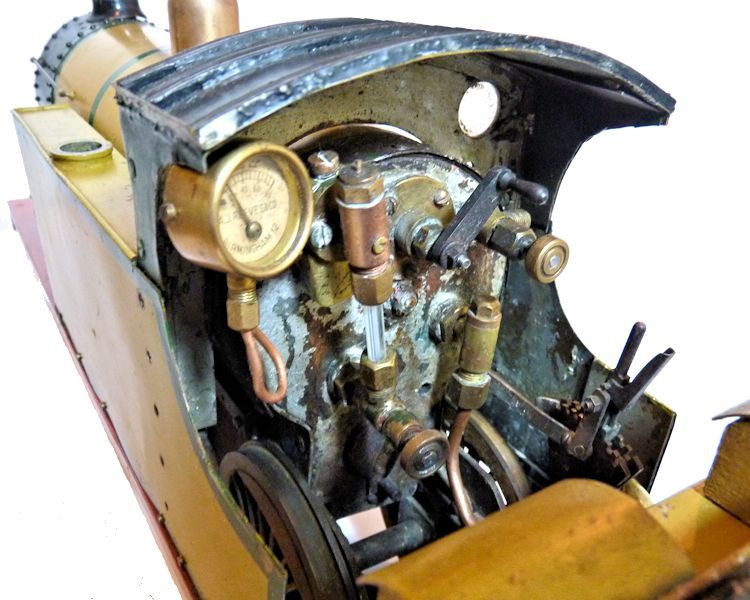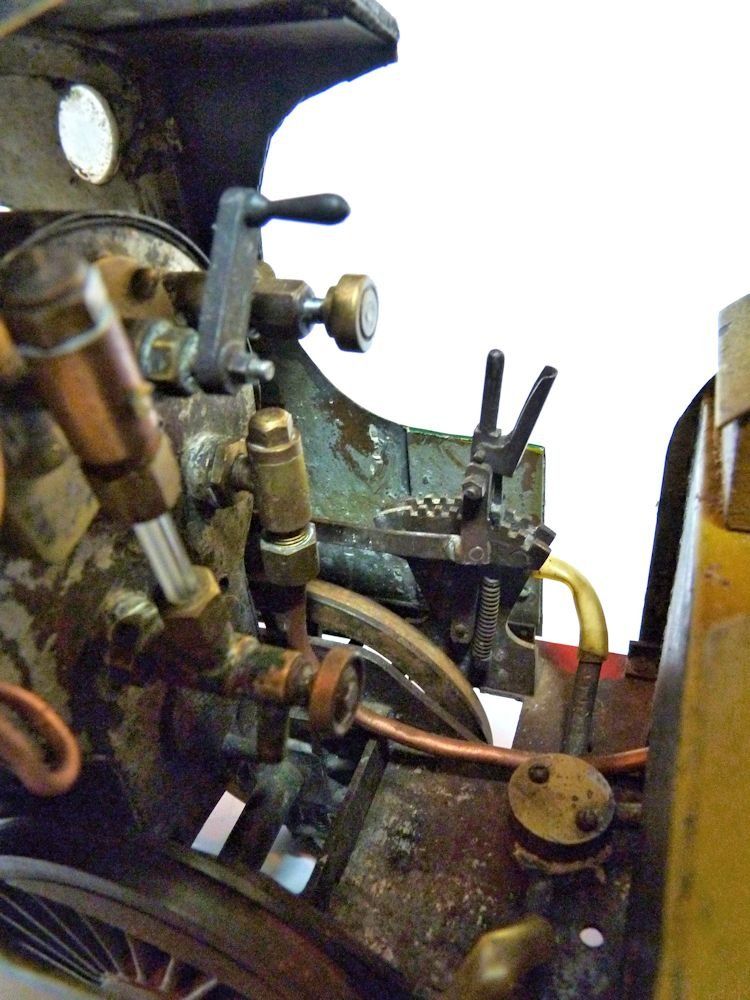 Showing pressure
valve, water level sight glass, various valves,  ratchet brake and controls       This antique steam engine model is being offered for display only and should not be used
under any circumstance! there are many hobbyists that enjoy the satisfaction or running live steam engines which is where this one originated many
years ago. Miniature models like this were made by manufacturers of steam engines for advertising and as a record
of their sales. They also were sought after by hobbyists who were interested in in this form of hobby which is still
flourishing today.However, this one is a very old model and is not certified for use.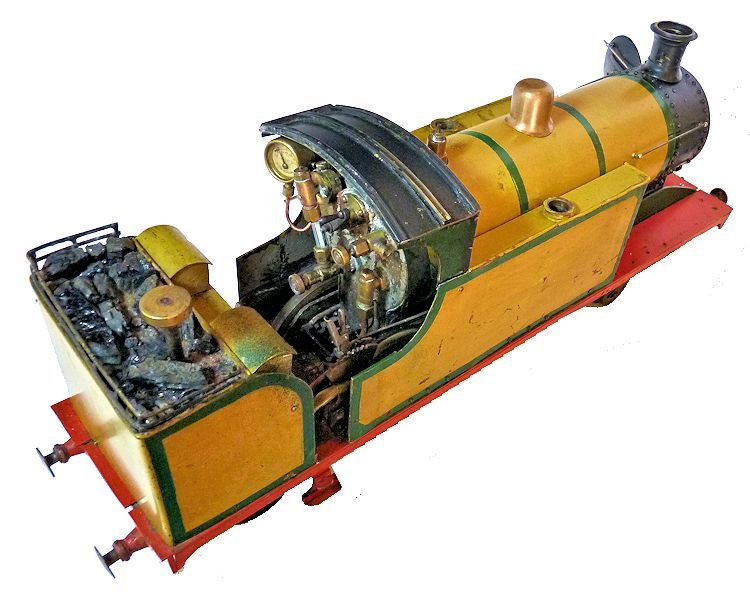 view of team engine shown over the underside carriages. The white item is likely asbestos   This antique
steam engine model is being offered for display only and should not be used unless the boiler is certified
by a licensed shop!<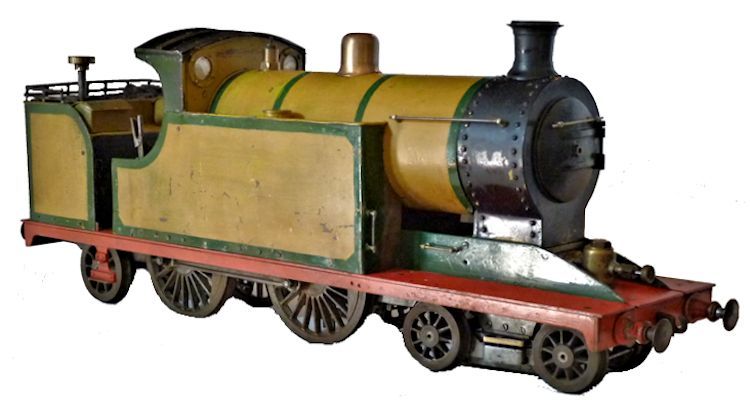 Front view of steam
CONDITION:The paint was applied by hand years ago and there is some grime and loss of paint. There
is no paperwork or certification of the boiler and no claim or warranty is made that it will hold steam or operate the engine.
All the controls to operate the engine seem to be present, but they may be incomplete or inoperative. The valves in the cab
turn, as does the large valve at the front of the boiler. The fire door in the cab has been
opened, but the opening seems to be too small to accept miniature fuel.  The round door at the front of the boiler opens,
but does not lock. There is no whistle. This model is estimated to have been made at the end of WW I or WW II and is being
sold for display purposes only.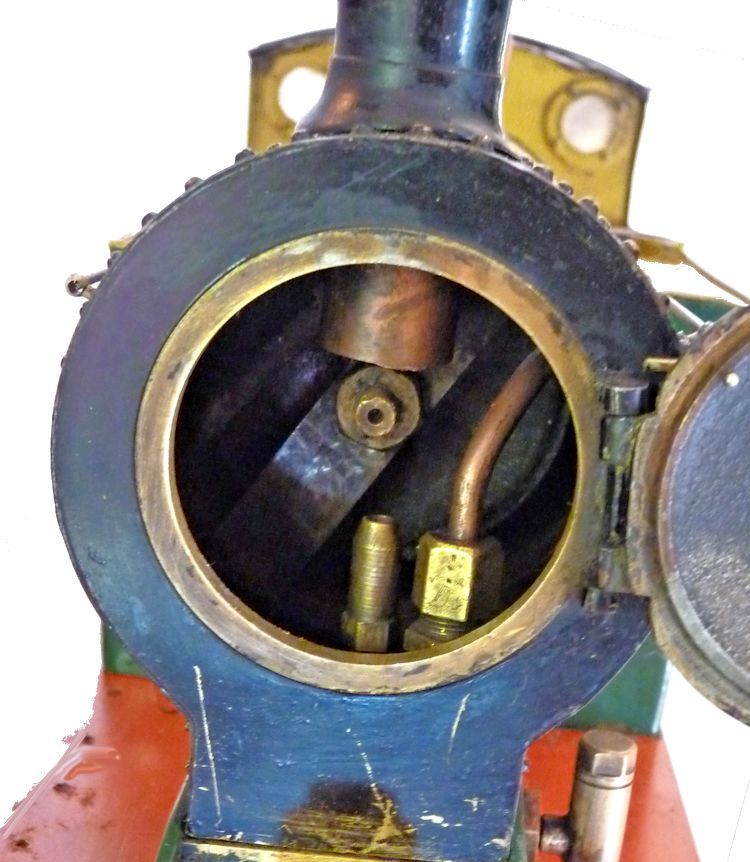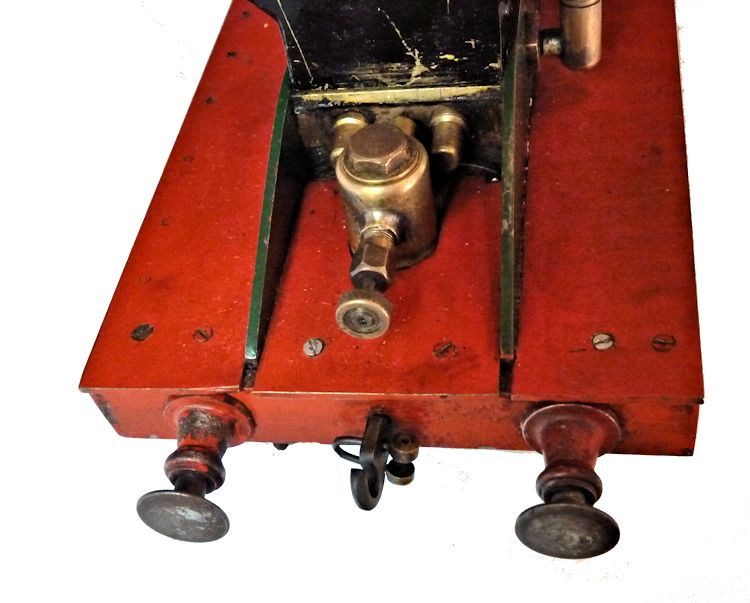 Front view of steam locomotive boiler shown over front valve and bumpers