Batteryless WW II Navy MK V Dive Knife
RARE
BATTERYLESS MK V DIVE KNIFE RELIC OF WW II

Steel, brass
20th CenturyOverall Dimension knife
13 3/4  in sheath                       Blade 6 7/8
x 1 x 1/8      >Hilt  4 1/2 x 1 1/4  x 1 1/4                                                     Markings Mfg
by Battteryless Tel Equip Co. Inc.
Ferrule 1″8 3/4 L x 1 7/8 Dia
Weight<  3 lbs. 2 5/8 oz.
Knife LOA  12 3/4″
Presented is a very good example of a Navy MK V dive knife that was made by the Batteryless Telephone Equipment Co. Inc.
of Pittsburgh. PA. Batteryless was a supplier of MK V helmet parts and is perhaps best known for the star valve that was fitted
to the MK V exhaust that carried its BTE imprint. The full maker's name is imprinted on the sheath. The sheath is in very good condition with one flat spot around
the flange. The maker's imprint on it is distinct.  The wood grip has most of varnish which appears to be original.
The blade is tight in handle and extends to the pommel cap.  The blade shows its age and is grey with a black mottled
appearance and medium pitting. It has a serrated top edge. There is some verdigris on brass bezel. Unfortunately,
there is no documented history of this company other than its name and location and the items that carry
its name. This knife comes from a collection of diving helmets,
gear and equipment assembled by a second generation hard hat diver.



There are tiny teeth along
the full length of the top edge of the blade which in the picture are shown at the bottom. Batteryless was one of the low volume producers of MK V diving knives during WW II so their knives are scarce
and are prized by collectors.The
upper edge of the knife blade has saw teeth while the lower edge has a very sharp knife edge. This style
knife is still in production today by Morse and DESCO.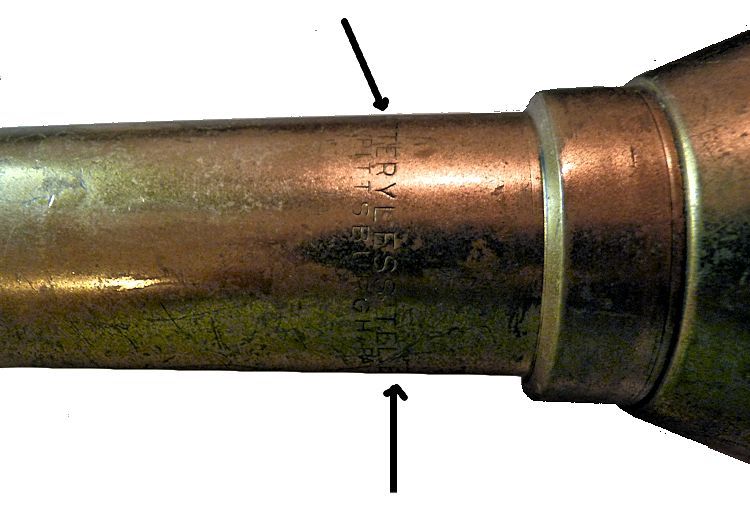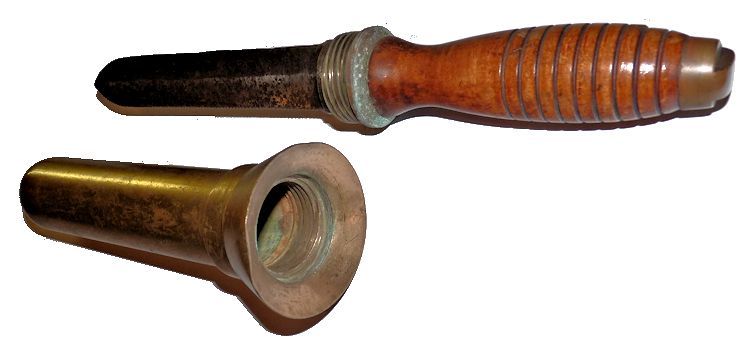 Note the flattened edge portion of the opening to
the sheath
CONDITION:  This
knife and its sheath and belt are in good condition appropriate to their age and service.. The blade is tight in
the ferrule and the wood handle has all its varnish.  The sheath has a drain hole.