SETH THOMAS US NAVY NAMED SHIP WW II CLOCK
FORGED BRASS FULLY RESTORED BULKHEAD CLOCK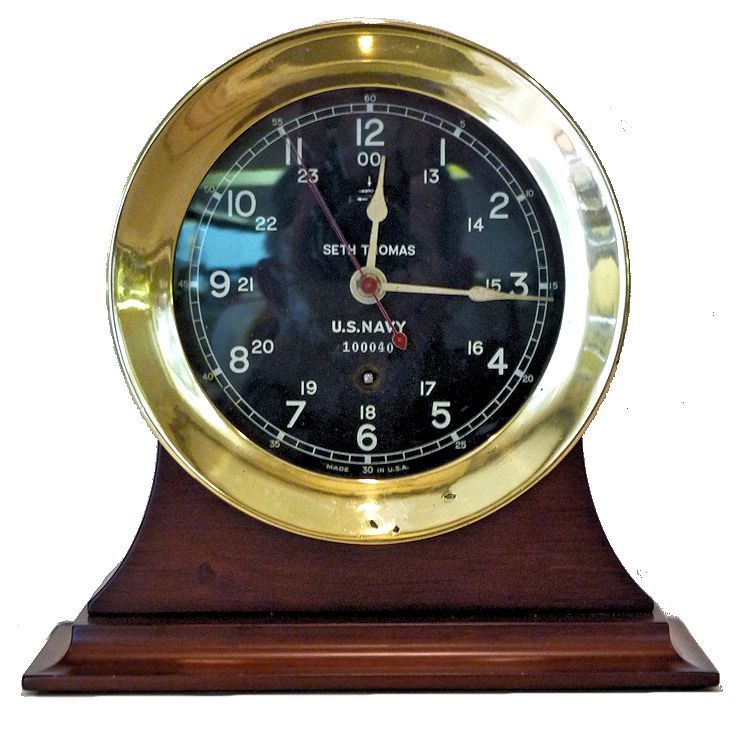 UPSCALE
ELEVEN JEWELS EIGHT DAY MOVEMENT
The stand, a $75.00 value, is included!
Presented
is a rare,  eleven jewels, eight day, clock with a 6″ 12/24 hour black face with the bezel showing
some battle damage. During the War Seth Thomas military clocks were made to the rigid specifications of the Navy Department
and this one has a very rare, precision Number 5160, eleven jewel movement that is dated June 1942.  It
was recently completely rebuilt by a master clock smith. The mechanism is housed in a very heavy, forged bronze deep case
with screw on bezel which has a maximum diameter of 7 3/4″ at the rear, and is 2 5/8″ deep. It is keeping excellent
time compared to a the National Bureau of Standards time. The period style stand is  included at no additional charge.
PROVENANCE: It
is was said to have been obtained from the USS ADHARA – AK 71 by a Navy chief petty officer in 1971 around the time of
the ship's scrapping. After the chief had passed, his estate sold it to a California collector who had it until now. There
is no written documentation supporting this, but it sounds probable.
  Official picture of the USS Adhara. Note the
two Navy aircraft on deck

CONDITION:
Having a recently rebuilt movement,  this fine clock is in remarkable condition with a face that looks as new and
shows only minor marks of age. The clock has been recently serviced by a master clock smith, and the movement
is keeping very good time. Since it is 73 years old, we recommend it be wound about every four days for best timekeeping.  

The
case shows some minor marks of handling and it's bezel shows three irregular, small, deep gashes.  Navy
inspector's would not have approved a bezel in this condition. Therefore it is logical to assume that the damage is
from a bombing attack by Japanese aircraft on 7 July 1943 while at at Guadalcanal when the ship's hull was holed in three places. The ship received jury patching
at Espiritu Santo and then steamed to Australia for repairs. There is an old red label on the back from a San Fransisco clock
repair shop from 1958.

SPECIFICATIONS: Forged
bronze case with screw on bezel. The six inch face has a 5 1/2 inch viewable area. The black dial is acid etched
and filled in white with Arial numerals and lettering. The ultra precision  8 day, eleven  jewels
Number 5160 movement, and a compensated balance wheel and Breguet hair spring and spade style hands show as near new.
The red seconds hand is a recent replacement.

DIMENSIONS:

Case max diameter 7 3/4"
Front Bezel  7 14"
Dial 6″ visible area 5 1/2"                       Depth  2
5/8"
Weight    6 lbs.  11 3/8 oz.

                             Partial
Side and Back view of this amazing clock.  1958 Geo. Butler, San Francisco Label

 Side view showing the deep depth of forged brass case shown over shrapnel damage on bezel