Large Seth Thomas US Navy Battleship Pilot House Clock
EXTRA
LARGE U.S. NAVY 10 INCH
BATTLESHIP CLOCK
WW I & WW II SERVICE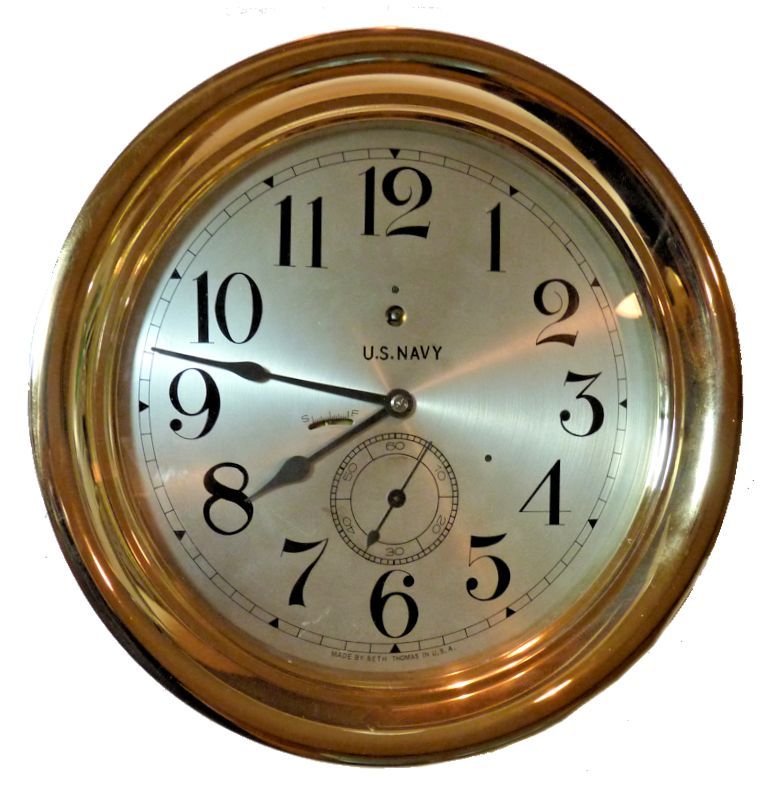 >EXTREMELY RARE SETH THOMAS PILOT HOUSE
MIL-SPEC MODEL<
Presented
is a very rare antique, eight day clock with an 8 inch face, and 10 inch forged brass case. It compares closely to a similar
clock that was made for the USS Tennessee (BB-43) by Chelsea which we had the honor of selling earlier in 2015. Seth Thomas & Chelsea both followed the Navy's specifications
for the Pilot House movement so that they may be considered of equal quality. PROVENANCE:
Handed down in a Washington State family over the last 60 years from an uncle who served
in the Pacific Theater during WW II.
Ref.
In our thirteen years of dealing in high quality military timepieces, this is only the second example that we've had to
offer. Because of this, we believe that they were only issued to WW II Battleships in the 1920's Standard and the 1940's
Fast categories or 33 ships combined. This may account for this size and type clock not being mentioned in any of the respected
reference books such as the Demeters, Tran Du Ly and Marvin Whitney.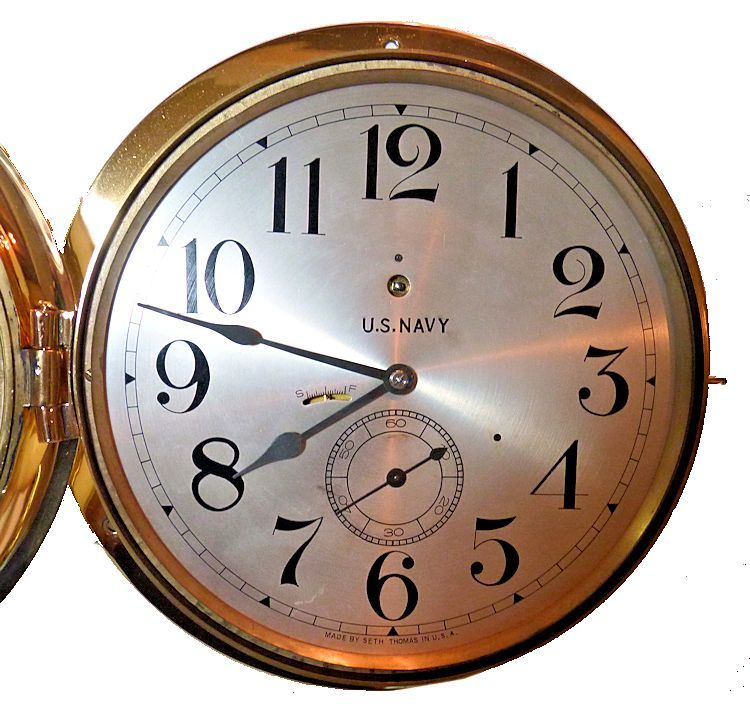 Face of the large US Navy Seth
Thomas Pilot House clock
DESCRIPTION: The clock is housed in a heavy forged brass case with desirable side opening bezel which measures
10 inches in diameter. It has a large 8 inch brass 12 hour dial that was recently re silvered after being serviced by a master
clock smith. The Arabic numerals and inscriptions are screened in black. Above the 12 O'clock position is the winding
arbor and below that is U.S. NAVY. Next comes the hands arbor that features a Spade style minute and hour hand. The large
seconds hand has it's own dial and the hand has a Spade tail. A Fast/Slow Lever regulator is directly to the top left
of the enlarged seconds dial. Both the precision Seth Thomas, 8 Day 11 jewel movement and the similar Chelsea Model E Pilot
House movement, and lever escapement with large seconds dial and serial number date this clock's manufacture to 1917.
It weighs a heavy twelve pounds. It is keeping excellent time when rated against a quartz comparison watch. A key is included. 
DIMENSIONS CLOCK:<
8″  Diameter of Dial           10″ Full Diameter      Weight  12
pounds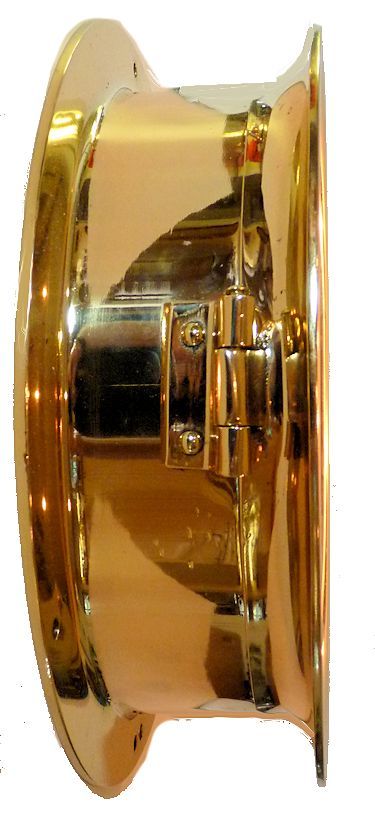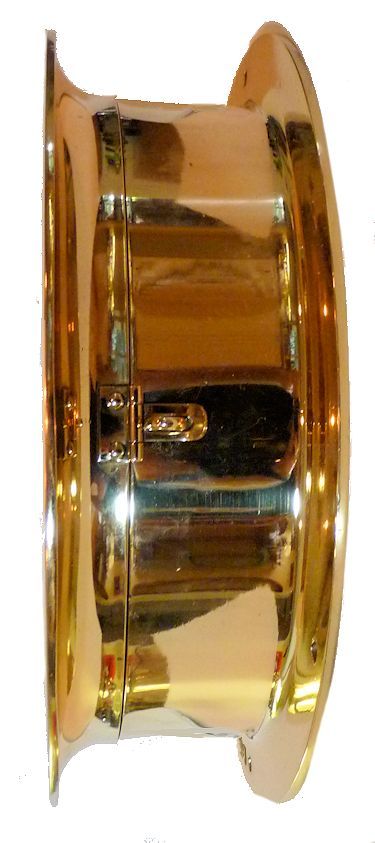 Side
opening bezel showing hinge and latch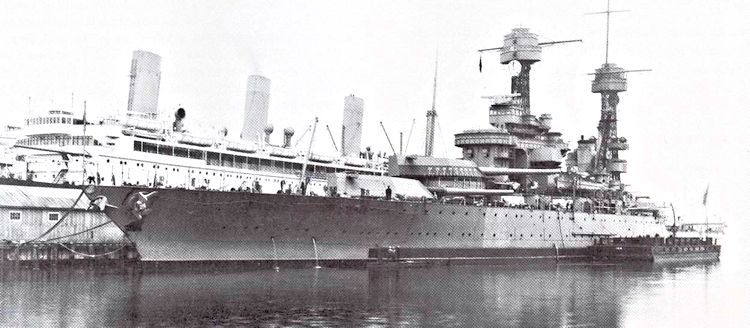 <
This clock is similar to the one issued to the USS Tennessee BB-43.
Shown after WW II modifications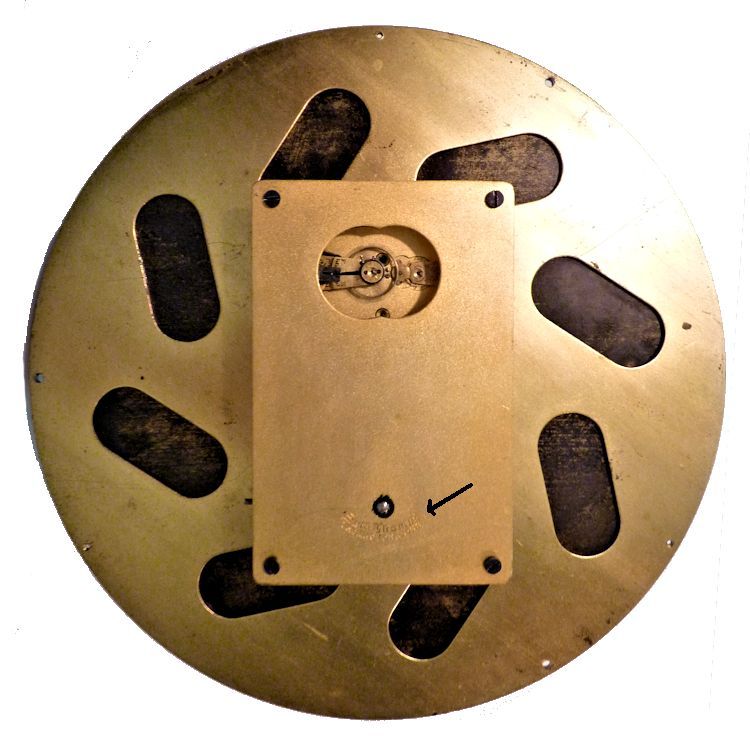 The Seth
Thomas Pilot House lever action movement. Arrow points to maker's mark CONDITION: This fine clock is in remarkable condition. The
Seth Thomas Pilot House movement is bright and clean and was recently serviced by a master clock smith who installed a new
main spring. A newly re finished dial was installed and is n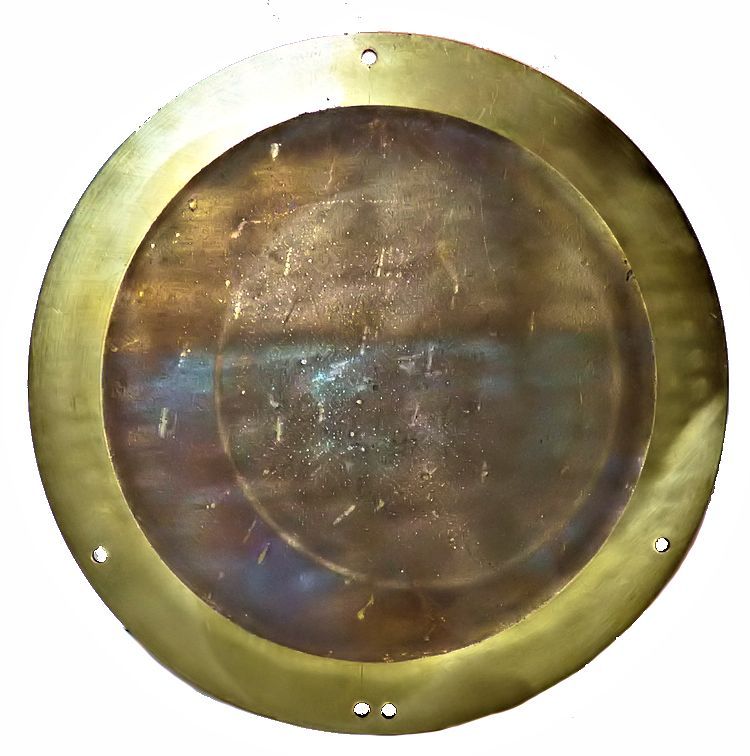 The flange at the back of clock shows three mounting holes plus
one additional at the base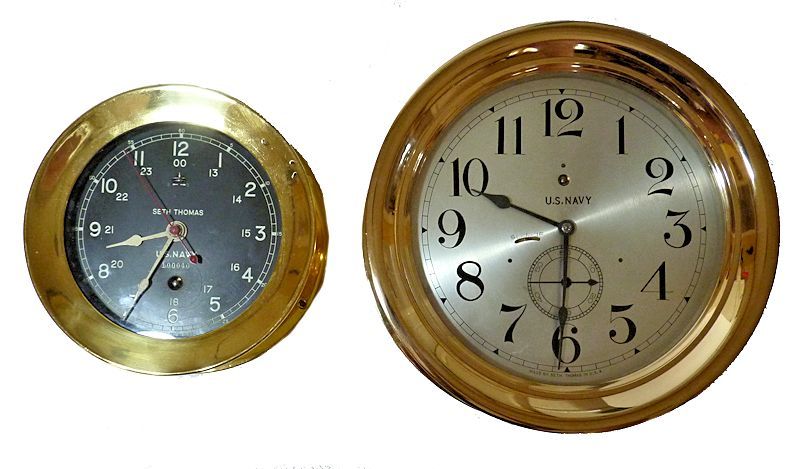 Comparative
difference in size between a 6 inch and 8 inch US Navy clock