EARLY IRON CAGE GIMBALLED
WHALE OIL LAMP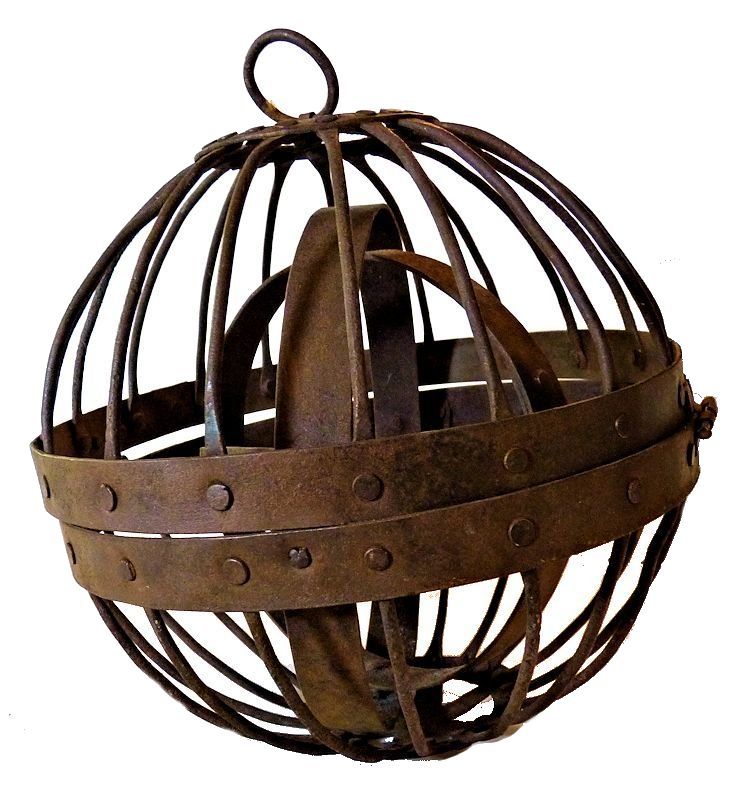 An Old 18th Century Crew's Quarters, Forecastle,
Cargo Hold, Ship's Lamp

!
 

SPECIFICATIONS

: 

 
Markings None    Cage diameter  8
1/4" inches    The bail adds 1″        Weight  2 lbs. 10
oz.

PRESENTED
is an old and rusty round cage made of bent iron rod stock in the shape of a globe centered within which is an oil reservoir that serves as a lamp. The reservoir is held stable in a horizontal position by two separate
flat iron rings that are called gimbals. There is a gimbal that works in the fore and aft direction which stabilizes
the pitching motion of the vessel's movement and a gimbal that is oriented to each side
of the vessel or port and starboard beam which stabilizes the rolling motion of the hull. The lamp originally had two wicks
which provided the illumination.

The clever, but rudimentary design of this lamp tells us that it was used in areas such
as the forecastle which is where the crew lived and ate, and in the cargo hold when cargo was loaded or off loaded. 
The whale oil lamps used in passenger areas were much more ornate. The picture below is of an engraving of the death of Lord
Nelson in 1805.  We believe the lamp being sold predates the one pictured.

The artist was A.W.
Devis who had 11 officers recreate the seen aboard the HMS Victory.

PROVENANCE: The lamp was recently discovered
in Kidderminster,
Worcestershire, England in a Canal Lock cottage.
The inside
of the lamp showing the reservoir and the two wick holders

 

CONDITION:
The lamp's cage is in good condition and is complete in all respects. The cotter pin which holds the top to the bottom
is a recent replacement. The gimbals swivel as they should, but we have not tested the oil reservoir which is missing
two wicks.  There is an accumulation of surface rust on all surfaces. There are no markings.
The open
top and bottom of the cage