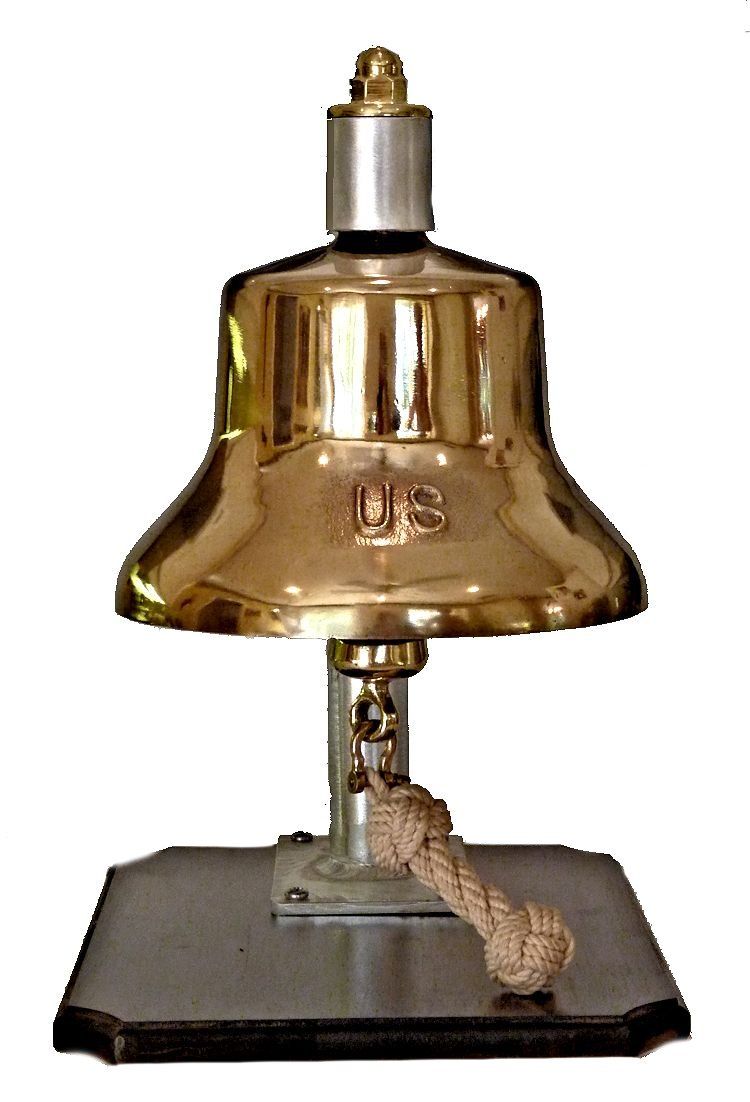 Newly Fabricated Inverted Aluminum Bracket
Presented
is a post WW II Navy and military bell that is mounted on a newly made WW II style inverted "J"
foredeck bracket. The bracket was fabricated by our shop in aluminum as a substitute for the cast brass brackets of the same
shape which were the original. At this point in time, WW II and later Navy bells and brackets are near impossible
to find so we designed this substitute. This one has a brushed finish, but we can provide a Powder Coating in a variety
of colors on special order. Contact us for the details and ordering.
The
special shape with the raised letters make this bell distinctive and worthy of inclusion in any US Military collection.
It has been mounted on a custom hard wood stand for display, and a proper three strand bell rope of the period is
included. The bell comes complete with all its original mil-spec parts which sets it apart from other bells
of this genre.
Side view of Vietnam & later Navy bell with new aluminium bracket
HARD TO FIND: U.S. Navy bells are now near impossible to find, and increasingly difficult to keep in stock. The vertical bracket
allows them to be mounted on a pedestal or deck, hence they are known as anchor or foredeck bells.
SPECIAL
NAVY FORMULA BELL METAL: The tone of an authentic Navy bell, made using a special "bell metal" formula
is not easily forgotten. It has a strong resonance and vibration that rings sharp and clear with a distinctive sound. Do not
expect cheap imitations to have this special characteristic ringing because "bell metal" is a specially formulated
bronze alloy, unique to the Navy for their specialized use.
THIS
BELL HAS BEEN RECENTLY POLISHED AND LACQUERED FOR YOUR LASTING ENJOYMENT
| | |
| --- | --- |
| Side view of Vietnam & later Navy bell with new aluminium bracket |   |
DIMENSIONS:

BELL:
Diameter of crown 5 1/2″  Diameter mouth  9 1/2″ Height to crown 6″                
Neck add 3 1/2″   Height on stand 17″  WOOD STAND: 14″ L x 11″ W x 3/4″ T            
Total Weight: 24 1/2 pounds 
CONDITION: Its inside shows the marks
of the original clapper hitting the edge and flattening it which indicates that this bell has served at sea. There casting
roughness surrounding the letters, but most of the bell is smooth and free of imperfections. The bracket was fabricated to
our design to replace the original WW II style brass bracket. 
Back of bell with new aluminium bracket
This
outstanding and rare US Navy bell is a great find for a gift, presentation piece or for a collection that includes only the
finest.
The stand makes it ideal for display!