COLT M 1861 NAVY REVOLVER &
SLIM JIM HOLSTER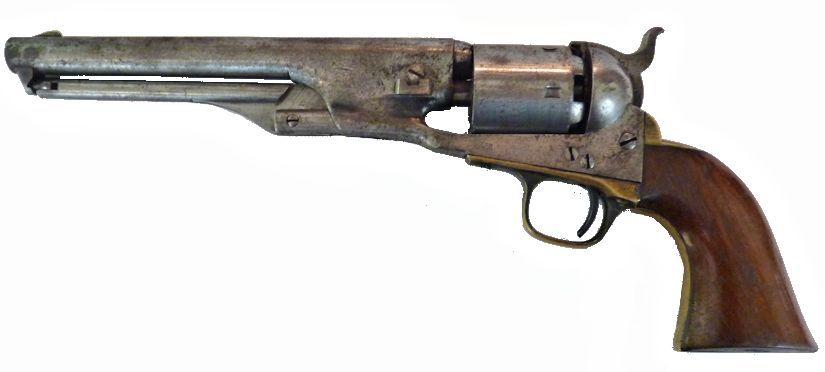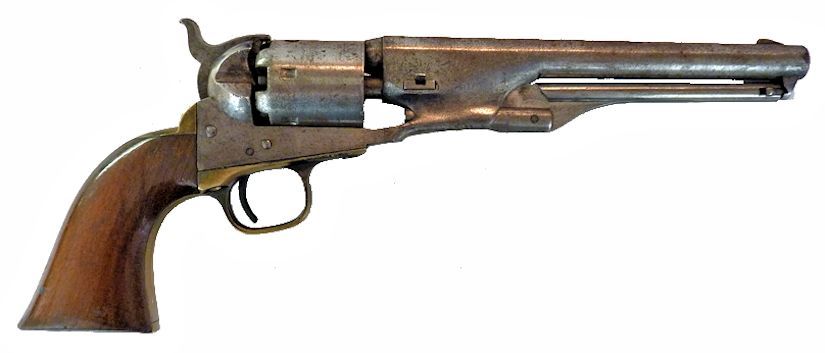 Length of Barrel 7 1/2″   Bore 36
Cal.  Weight  2 lbs. 9 1/4 oz.   Condition: Very Good
Presented
is, what today is a very rare Colt M 1861 Navy black powder, cap and ball percussion pistol made in .36 caliber. The cylinder
holds six rounds of ammunition. It has all the Colt stamps that attest to its authenticity and all numbers, except that on
the cylinder, match which may be a factory error*. The frame, hammer and lever were originally blued case hardened steel with
brass grip straps silver plated and the grips of one piece varnished walnut. There is no evidence of bluing remaining. A leather
Confederate style "Slim Jim" holster for the revolver is included. Except for some turned over edges at the throat,
it is in very good condition with tight stitching.
Approximately, 39,000 of these revolvers were
made with serial numbers from 1 to 38,843 from 1861 to 1873 when production ended. Experienced authorities estimate that only
about 1100 of these weapons have survived until today "making them an extremely rare find for collectors.
The last three digits of the serial number
are 741 and those on the cylinder are 541, an     easy mistake for an assembler to make.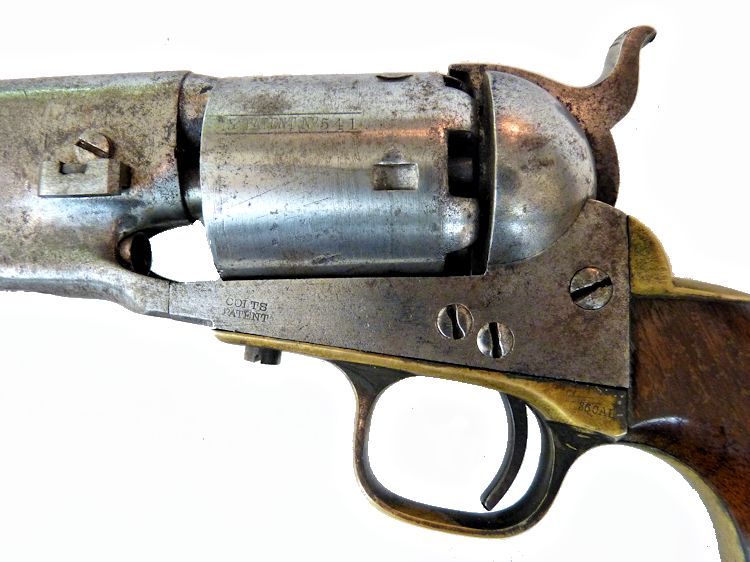 Markings on the reverse side of this pistol "Colt's Patent,
36 Cal and PATENT 541 on cylinder are visible This
weapon is an antique, and is sold for display only. It is not intended to be fired unless certified
by a licensed gunsmith. MARKINGS: Barrel: ADDRESS COL SAML NEW YORK
U.S. AMERICA
On Cylinder: PATENT No. 541
On frame below cylinder: COLT'S PATENT
On brass trigger guard strap: .36 CAL
On bottom of barrel: 31741
On bottom of frame: 31741
On bottom of brass trigger guard: 31741
On bottom of brass butt strap: 31741
CONDITION: All markings are sharp and deep.
All parts are original Colt and over time have lost their bluing with no evidence of it remaining.The firearm is single
action and with each cock, the cylinder rotates and the hammer engages and locks until the trigger is pulled when it forceably
releases. The silver plated trigger has turned black with age. The steel has taken on a patina of burnished grey with some
light surface rust along the top of the barrel and less on the sides of the frame and cylinder, but there is little to no
pitting. The brass work has a pleasing patina of age. The bore is dark, but appears clean. The loading lever operates.
The wood grip shows some darkening and has some superficial handling marks.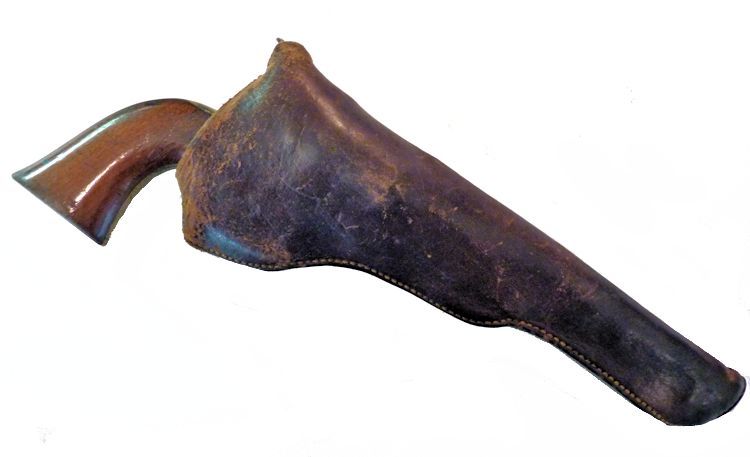 Colt M 1861 Navy at home in its Period, Slim Jim Holster This weapon is an antique, and is sold for display only. It is not intended
to be fired unless certified by a  licensed gunsmith.


The serial number on the underside of frame in 3 places and Col. Colt's address on barrel's
top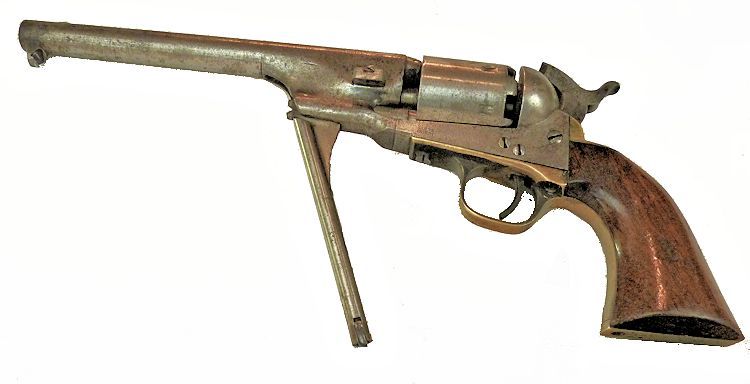 The
"Cap & Ball" loading lever in the down position This represents an untouched example of a scarce Colt M 1861
Navy "Cap & Ball" Navy pistol made by the renown Colonel Samuel Colt.  It is in "Very Good"
original condition with all the metal having lost their bluing.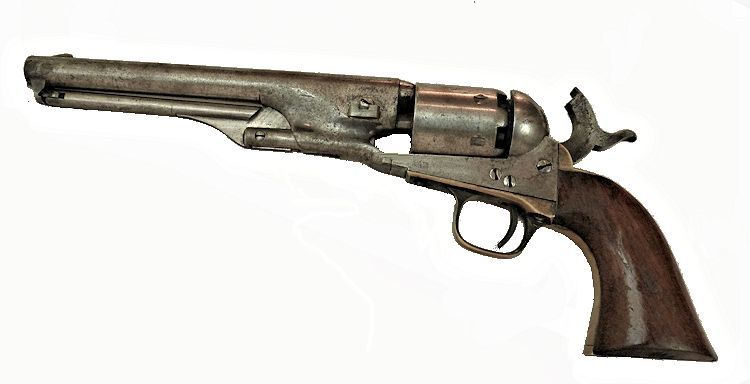 The Colt
M 1861 Navy cocked and ready to dry fire
This very special Colt M 1861 is a great
find for that special person who can appreciate its historic importance.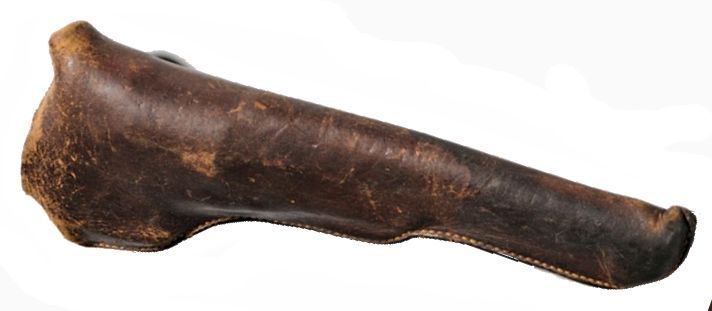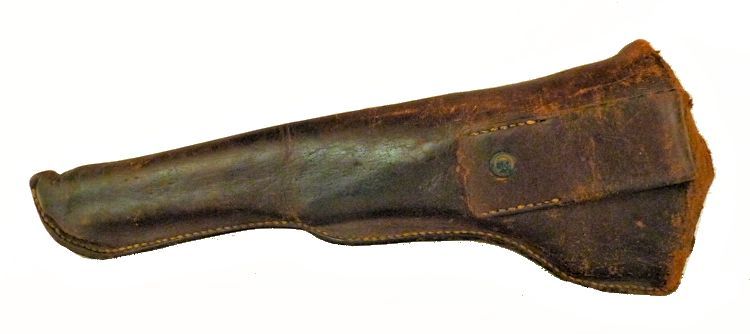 Views of the empty holster for the Colt M 1861 Navy Colt