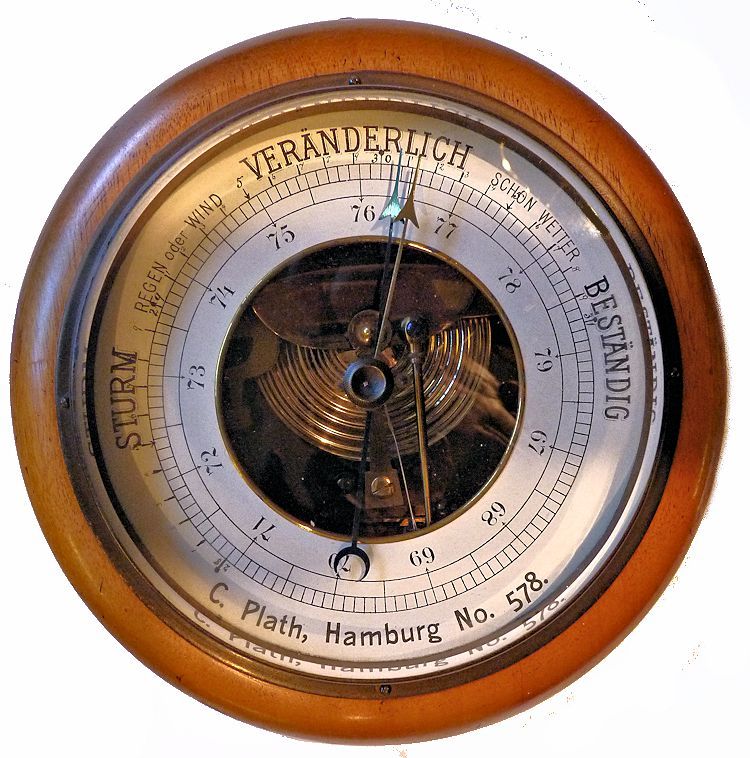 Maximum diameter 8 1/2″   Dia. dial 6″   Height 2 3/4″
Weight 3 pounds
Presented is a very rare C. Plath aneroid barometer that is stamped with the number 2165 on the back
of its hardwood case. It is very different from many other barometers of this type available on today's market
because of its high quality C. Plath mechanism, which results in extremely accurate readings. Plath for years has been a maker
of instruments used for marine navigation and continues in business today. Our tests show that it reads very close to the
data reported for this location at the same time. 
PROVENANCE: It has been in the same family for the past 50+ years. A descendent recalls that it
was shipped to an Oregon antique auction house in the 1960s or early 1970s as part of a container of antiques from the United
Kingdom and Europe where it was purchased. It was described as a German barometer used on a ship.
Aneroid barometers measure
pressure by a method  that does not use a liquid. Invented in 1844 by French scientist Lucien Vidi, the aneroid
barometer uses a small, flexible metal box called an aneroid cell (capsule), which is made from an alloy of beryllium and
copper. The evacuated capsule is prevented from collapsing by a strong spring. Small changes in external air pressure cause
the cell to expand or contract. This expansion and contraction drives mechanical levers such that the tiny movements of the
capsule are amplified and displayed on the face of the aneroid barometer. Many models include a manually set needle which
is used to mark the current measurement so a change can be seen. In addition, the mechanism is made deliberately "stiff"
so that tapping the barometer reveals whether the pressure is rising or falling as the pointer moves. This type of barometer
is common in homes and in recreational boats, as well as small aircraft. It is also used in meteorology, mostly in barographs
and as a pressure instrument in radiosondes.

credit wikipedia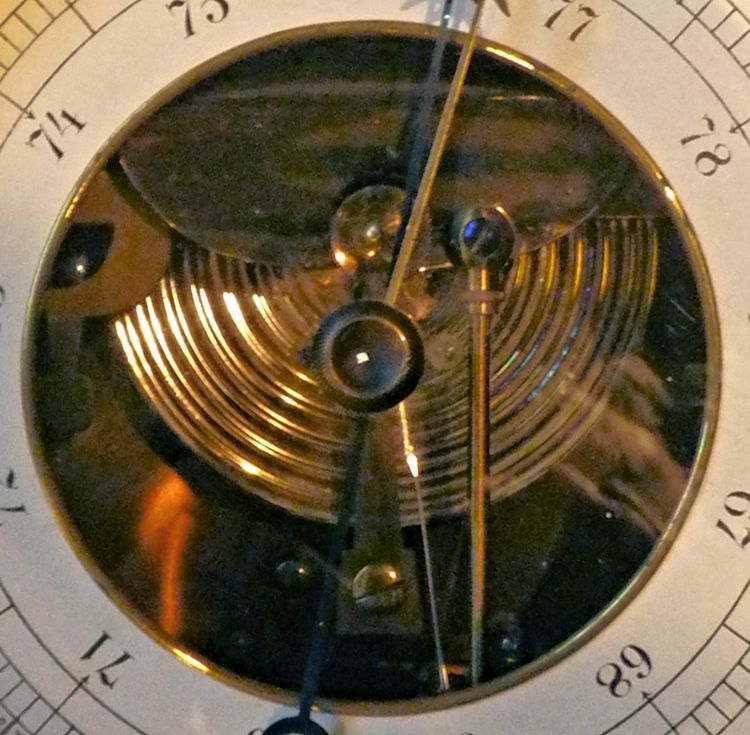 Movement of the Plath android
barometer.
This
is the only example of this barometer that we have been able to find. Our research has included a review of the internet and
of our C. Plath reference works including self-published books of the company's history through its 1st 150 years.
Plath sextants were considered to be the Rolls Royce of celestial navigation instruments and we consider this device
to be of the same caliber.
Viewing the barometer from the left. Note the
thick beveled crystal.  
CONDITION:
There is little fault to find except to note the normal marks of age and the darkening of the varnish with time. There
are two mounting tabs missing from the back. The instrument reads very closely to the reported data in this area. There
is an adjustment screw on the back for setting the pressure.
Showing the pointers and the high quality
print
Back of case showing
two missing tabs and No. 2165 at the top 
C.
PLATH COMPANY HISTORY: In brief, Carl Plath started manufacturing sextants, in addition to other nautical products,
in Hamburg Germany in 1862 though the purchase of the David Filby instrument company though the company's origin dates
back to 1837. As a result WW II, C.Plath was dismantled completely by the occupation forces. Around 1950, various prohibitions
were lifted, and C. Plath was allowed to begin production again of sextants and other nautical instruments. Also in 1949,C.Plath
was offered a gyrocompass patent and in 1951 the first gyrocompass designed to this patent was presented to the public. C.Plath
progressed from the role of instrument maker to that of a modern marine navigation equipment manufacturer. In the following
years the product range was expanded by many more modern designs such as autopilots, speed logs, radio direction finders,
etc.
In
1962 C.Plath was acquired by Litton Industries, a large American concern.The C.Plath North American Division was set up in
1978 in College Park near Washington. 1996 saw the introduction of the world's first fiber-optic solid-state gyrocompass
by C.Plath. The first ever gyrocompass with no moving parts. Sperry Marine was formed in 1997 with the combination of C.Plath,
Decca Marine and Sperry Marine with more organizational changes yet to come. After 163 years, C.Plath changes its name to
Sperry Marine in May 2000. In 2001 Sperry Marine becomes part of the Northrop Grumman Corporation.