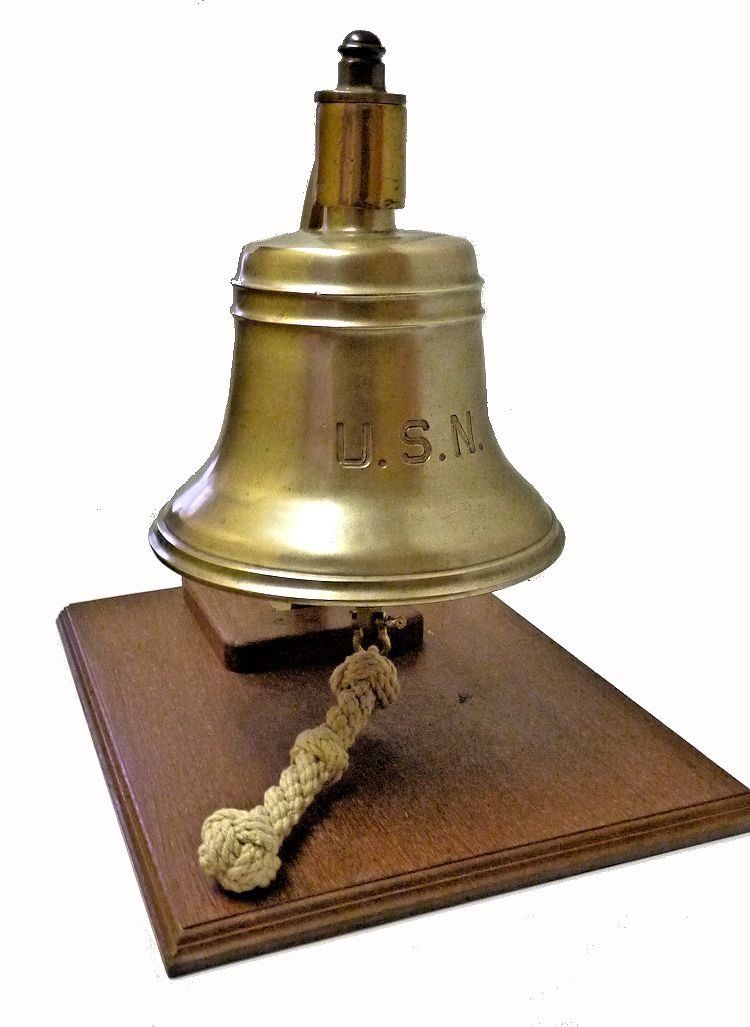 FROM THE COLLECTION OF A NAVY JUNIOR

Presented
is a great looking Navy bell that we originally sold in 2011 to one of the members of a Navy family in
which four generations have seen Navy  service. This is the pedigree it has acquired:

Current seller's "Dad
was a 37 year Navy veteran – an unabashed black-shoe, starting as a seaman and retiring a Captain, who my Mom assured
me would rather have been at the helm of his beloved destroyers than anyplace else on earth – including (she
would sarcastically relate) "in her arms"… "

In all –  the seller
"is the grandson, son, nephew and cousin of EIGHT naval officers & one token leatherneck (who was actually a corpsman
in WW2.  We have 3  Academy grads, 4 ROTC & I think uncle Bill (USMC) might have completed eighth
grade…" All of which makes this a very special bell for the collector or as a gift or ceremonial use.

Based on its design,
we date the bell to around the time of World War One (WW I).  The original inverted vertical "J"
bracket allows them only to be mounted on a pedestal or deck, hence they are known as anchor or foredeck bells.

Top: Left side of bell     Bottom: Right side of bell
AUTHENTICITY: The
bell has been mounted on a rectangular hard wood base for display and a proper three strand bell rope with
Turks heads of the period has been added. It comes complete with all its original parts which include the mil-spec clapper
and special one piece combined nut and washer. Many of the Navy bells that have survived are missing these unique
parts. The inside of the bell shows numerous clapper strikes around its circumference showing it was used at sea.

HARD TO FIND: U.S.
Navy bells of this unique design with USN have become very scarce, and are almost impossible to find now a days because military
bells during the 1950's came to be marked "US".

SPECIAL NAVY FORMULA BELL
METAL: The tone of an authentic Navy bell, made using a special "bell metal" formula, is not easily forgotten.
It has a strong resonance and vibration that rings sharp and clear with a distinctive sound. Do not expect cheap imitations
or foreign imports to have this special characteristic ringing because "bell metal" is a specially formulated
bronze alloy, unique to the Navy for their specialized use.

 
| | |
| --- | --- |
| The bell from the rear showing a slight curve | |
| | |
| --- | --- |
| Wood cleats clamp the base in place | |
 DIMENSIONS:
BELL:
Diameter at crown 5″    Diameter at mouth 9 1/2″    Height to crown 6 1/2″
Height overall 10 1/2″
WOOD STAND: 18″ L x 13 1/2″ W x 5/8″ T      Weight: 34 1/2 pounds
CONDITION:
The inside of the bell shows flattening where the clapper hit the edge showing this bell has served at sea. The color of the
bell varies slightly from the color of the inverted "J" bracket which has a slight bend when viewed from the back.
The large stand has some minor marks of age. Outstanding
resonate ring and strong vibration.
This
unique and rare US Navy bell will make a wonderful gift, presentation piece or for a collection that includes only the
finest. The stand makes it ideal for display!