HISTORIC JOE SAVOIE DIVE HELMET
Two Digit Serial Number

USED IN CLEARING THE SUEZ CANAL
After 1967 Six Day War between Egypt and Israel DIMENSIONS:
10″ H x 13 1/2″ W x 14″ D
Weight 31 lbs

Presented is one of the early fiber light weight dive helmets designed by Joe Savoie of Boutte, Louisiana in the 1960's. Joe revolutionized
dive helmet designs with his carefully engineered stainless components and rubber neck dam. He passedaway at age 70 on March 10, 1996. This helmet was was owned by Woody Lamar Meeks, a professional diver with an interesting employment history starting with working at the Huntsville, AL., US Space & Rocket  Center as a diver and later, based in New Orleans, he worked in the Gulf and the Mid East on major projects such as clearingthe Suez Canal.Woody died in in 2015 and the helmet, in its last dived condition, was recently put up for sale by his daughter.The helmet is in remarkably good condition with everything seemingly intact. The picture on the left shows Woody suiting up for a Suez Canal dive in 1975. More on this in his biography below. This helmet is one of Joe's original Style 1 design. It was based on an Italian race car driver's helmet with fiberglass body and flip-up face mask with his machined stainless fittings, and innovative rubber neck dam. It became immediately popular
in the Commercial Diving Industry. This design has a fixed face shield, and improved air control and exhaust valves. Savoie continued to use the fiber racing shell until 1971 when it was changed to steel. In total, Joe produced only several hundred different types and styles in both fiberglass and steel for air and mixed gas, and a few with
a number of demand regulators.
LIKE ALL OLD HELMETS, IT SHOULD NOT BE DIVED WITHOUT BEING CERTIFIED


Right side showing exhaust valve and inlet elbow in the back. Faceplate is fixed

Top:
Partial left view showing the two small communication inlets over the Maker' s Mark
CONDITION:
The helmet seems to be complete, and the microphone, though it doesn't show in the pictures, is in the helmet. We have
not tested the helmet and do not know if all parts are present or if they work. The neck dam's sponge rubber is in pretty
good condition, but there is some cracking around the fold that shows in the picture below. Kirby-Morgan should be able to
provide a suitable replacement. The headliner shows use, but is complete and also in pretty good condidtion.
LIKE ALL OLD HELMETS, IT SHOULD NOT BE DIVED WITHOUT BEING CERTIFIED
PROVENANCE: Woody (that's his given name) Lamar
Meeks began his diving career with the Hayes Corp. at the Redstone Arsenal, in Huntsville, AL, AKA US Space Center  & Rocket Center.
He was a diver in the Neutral Buoyancy tank that was used to train astronauts.
One day, Dr. Werner Von Braun, the famous German WW II rocket scientist who worked there, and some other dignitaries showed
up for a demonstration on how  astronauts were trained.  Dr. Von Braun suited up to show the guests how this worked.
Before Dr. Von Braun's hat was totally secured he fell off the back of the platform.  His astronaut suit filled with
water and he sank like a rock. Meeks was in the water as a life guard and pulled Dr. VonBraun from the bottom, essentially
saving his life. This was never revealed because at the time it would have been very bad publicity.
After
leaving the Hayes Corp., he relocated to New Orleans, LA. This helmet was purchased by Woody Meeks directly from Joe Savoie
in July, 1970. Meeks lived and worked out of New Orleans, most of the rest of his life except for the periods he was sent overseas
on diving jobs. It is said that Woody started his Lousianna diving career with Pelican Divers working off shore
on gas jobs.  He never worked on oil rigs in the Gulf as far as his daughter remembers.  If he did, it was
for very short-term jobs.  He also worked for McDermott, but the time frame is uncertain.  In early 1973 or
74, he was working for Global Divers and was assigned to a crew that was subcontracted to the Navy. Their job was to
go to Egypt and clean out the wreckage in the Suez Canal caused by the devastation of the 1967 Six Day War between
Egypt and Israel.  National Geographic Magazine covered the clearing of the canal in their July 1975 issue. The magazine's writer followed Woody around for months, but when the article was published the story of another
diver who had a hair-raising experience was substiuted instead. During this period, the Meeks' son was in the Navy
and their daughter was marrried so Woody took his wife with him. Woody and his wife lived in Navy dependent housing
in Suez City while he was working there. He
and his wife also lived in Venezuela, the Dominican Republic, and Santa Domingo.  In the late 1970's to
early 80's, they were sent to Philadelphia, PA.  They were there for 9 months on a salvage job of a fairly large
vessel that had burned and sank in the Philadelphia Harbor.  Meeks was designated to cut that vessel up and remove
the bodies from the wreckage.  After July, 1970, he always took his much loved Savoie helmet with him. Woody, at
age 84, died in April, 2015, and the family has now decided to part with his helmet.MARKINGS:
The initials, JS appears on both exhaust valves with Joe's signature beneath. The two digit serial number is stamped
on the intake elbow.
Inside
of the helmet showing the headliner


Top
of Neck Ring shown over bottom of Neck Ring OUR PRIOR JOE SAVOIE SALES: We have been the largest seller
of Joe Savoie helmets bar none. They included two fiberglass helmets and one stainless helmet in new condidtion with a new
faceplate and a new set of liner panels, and new dam. In deference to our customers, we do not publish sales prices on
sold items. This one, based on its age, condition, and diving history, is fairly priced compared to others we have sold.
It is hard to find any listed on the internet for comparison, but on August 11, 2011 a stainless air/gas
Savoie helmet, Number 48, sold on eBay for $8550.00. The listing stated it had been modified by a commercial diver and that the original leather
liner and faceplate were replacements.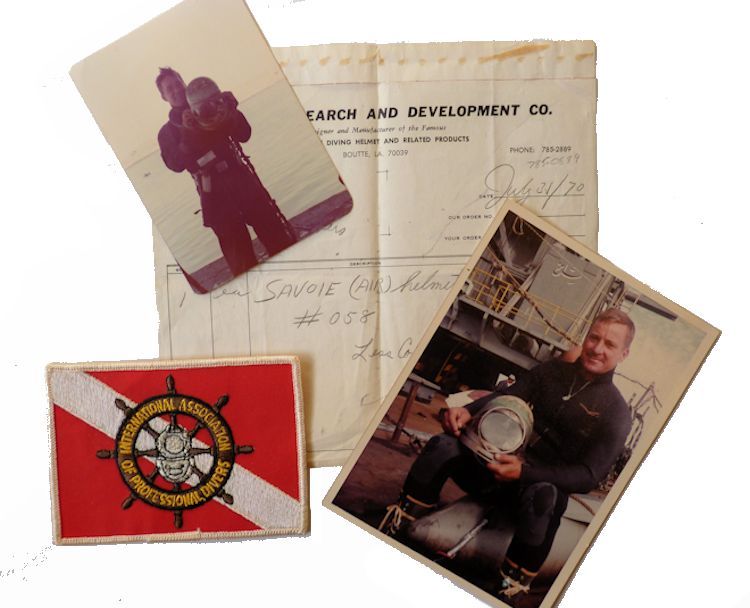 Bonus
items to be included with helmet
BONUS
ITEMS INCLUDED WITH SALE:
Original Joe Savoie invoice. Two pictures of Woody Meeks suited
up with helmet
International Association of Professional Divers Patch – new condition