EARLY 1900's SETH THOMAS U.S.
NAVY
DECK CLOCK No. 1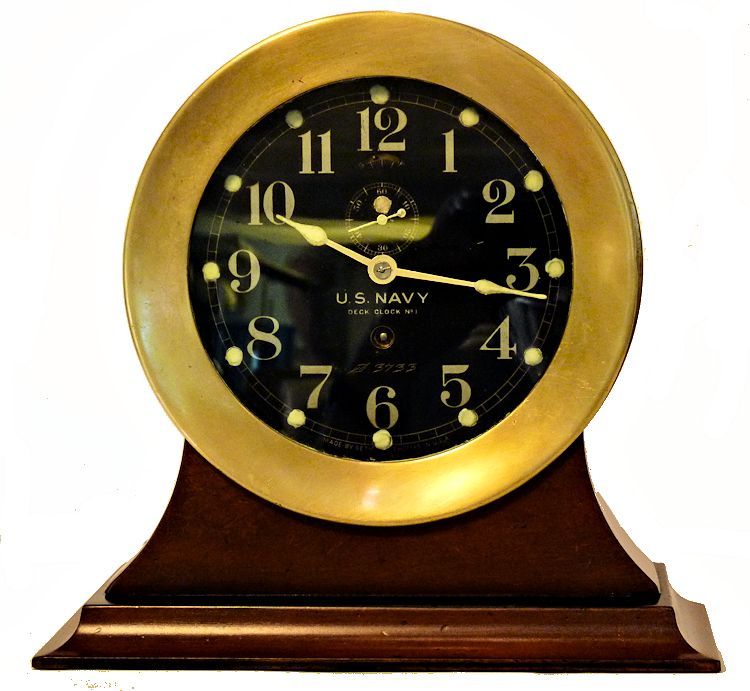 Seth
Thomas, America's oldest clock maker started operations in 1813. Their Nautical clocks first appeared in the 1860's
and were the official US Navy Ships' clock for almost 100 years. 
The stand, a $75.00 value, is included!
Presented
is a extremely rare, antique eight day, time only, US Navy Deck Clock No. 1 clock with a 6″
black face that was made by Seth Thomas. It is engraved with the Naval Observatory cartouche directly below the winding
arbor and the NO number, 3733.   A similar example is pictured on page 781 of Tran Duy Ly's, Seth Thomas
Clocks & Movements, Third Edition, Volume 2. Based on the NO number and Duy Ly's reference we believe this clock may
have been made as early as 1902.
It has a 6 inch, flat black dial with silver
screened Arabic numerals and Arial fonts. The spade hands are painted white with the points painted with old
radium coating. The circular dots below the numbers have radium for night use, but that has since become inactive. Radium is
radioactive material and its use was suspended. The face is in near perfect condition. The forged brass case is
dull from an earlier cleaning and polishing.  It is free of pits and only has a few  which are hardly noticeable.
  Near flawless face with Original Radium Paint
We believe it has an early version of the Ships Lever, 7 Jewel, 8 Day movement
from which it evolved.  The mechanism is housed in a very heavy, forged bronze deep case with screw on bezel which
has a maximum diameter of 7 3/4″ at the rear, and is 4″ deep. It is keeping exceptional time right in step with
the National Bureau of Standards time and the equal of a chronometer. The period style tabletop stand is  included at
no additional charge.
  Partial side views of back and front of early Seth Thomas US Navy bulkhead
clock

CONDITION: This fine clock is in remarkable
condition and shows only the normal patina of age. The case shows some minor marks of handling. The clock was serviced
by its last prior owner, a collector of quality time pieces and the movement is keeping very good time. Since
it is over 110 years old, we recommend it be wound about every four days for best timekeeping. 

 

 

SPECIFICATIONS: Forged bronze case with screw
on bezel. The six inch face has a five inch viewable area on the black dial. The spade hands painted white with
radium tips. The Arabic numerals and Arial lettering are painted silver. The precision made 8 day movement likely has
7 jewels, and a compensated balance wheel and Breguet hair spring.

DIMENSIONS:

Case max diameter 5 3/8"
Front Bezel  7 3/8"
Dial 6″ visible area 5 1/2"                       Depth  4"
Weight    8 lbs.

 8 3/4 oz.

                                       

  Back of case is stamped 10931