EARLY NAVY TRUXTUN CLASS DESTROYER
BRASS NAVIGATION
SIDELIGHTS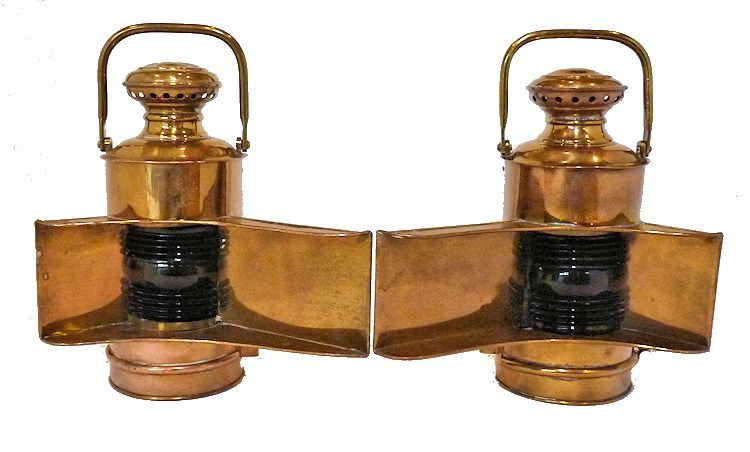 Made by Perkins Marine Lamp Corporation, this style lamp dates
to the Turn of the 20th Century. Few if any have survived other than these. Our research shows that they came from a TRUXTUN
Class destroyer,  three were launched in 1902. The longest in use being the USS Whipple. There are numerous reproductions available on the market.  Only
three sets. or six, of these sidelight lamps, were ever made.
DIMENSIONS ONE LAMP
14 1/2″ L x 11″ D x  18″ H X 7 1/4″ Dia. WEIGHT 8 lbs. 7 oz.
SIZE OF FRESNEL LENS: 5″ x 5″
Presented is
a remarkable find for the collector of rare, high quality, U.S. Navy artifacts and relics, and those interested in naval history.
It is a pair of ship's navigation sidelights from a Truxtun Class destroyer dating back to 1902. The
Truxtun Class consisted of three ships, the Worden, Whipple and Truxtun. They were part of the original 16 destroyers authorized
by Congress for the 1899 program, and were commissioned in 1902.  They were very similar to their Bainbridge-class
contemporaries, except for mounting six 6-pounder guns instead of five. The original
torpedo armament was two 18-inch (457 mm) torpedo tubes with four torpedoes. The gun armament was two 3-inch 50 caliber guns
and six 6-pounder guns. Considered the most successful of the
first 16 US Navy destroyers, they were succeeded by the larger Smith class. The
Truxtuns escorted convoys during World War I. All three
were stricken from the Navy list in  1919 and sold on 3 January 1920, to merchant shipping interests. Whipple
was the longest serving and was finally scrapped in 1956. It is our opinion that these lamps are from the Whipple.
Shown alongside typical contemporary Navy foredeck bell of  9 3/4″ x 9 3/4″For
propulsion, Truxtun had four Thornycroft boilers supplying 240 psi steam to two vertical triple-expansion engines totaling
8,300 ihp (6,200 kW). She made 29.58 knots on trials at 8,300 ihp (6,200 kW). Normal coal capacity was 232 tons.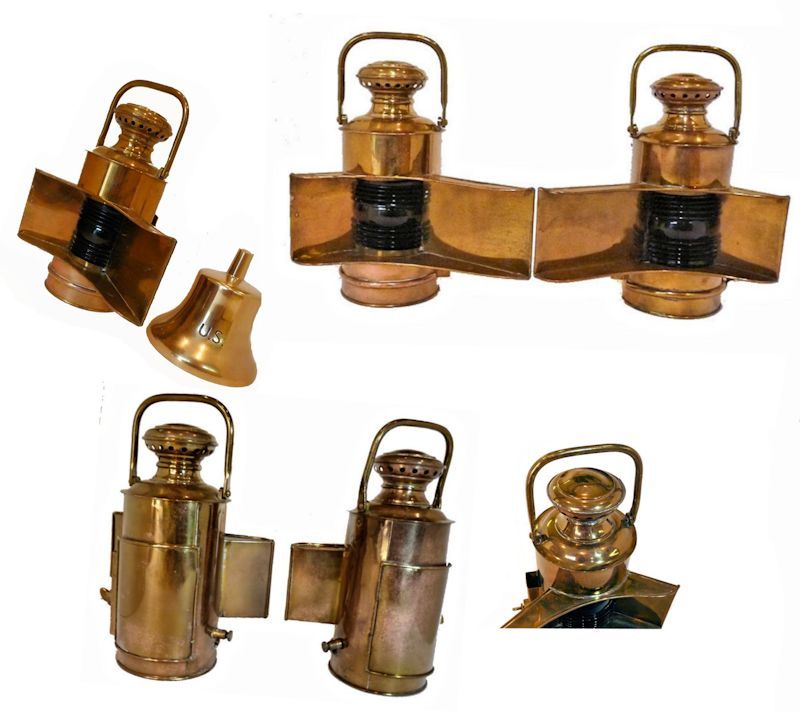 Various views of the antique Navy Truxtun Class side lights
PROVENANCE:
These sidelights were acquired about 30 years or more ago by the father of the most recent past owner and then were
handed down in the family until recently.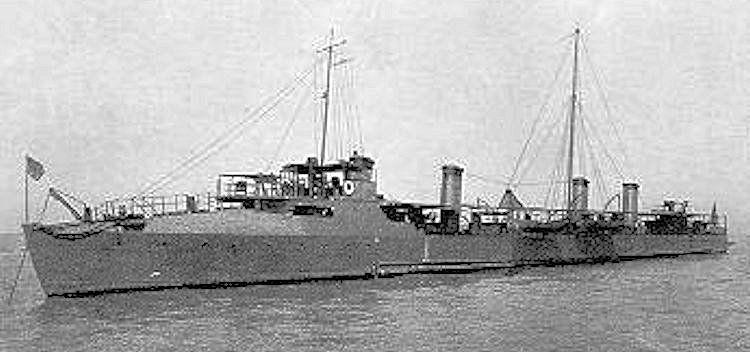 USS Whipple, DD 15, the longest serving Truxtun Class ship.
CONDITION:
Considering its 114 year age and Navy and Commercial use, the lamps are in good condition overall. The
port light has been rebuilt in the field to some degree and solder is present at the top. The frame to the port lens is not
entirely square. There are some small dents on both tops, and elsewhere. The port access door is missing its locking
device and the bracket for its adjusting screw has been reattached on the inside by epoxy which does not show. Both Fresnel
lenses are free of imperfections. There are two oil burner lamps present. One is original to the lamp.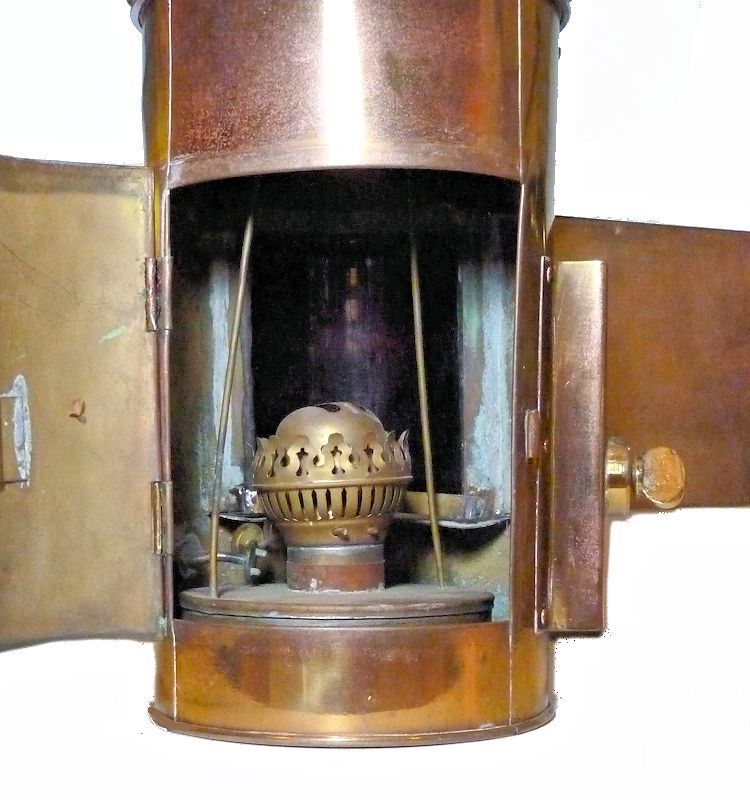 Interior
of Navy Truxtun Class sidelight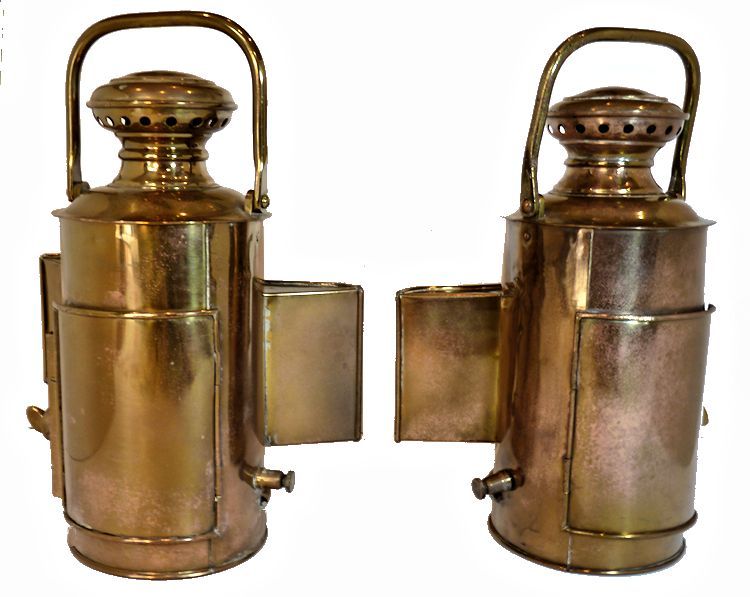 Detail
of back Truxtun Class lamps