VERY RARE ANTIQUE
E.S. RITCHIE TWIN CYLINDER "BANANA CARD"
BOXED COMPASS, DATED 1870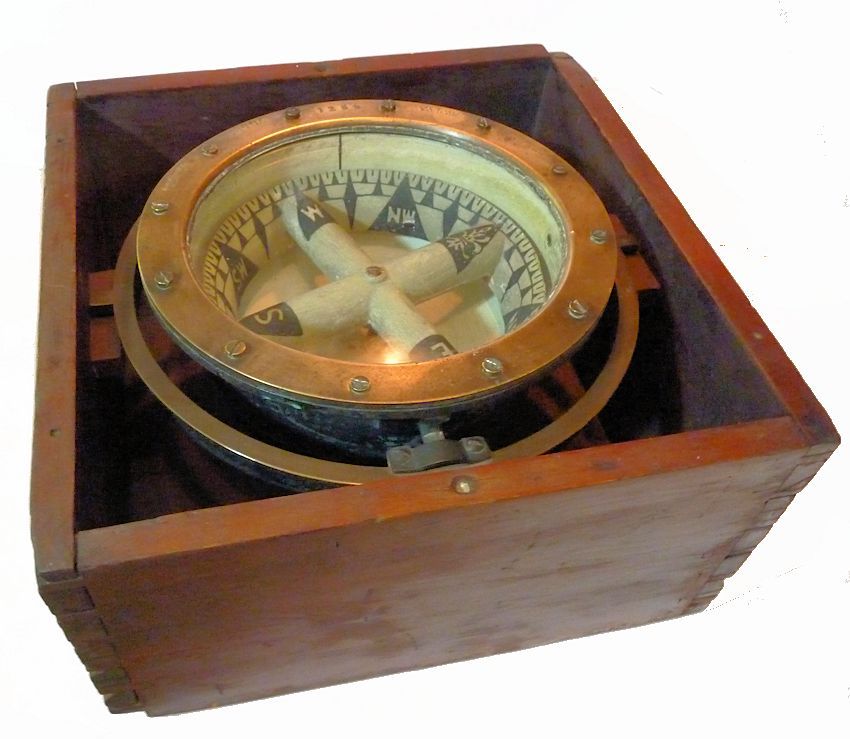 A very early and very rare Ritchie Banana Style
Boxed Compass.  This old Sea Dog has been handed down in the same family for the past 25 years. It is perfect for
the serious collector or as an accent piece in any decor
DISPLAY ONLY. NOT INTENDED FOR USE!
Presented
is an early, E.S. Ritchie, Boston, boxed twin beam banana style compass. It is a very early compass design
with twin cylindrical cross beams on the cardinal axis. They remind us of a banana, and we have coined
that term to identify this design.  Originally this was a wet card compass, but years ago the fluid was drained to preserve
the hand painted card. Inside, the painted metal card shows only some minor paint loss. The rustic dovetailed
hard wood box indicates many days use at sea. The brass bezel has four patent dates, the earliest being Sept. 9,
1862, and the latest July, 1870. 

There
are only a very few of this design known to exist. We know this because ten years ago we had a similar compass with a serial
number dating it to 1863. That is two years after E.S Ritchie started operations.

Since
then, we have only seen two more. The current owner of the original E.S. Ritchie company maintains it sales records and
show this compass as being sold to the Daniel Lynn on May 4, 1874, or 142 years ago. 

 
Ship's Ritchie
boxed compass with cylindrical double banana cross beams
THE COMPASS: The 1/2
gimbaled antique compass is of one of Ritchie's earliest designs. The fluid has been removed to preserve the painted surfaces.
There is some chipped paint loss at NE and NW which are easily over looked. The bananas are actually air chambers and
allow the card to float with very little downward pressure on the center pivot when the fluid is present. This is a very
nice feature, but makes for a very expensive compass for its time. It measures 8 1/2″ outside diameter
and is fitted with a 6 3/4″ card. The card has a curved outer ring which is hung at the center point.
This type mounting is in the form of what we have coined as a "banana beam". It is unique
to this rare design.  

The subdivisions are in Cardinal Points,
N.S,E,W, and quarter points, NE,SE,SW,NW, and then 1/2 points. There are 64 points on the compass card,
each being 5 5/8 degrees.

MAGNETISM: Over the years magnetism diminishes, but this
card will still seek North, all be it a little slowly. Hence it is a functioning marine compass, but is intended solely
for display. It has a salty look and reeks of places such as the Grand Banks so it is ready to give years of enjoyment
to its next custodian.

Last patent date
1870 shown over serial number 7254

DIMENSIONS: BOX
11 3/4″ x 11 3/4″ x 6″  
Weight 12 Lbs. 8 oz.

Compass bowl               8
1/2″ diameter
Card                               6
3/4″ diameter

 
The unboxed twin
beam banana style compass
Showing
the single gimbal of the 6 3/4″ twin banana design
BRIEF HISTORY E.S. RITCHIE COMPANY, BOSTON:
In 1850 physicist Edward S. Ritchie began developing the first
U.S. manufactured marine compass. He had received a contract to repair foreign-made compasses from the Boston Naval Shipyard,
and he soon realized most of the problems he encountered could be eliminated. So when the US Naval Observatory put out a call
for American Manufactured navigational instruments in 1861 it was no surprise who they contacted first.
Ritchie completed and sent samples of his work (including the
first ever liquid filled compass) in June of 1861 and by August he received an order from the US Navy for 26 compasses, 10
of which were liquid filled. At this time Ritchie began selling compasses under the name E.S. Ritchie & Co., which was
later changed to E.S. Ritchie & Sons in 1867. To this day E.S. Ritchie & Sons continues to produce marine navigation
instruments.
We have previously sold two other banana style Ritchie compasses.
One had a 3″ Card housed in a brass binnacle that was used in a dory. The other had a six inch card and was Stamped on the outer bezel with its Serial Number 6449 and three patent
dates, Apr. 7, 1863, Sept 9, 1863 and July 19, 1870. This one falls into the tatter's time frame.
A model of Ritchie's first liquid filled compass is on display
today in the Museum of Science in London, England; the only foreign product so honored.
In 1951 the company was purchased by Marine Compass Company.
Louis A. Sherman founded the Marine Compass Company in 1910 and concentrated on producing smaller instruments for commercial
and fishing vessels as well as the emerging yachting markets. The two companies consolidated all operations under the name
E.S. Ritchie and Sons and is still owned and managed by the Sherman Family.