RARE SETH THOMAS SIDE WIND
SHIP'S CHRONOMETER LEVER
Movement No. 5006  Ca 1882
 STAND INCLUDED A $75.00
VALUE
Seth Thomas, America's oldest clock maker operating since 1813, was
the official supplier to the U.S. Navy for almost 100 years. This clock would have served on our Grey hulled ships.
Presented
is a Seth Thomas ship's side winding chronometer that has been fully restored. This is only the third
example we've discovered in thirteen years marking it a very rare model. Heretofore, we only knew of its existence
in books and catalogs which only had line drawings and not photographs. This model clock was intended to be mounted
on a bulkhead on a ship's bridge, in the navigator's shack, or in the officer's wardroom, starting in service
in 1881.  That said, it is spectacular when placed on a desk, mantle, or side table using the antique reproduction
stand shown in the pictures which is included. 

This Herculean clock is housed
in a robust forged  brass case with screw on bezel and prominent flange weighing in at a heavy 11 pounds. It has a porcelain
dial, with a 4 1/2″ viewing area with Roman numerals, and has a solid, cast aluminum dust ring. The maker's name
appears under the numeral XII and the black spade hands are over a small seconds dial which in turn is over the numeral VI.
A key adjustable Fast/Slow regulator is within the XII o'clock position and should not be mistaken as the winding arbor. This
clock is in very good condition and has just been serviced by a master c locksmith that formerly headed the Chelsea Clock
Company's Repair Department. It now is keeping perfect time during its rated period. The Seth Thomas catalog says
it is supposed to have a one day movement, but this example runs for 55 hours.

 

In Seth Thomas's Catalog
of the day, they had this to say: This fine lever clock was specially designed for steamers or other situations
where accurate timekeeping is required and a pendulum clock cannot be used. The movements are made in the best manner, with
steel pinions and chronometer balance, jeweled, and are fitted up with finely tapered hair springs. They have a very simple
regulator which provides for the most accurate adjustment. They are put up in cast brass cases with porcelain dials. 

The ingenuity and workmanship of Seth Thomas was recognized throughout the world
because of their high grade precision time pieces making this a great relic of maritime and horological history! 

 
">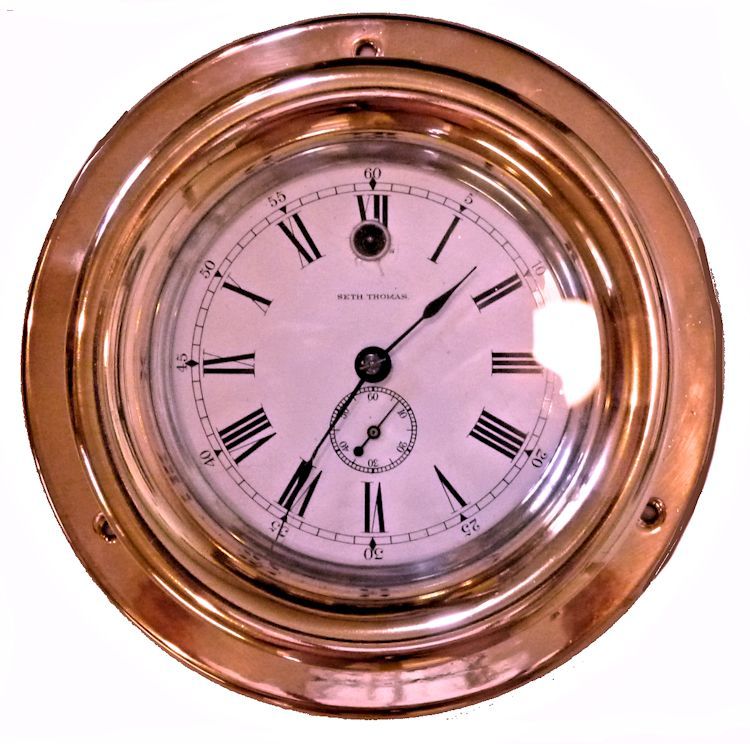 Showing the Fast / Slow arbor under the XII and
surrounding small scratches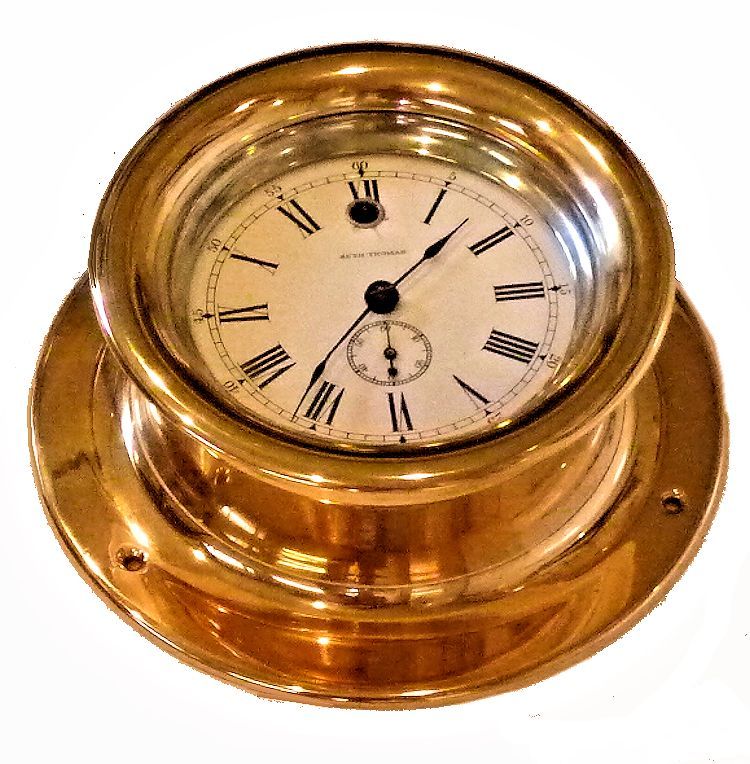 View from the bottom showing the massive flange

CONDITION: This example has
been recently serviced by the former head of the Chelsea Clock Co's Repair Department, a man with 30 years experience.
The broken minute hand was silver soldered by him and is is slightly crooked. He cleand and oiled the movement and brought
it back to near new condition. It now is keeping perfect time with a quartz comparison watch. For a clock that is over
116 years old, this is a remarkable achievement. The porcelain face has a few scratch marks around the Fast/Slow arbor which
is fitted with a grommet. The One Day No. 5006 movement runs for three days or longer. A special key with
two sizes is included.
DIMENSIONS:
Diameter of Dial   5″                      Viewing
area 4 1/2″
Diameter Bezel    6 3/4″                 Depth
6 3/4″
Full Diameter       8 1/2″                 Weight
11 lbs
 

This Seth Thomas ships clock is a perfect addition for your desk, mantle, a
prestige collection or as an important gift. 
  Showing the partial side views of this spectacular clock

 Showing the depth of case and the winding arbor above the back