SETH THOMAS 1944 U.S. NAVY MARK I DECK CLOCK
Naval Observatory Seal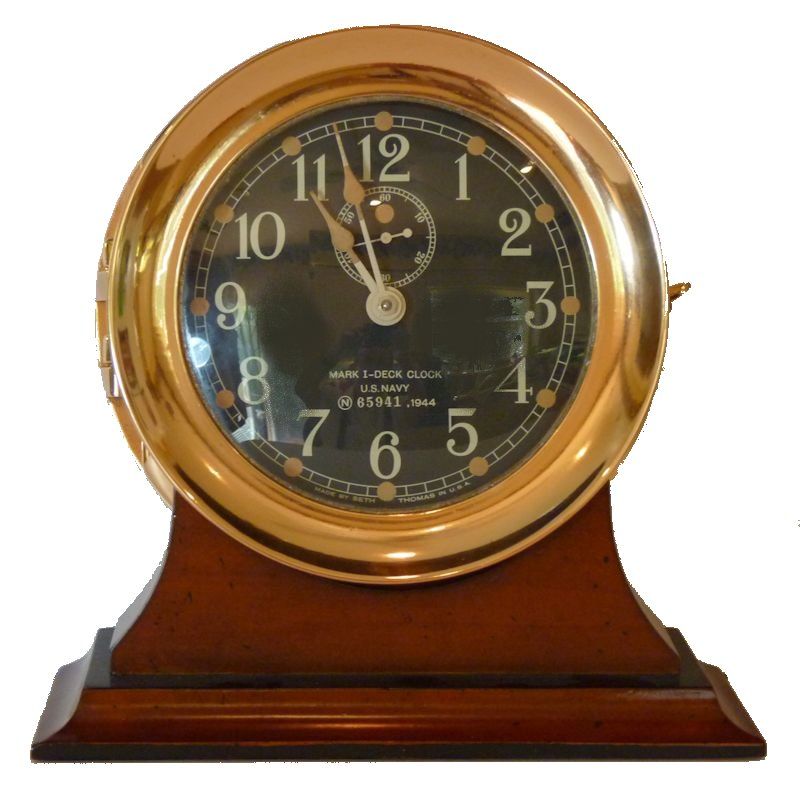 Seth Thomas, America's oldest clock maker, started operations in 1813. Their Nautical clocks first appeared
in the 1860's and were the official US Navy Ships' clock for almost 100 years. This example dates from 1944.
$75.00 VALUE STAND
INCLUDED FREE!

A WW
II vintage ships clock with a polished bronze case and mounting!
Presented is a Seth Thomas WW II ship's bulkhead clock which was manufactured
in accordance with military specifications 18C-11 and 18C -13. This formerly waterproof clock was made to be mounted
on a bulkhead adjacent to a bridge wing, the quarterdeck, the signalman's or quartermaster's shack, and elsewhere
outside and inside. Inside it could be found in the wardroom, bridge or ship's office. It has a 5 1/2 inch dial mounted
in a hinged compartment that houses the movement. The left swinging hinged front section's back has the controls
for adjusting and winding the clock. 

The 11-jewel 8 day movement is the same quality as would
be found in a Chelsea clock made to the same specifications. It is wound, set and adjusted through a slotted cover
at its rear. A separate start/stop mechanism at the rear allows it to be synchronized with a master time piece.

The removable circular cast brass vibration dampener is
spring loaded and attaches to the bulkhead when the front of the case is removed by pulling its hinge pins. The front
of the case also serves as a watertight closure and has a ridge with a groove that formerly held a rubber gasket. These
gaskets or seals are no longer present. The bezel is dogged by turning a  nut and all is secure. The shock absorbent
rear bracket is frequently missing form these clocks. 

Fitted are w

hite spade hands
with colored tips on a black dial and acid etched Arabic numerals in white. The tan dots at the top of the
numbers at one time held iridium for night use.  Iridium and radium are radioactive and there use has been suspended
so the chemical is no longer present.

The letter N inside
a O signifies this clock has been certified by the U.S. Naval Observatory and assigned
their own serial number 65941 and dated 1944.

SETH THOMAS is etched below the lower rim below the 6 hour mark and reads, Made by
Seth Thomas in USA.

THE CASE:  The case is of heavy forged bronze,
and it is a sophisticated design. 

 

DIMENSIONS:

5 1/2″  Diameter of
Dial                    3
1/2″ Deep
7 1/2″ Full Diameter
Weight 14 1/2 lbs

           

Back of clock showing controls       

              

Showing all the parts; clock, backing plate, and mounting bracket

                      

Looking from the bottom shows the depth of the case

CONDITION: This example has seen 72 years of service, mostly at sea, and gives
the appearance of ruggedness. The face is in very good condition with little evidence of aging. The hands have been
repainted. The lens has some slight crazing which is usually not seen. It was recently serviced by a master clocksmith with
30 years experience who headed Chelsea's repair department and is keeping excellent time. The gaskets between the
bulkhead bracket and movement are no longer present. Because of the movement's sandwich construction, there are no
visible markings, but the maker's mark and date were observed when it was serviced and the dial removed. A key is included.